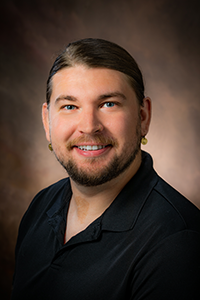 Jared Nally
Jared Nally is an Aanchitaakia Graduate Fellow in the Master's of Environmental Science (M.En.) program at Miami University. As an Aanchitakia fellow or change maker, Jared will be working as a research assistant in the Myaamia Center focusing on the revitalization of Myaamia textiles and cultural ecology.

Growing up as part of the Miami Tribe of Oklahoma's Kansas diaspora, textiles became a way for Jared to connect to the Myaamia community; it also introduced him to Myaamia ethnobotany. Through Miami University's M.En. program, Jared plans to gain skills in ecology and applied conservation to work with the plants and environments used to produce Myaamia textiles.

Jared feels that it is important for him to bring this knowledge back to his community. His previous work in the fields of communications and Indigenous studies, coupled with his role as a community textile artist, provides a solid foundation for revitalization work and connecting Myaamia makers to the cultural ecology of Myaamia textiles.

Jared received his B.A. in Indigenous and American Indian Studies at Haskell Indian Nations University. While at Haskell, Jared served as editor of The Indian Leader, the nation's oldest Native American student newspaper, where he received the 2021 Elias Boudinot Free Press Award with his staff. Jared has also worked as guest editor for KANSAS! magazine, and has published multi-media work in The Lawrence Times, Lawrence Magazine, and Indian Country Today.