Fantastic Free Fridays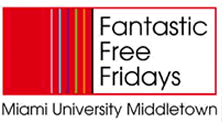 No show
Welcome to the Fantastic Free Fridays program at Miami University Regionals' Middletown campus. This program is intended to provide free opportunities for students in area schools and residents of local communities to enjoy live performances.
Each performance lasts one hour, unless otherwise stated.
Group reservations are on a first-come, first-served basis.
Individual walk-ins are always welcome.
All performances are held in the Dave Finkelman Auditorium at Miami University Middletown.
For more information or group reservations, contact Shawn Fenton: fentonsm@miamioh.edu.
---
Sept. 22, 2017 at 10 am: Lawler + Fadoul, "Break It Down!"
This highly interactive program delights in dissecting the pieces and parts of music and musical instruments. Students will be amazed by the way instruments from the wind and percussion families are taken apart and put back together again.
Grades preK-4th
Study guide available. Please contact Shawn Fenton at fentonsm@miamioh.edu.
---
Oct. 20, 2017 at 10 am: David Hennig, "The Magic is in You"
In this program, students will learn the three most popular ways that people use to try to build self-image and why they don't work! More importantly, students will learn the key to building self-image through developing strong character. This program reinforces concepts of making good choices, following the rules, and treating others with respect!
Grades K-8
---
Nov. 10, 2017 at 10 am: Cultural Centre of India, "Dances of India" 
Using dance, hand-language, and a wealth of visual aids, the Cultural Centre of India will expand on lessons in multiculturalism, history, religion, language arts, geography, and more.
Grades K-8
Study guide available. Please contact Shawn Fenton at fentonsm@miamioh.edu. 
---
Dec. 1, 2017 at 10 am and 12:30 pm: Children's Theatre of Cincinnati, "Celebrate the Season"
​Holiday traditions are almost as old as the holidays themselves. Come explore the history and festivities surrounding our favorite time of the year. Whether you celebrate Christmas, Hanukkah, Kwanzaa or a different holiday during the season, you will gain a newfound respect for the traditions that bind this magical season together through the song and dance of our TCT On Tour actors.
Grades K-6