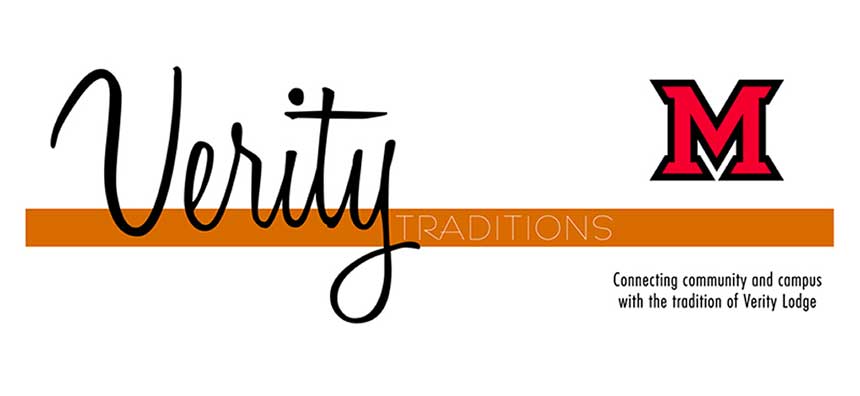 All Verity Traditions programs are free and open to the public. A light meal is served at 5:45 pm for the first sixty attendees.
Donations of any amount are always welcome. Donate online at http://www.forloveandhonor.org/verity.
Smith Library of Regional History presents A College Town During World War I
August 28 | 6:00 pm | Verity Lodge
The Great War in Europe had an impact on Oxford even before the U.S. entered the war in 1917. The small town with a university and two women's colleges played a unique role in the war effort when town and gown came together to aid refugees, buy bonds, and mourn losses.
Cincinnati Museum Center presents the Powel Crosley Story
September 24 | 6:00 pm | Verity Lodge
Powel Crosley Jr. built radios for the masses, not the high classes, and soon was known as the "Henry Ford of Radio." He was a pioneer in radio broadcasting and so much more. Discover the many innovative products he produced, particularly the ones used to help win WWII. Learn of his hardworking, talented brother, Lewis, who could bring Powel's ideas to life. Their partnership made the name Crosley well known and profitable while many other companies failed.
Screening of The Mountain Minor
October 16 | 6:00 pm | Miriam G. Knoll Community Center • Johnston Hall, RM 142
Presented by Appalachian Studies and Verity Traditions

The Mountain Minor
is a powerful and artful film that illuminates the real and heartfelt human stories that have shaped the old-time music, ballad, and bluegrass traditions still cherished today. This film will be extremely meaningful for Appalachian migrants and folks who have Appalachian ancestry, and it will capture the imagination of those who are new to the tradition of Appalachian music. Young musicians and music enthusiasts will gain new perspectives on the old-time and bluegrass music genres.
The Timeless Power of Ghost Stories
December 13 | 6:00 pm | Verity Lodge
Ghost stories aren't just for Halloween! Beginning with A Christmas Carol, holiday ghost stories are a long-standing tradition. Join award-winning, best-selling novelist, Manhattan Ghost Tour Guide, and Miami alumna Leanna Renee Hieber as she discusses the timeless interest in ghosts and how the Spiritualist movement of the 19th century empowered women and revealed their many talents. A book signing of The Spectral City series will follow the presentation.