The Institute for Food at Miami University establishes extensive partnerships with community members both in Oxford and the Greater Cincinnati area. The Institute for Food Farm supplies these partners with fresh produce grown using sustainable, organic methods. As the institute continues to grow and expand our selection of vegetables, we seek to continue to build relationships with organizations that share our passion for bringing sustainable agriculture and the community closer together.
KHI Foods, Inc.
Established in 2006, KHI Foods is a Kentucky-based food processing company focused on providing sustainable local food. The company manufactures value added shelf stable and individually quick frozen (IQF) foods purchased from local and regional farmers. Owned and operated by Millard Long, the company is committed to the wellbeing and profitability of regional farmers as well as preserving time honored traditional food processing techniques. The Institute for Food has worked with KHI Foods to process our Oxford Local Salsa and Marinara Sauce.
La Soupe
La Soupe is a non-profit organization located in Cincinnati that provides warm, healthy meals for large crowds. La Soupe's mission includes a commitment to "rescuing wasted produce" and creating delicious, healthy meals for customers and food-insecure families alike. La Soupe acquires free produce from the Institute for Food Farm that might have slight blemishes, such as a slight bruise on a pepper or a small hole in a leaf of kale. La Soupe's head chef, Suzy DeYoung, uses this "second hand" produce to create soups, gumbos, and stews. Read more about the institute's partnership with La Soupe on our blog.
Local Food Connection, Inc.
Local Food Connection draws on the power of digital media to conveniently connect local food producers with consumers. Founder Alice Chambers established this digital farmers' market in 2015 to improve, strengthen, and expand the local food economy. Local Food Connection connects over 70 area suppliers to over 100 wholesale buyers including local restaurants, schools, and shopping markets. Through the Local Food Connection platform, Institute for Food produce has made its way to the plates of a number of noted restaurants in the Cincinnati area, including Boca, Soto, Salazar, Pleasantry, and Bauer Farm Kitchen.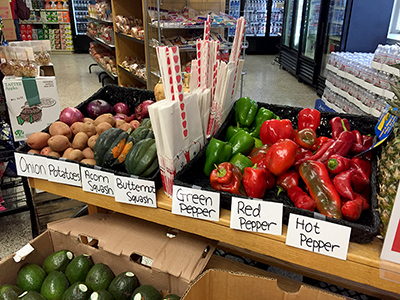 Fresh produce for sale at the Market at MacCracken
Miami Dining Services (Market at MacCracken)
Market Street at MacCracken is one of the 10 markets on Miami University's Oxford campus, located at 500 Center Dr. next to MacCracken Hall. The market sells a variety of fresh produce from Miami's Institute for Food such as onions, butternut squash, kale, spinach, lettuce, green peppers, broccoli, carrots, acorn squash, potatoes, red peppers, and hot peppers. Multiple times per year, Market Street at MacCrcaken takes part in a Local Vendor's Day where vendors (including the Institute for Food) sell their food products and produce directly to students.
Talawanda Oxford Pantry and Social Services
The Institute for Food Farm serves the Talawanda Oxford Pantry and Social Services (TOPSS) by donating produce to the pantry in support of their mission. TOPSS works to "alleviate hunger and provide nutrition information to the families and individuals in need who live in the Talawanda School District." Located at 400 West Withrow Street, TOPSS receives donations from the Institute for Food of several hundred pounds of produce during the busy seasons of summer and early fall. The donations include fresh produce such as squash, cabbage, carrots, and kale. Read more about the institute's partnership with TOPSS (formerly OCCP) on our blog.
Oxford Farmers Market
Oxford Farmers Market is a year-round market located just behind Memorial Park in Uptown Oxford. The market has three seasons: Summer (May through September every Saturday from 8am until noon); Fall (September to November every Saturday 9am until noon); and Winter (December through April 10am to noon every 3rd Saturday of the month). With over 20 farmers as well as bakers and artisans, the market is the epicenter of local food in the Oxford area. The Institute for Food partners with Oxford Farmers Market to produce Oxford Local Salsa and Marinara Sauce.