January 31, 2023
Sterlin Harjo's "Reservation Dogs" earned Peabody Award in 2022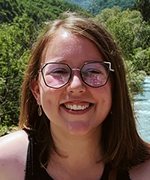 "Everything that I'm learning in my international studies major—because it's so interdisciplinary—is helping me feel confident in whatever position I end up in. International studies and GIC are very critical thinking-oriented fields, so I work a lot at understanding different perspectives and how things impact each other."
- Elyse Legeay, Class of 2021

Read what Elyse and others had to say about the GIC programs.