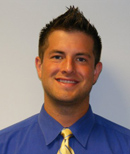 When I first arrived at Miami, I dabbled around a lot. Finally, heeding the advice of a few key people to consider pursuing a career in law, I decided to major in history, in order to train the reading, writing, research and other intangible skills necessary for that future. My eyes opened to a world of self-discovery and hidden talents that I might not have ever known had I not taken this path.
Fast forward to graduation in 2008: With my crisply framed Bachelors degree in hand, I quickly realized that the law school market was overly saturated and very competitive, so I found myself again at a crossroads. My sister, an engineer, suggested that I consider becoming a recruiter, so I started putting some of my history skills to work by doing research on the industry. I found that recruiters with a strong work ethic and a creative mindset were the ones having success, and so I started applying. Two weeks and four interviews later, I accepted an offer and began my career as a Professional Recruiter.
Fast forward to the present: I am very happy with the choice I made that day, and I am still recruiting. It's important to share the whole story with you because the successes that I have been blessed with in my recruiting career can be directly correlated to the skills I first gained as a History major.
As a recruiter, the majority of my workload requires navigating large amounts of research to find a specific type of person to meet my client's needs and, to be competitive, I must do so at a rate faster than my competition can.
My history degree has helped me to do three things of particular importance in my profession: (1) Efficiently research data; (2) Assess the validity of the information that I find; and (3) Present my findings in an articulate manner. These are the tools that have allowed me to succeed in my career, and they are the ones that I perfected as an undergraduate History major at Miami University.
But, beyond these, I came away from my undergraduate education with an unquenchable yearning to learn. I was blessed with course offerings ranging the gamut--from the Development of Early Christianity, to Medieval Jewish History, the Era of the American Revolution, and the Writings of Machiavelli. This desire to learn everything and anything is what made law so exciting. There is always a history to the law. The way material fits together is a rich mosaic that you unpack throughout the three years. In the same way historical inquiry unfolds, a history trained law student is able to meticulously discover the parameters of the law. I will always be grateful to Miami's history faculty for inspiring me to learn more, supporting me to find where my passions truly lie, and for challenging me to grow as a student. Indisputably, my history education prepared me for law school--and so much more.
---
The following videos were published in July 2015. Chris is an executive recruiter for Randstad Engineering, a global provider of HR services and the second-largest recruiting firm in the world. He has been collaborating with Miami's Career Services to advise graduating seniors on how to leverage their liberal arts degrees as they prepare for the entry-level job market. Here he talks about how history has helped him in his current career.
Thinking Outside the Box
Don't Worry