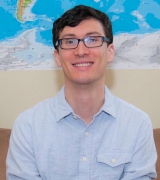 Title
Visiting Assistant Professor
Education
Ph.D. Conflict Analysis & Resolution: George Mason University
M.S. Terrorism Studies: University of St. Andrews, Scotland
B.A. International Peace & Conflict Resolution and Women & Gender Studies: American University, Washington, DC
Michael Loadenthal received his Ph.D. from George Mason University in 2015. He joined the Sociology and Gerontology Department in 2016 at a Visiting Assistant Professor of social justice. His research focuses on political violence, terrorism and social movements through the lens of discourse, rhetoric, and (anti-)securitization. Dr. Loadenthal's publications have appeared in Critical Studies on Terrorism, Journal for the Study of Radicalism, Perspectives on Terrorism, Journal of Applied Security Research, Journal of Feminist Scholarship, as well as other social movement and political theory journals and books. Dr. Loadenthal has taught a variety of courses at Georgetown University, George Mason University, the University of Cincinnati, the University of Malta, and Jessup Correctional Institution and has served as the Dean's Fellow at Mason's School for Conflict Analysis and Resolution and a Practitioner-In-Practice for Georgetown's Center for Social Justice. Beyond the classroom Dr. Loadenthal is the Executive Director of the Peace and Justice Studies Association and an anti-poverty Research Fellow at Hebrew Union College's Center for the Study of Ethics and Contemporary Moral Problems. As practice, Dr. Loadenthal posts all of his published work at gmu.academia.edu/MichaelLoadenthal.
Recent Publications
Loadenthal, Michael. "Interpreting Insurrectionary Corpora: Qualitative-Quantitiative Analysis of Clandestine Communiqués." Journal for the Study of Radicalism 10, no. 2 (2016): 79-100.
Loadenthal, Michael. "Eco-Terrorism? Countering Dominant Narratives of Securitisation: A Critical, Qualitative History of the Earth Liberation Front (1996-2009)." Perspectives on Terrorism 8, no. 3 (June 25, 2014): 16-50.
Loadenthal, Michael. "When Cops 'Go Native': Policing Revolution Through Sexual Infiltration and Panopticonism." Critical Studies on Terrorism 7, no. 1 (April 2014): 24-42. DOI: 10.1080/17539153.2013.877670.
Loadenthal, Michael. "Professor Xavier Is a Gay Traitor! An Anti-Assimilationist Queer Framework for Interpreting Ideology, Power & Statecraft." Journal of Feminist Scholarship 6, no. 1 (Spring 2014): 13-46.
Mondays 8:30-9:30; 1:30-2:30; 4:30-5:30
Wednesdays 4:30-5:30