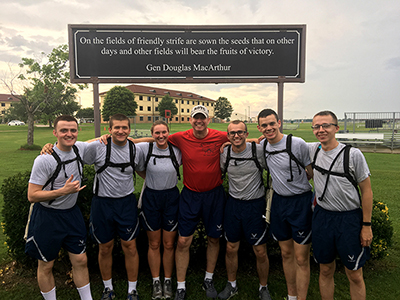 These sophomore (GMC Cadets) have just finished field training at Maxwell AFB, Alabama.
They are joined by Major Marc Gifford (center) who was there as one of many Flight Training Officers.
We currently offer 3- and 4-year programs. Most cadets opt for the 4-year program.*
* Any program less than 4 years will require coordination with ROTC staff members and additional courses in order to complete the program by graduation.
General Military Course
The first 2 years are called the General Military Course (GMC).
Freshman and sophomore cadets are required to complete one 1-semester-hour Aerospace Studies course per semester. Freshmen learn about the structure and mission of the Air Force and have a look at military life. Sophomores study the development of air power.
In addition, cadets attend a Leadership Laboratory (LLAB) that meets once per week for 2 hours. During LLAB you'll practice customs and courtesies, drill and ceremonies, and develop your leadership skills. You will also listen to guest speakers, participate in sports and physical fitness activities, and learn about areas of opportunity available to commissioned officers during LLAB. You may also elect to participate in base visits and orientation flights.
The GMC will prepare you to compete for a slot in the Professional Officers Course (POC). Continuation beyond the sophomore year is not automatic and selection is based on merit. In addition, you must also successfully complete an approximately 2-3 week Field Training (FT) course at Maxwell AFB, Montgomery, AL the summer prior to your junior year, with pay. At Field Training you will receive:
junior officer training
aircraft and aircrew orientation
survival and deployment training
weapons familiarization
physical training
leadership training
Professional Officers Course
Once you've successfully completed field training you'll enter the POC. During your junior and senior year you will take a 3-semester-hour course each semester focusing on leadership, management, communication, military law, and other officer skills. You'll also continue to attend LLab, but in more demanding cadet leadership positions.
Other activities available for student involvement include:
Drill Team
Joint-Service Sports
Arnold Air Society
Public Affairs
Joint-Service Military Ball
Detachment Dining-Out