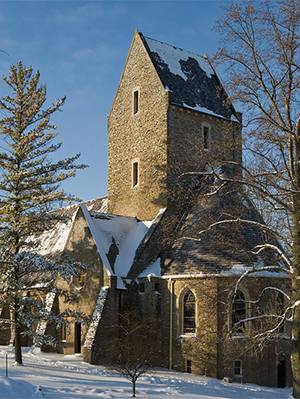 Kumler Chapel in winter
Over 150 Years of Tradition …
The Western Female Seminary, founded in 1853, was modeled on the College of Mount Holyoke. Classes began two years later with Helen Peabody, a Mount Holyoke graduate, as principal. The seminary was supported by Oxford's Presbyterian church and provided religious practice and low-cost, high-quality, undergraduate education for women.
Western hired Wellesley graduate Leila McKee to be its new principal in 1888 and moved towards accreditation. From 1894 to 1904, the college was called The Western: A College and Seminary for Women. In 1904, the name was changed to The Western College for Women to reflect its status as a liberal arts institution.
President Herrick Young brought an international focus to the curriculum in 1954. Under his leadership, Western recruited many international students and faculty, offered international travel seminars for its students, and emphasized global awareness and cultural studies in its courses.
In 1964, volunteers for the Civil Rights initiative known as Freedom Summer trained on the campus of the Western College for Women. College students from across the country were recruited by the Student Non-violent Coordinating Committee, Congress of Racial Equality and other organizations to go to Mississippi to teach in Freedom Schools, build community centers, and register African-Americans to vote. Approximately 800 students trained at Western; three of these students were murdered for their activism. The Freedom Summer Memorial, adjacent to Kumler Chapel, commemorates the courage and commitment of all Freedom Summer volunteers.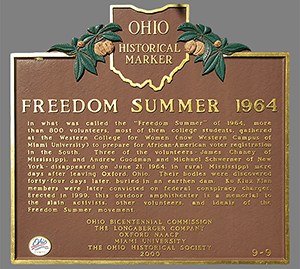 Official Ohio Historical Marker plaque: Freedom Summer 1964
In 1970, Western initiated another curricular innovation by implementing an interdisciplinary approach to education called "Freedom with Responsibility." Men were admitted in 1971.
Western merged with Miami University in 1974 and became a nationally known leader in the field of interdisciplinary education. In its new institutional home in the College of Arts and Science, the Western Program continues to draw inspiration from its predecessors, aiming to honor the intellectual legacies of Western College and the Western College Program, and to build a diverse community of learners from around the university.
Western's Historic Campus
Peabody Hall is the traditional home of the Western Program. Listed on the National Register for Historic Places, Peabody is a living-learning residence hall that also includes faculty offices, classrooms, learning resource centers, and a theater/lecture hall.
"New Hall" was dedicated in 1904 during Western's commencement activities. This residence hall was renamed to McKee Hall in 1917 to honor Leila S. McKee, president emerita and trustee of the college.
In 1924 construction began on another residence hall. Ten years later the trustees named this dormitory Mary Lyon Hall to recognize Western's relationship with Mount Holyoke and to honor its founder.