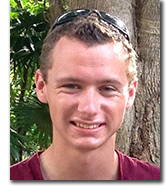 honors junior Mathematics and Statistics major with an Analytics co-major
minor in Actuarial Science
from Chagrin Falls, OH
Treasurer of the Miami University Actuarial Science Club
Resident Assistant (RA) in Havighurst Hall
College of Arts and Science Ambassador
"Follow your passion. Do not do only what other people want you to do — do what you want to do…Explore your interests, take different classes, talk to your advisor — you can work it out, and you might even surprise yourself when you find something that you love."
Why Miami?
"I loved the Miami campus as soon as I visited. It was absolutely beautiful, and it has a small town feel that is nicely concentrated. Miami's location was also neither too close to nor too far away from home. On top of that, I received a nice scholarship offer, which is very conducive to a college education.
"Math has always been my favorite subject, so I came to Miami with a math major already declared. I thought statistics would complement it well, especially when it is applied and used more directly in the industry. I like solving problems and getting answers, but I also like knowing the explanations behind them. Math and stats shows me what lies behind the scenes.
"I had both math classes and stat classes from my first semester. This helped me succeed more, because I was doing something that I loved as well as taking extra classes that were not within my major."
Best Miami Experiences
"The opportunities and community that Miami provides are really outstanding. I soon realized that when I walk to class, I always see someone that I know. I've made a lot of friends and met a lot of great professors.
"My number one experience at Miami is being a resident assistant (RA) in Havighurst Hall, a first-year dorm on the Western campus. Although it's not related to my major or academics, this was the best decision I've made in my life!
"I'm also the treasurer of the Actuarial Science Club, which has been growing and growing since the end of my freshman year. We have been inviting a lot of companies to talk to us, and this academic year we've already had representatives from three companies speak and provide networking opportunities.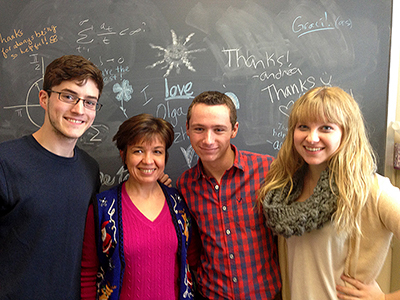 (L to R) Andy Edinger, Dr. Olga Brezhneva, AJ Tatro, and Heather Mathews
"I've had some really great professors at Miami. My first math professor was Olga Brezhneva, who made quite the impact on me. You can tell that she wants her students to grow. I've taken three of her classes as well as an independent study.
"I've also had a great experience with John Bailer in statistics. He has a lot of industry background, which really helps us understand how what we are doing can be applied in the real world. There's also Thomas Fisher, my advisor for my major. He focuses on mathematical theory in statistics and has shown me a lot of what can be done within this field. Byran Smucker has been an integral part of my experience as well, both as an advisor for the Actuarial Science Club as well as for my Actuarial Science minor.
"Among students, my fellow math-stat majors Heather Mathews and Cody Philips are two of my best friends, having met during my first class with Professor Brezhneva my freshman year. We relate really well to each other and share many of the same classes.
"My classes feel very career-oriented and can be directly applied to the industry. For example, my data visualization class assigned a client-based final project in which we worked with the Miami University Employee Wellness Center. The assistant director talked to our class about the project's real-world impact, demonstrating how math and stats is applicable to the real world. You cannot get any better than that!"
Miami and Liberal Arts Education
"Because of Miami's requirements to take a variety of courses outside your major, I have found many ways to think beyond math and stats. I've taken French, art history, and many other classes that have nothing to do with my major, and I've benefitted from being able to use my brain in other ways. A liberal arts program pushes you to do that while also giving you options to take what you want.
"As an Honors student, my first class at Miami was Math 222T/331T, taught by Professor Brezhneva. The linear algebra and discrete math I learned in that class have been fundamental for everything I've taken since. It's high level thinking, so to do well, you need to talk about it and work with other people. You should never be sitting in a room only working on one problem by yourself — discussing a topic with others is how you work things out!"
Campus Leadership Experiences
"In the Actuarial Science Club, there are two main things that we do. First, we bring in a variety of insurance and consulting companies, which give presentations and networking sessions that allow students to meet people in the industry. Second, our club also talks about the actuarial exams and the courses you need to better yourself for an actuarial career. We generally get about 10-20 people at an information session, and Miami's actuarial science program is definitely growing. It might ultimately develop from a minor into a co-major.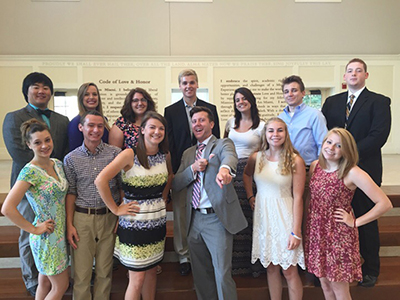 Official Resident Assistant staff photo (AJ Tatro in front row, second from left)
"I first became interested in becoming an RA during my freshman year, when I was living in Tappan Hall. My first assignment was Havighurst, a first-year dorm, and I stayed there for a second year since I was very happy with where I was. I've made some great friends among the staff and got to know some great residents. Together, we do a lot of programming — a sushi-making night, academic workshops from a student's perspective, participation in the spring Indian festival called Holi, a free laundry night, as well as pancakes for the mornings of scheduling.
"Being an RA is not all just programming, though. We also do rounds throughout the building to ensure safety, make connections, and mediate conflicts between residents. Just walking around Havighurst you might have students come to you with a problem which could be anything from being locked out of a room, to feeling homesick, to just wanting to talk. You see both the negatives and the positives, and as the year goes on, people realize that RAs are there to help people, to make those connections, and to open people up. We really facilitate that growth."
Advice to Students
"Follow your passion. Do not do only what other people want you to do — do what you want to do. You might be told that you cannot get a job with that major, or you're not going to be paid well, but doing something you like goes so much further than any of that. You can major in anything and find something that will help you succeed. Explore your interests, take different classes, talk to your advisor — you can work it out, and you might even surprise yourself when you find something that you love.
"Also, you have plenty of time to figure out your major, so don't stress out about it. I'm not saying that knowing your major doesn't help in some way, but don't let yourself miss the opportunity to take other kinds of classes. And there's nothing wrong with changing your major!
"Finally, students should get involved with professional and social organizations on campus, as there are so many to join. Regardless of your major or your interests, there is probably a club for it. Clubs are fun, and they let you meet other people so you won't forget who you are. We all feel the pressure to succeed and do well in our major. Miami is a great time to learn more about yourself and grow as a person. Enjoy your time here and make the most of it!"
[September 2015]