Emily Gillispie (Class of 2017)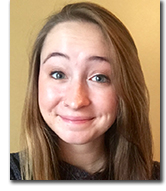 junior Environmental Earth Science major with a Sustainability co-major
from Grandville, OH
resident of the Environmental Awareness Living Learning Community
member of Miami Equestrian Team
conducts research on groundwater levels in the Oxford area
studying natural resource management and coastal ecology in Zanzibar and Tanzania (Spring 2016)
College of Arts and Science Ambassador
"If you're interested in being a part of a research project, you should get involved early on…and the earlier you get started with it the more rewarding it will be as the project continues to develop. There are many, many types of research to explore at Miami, and you will be able to find something for yourself."
Why Miami?
"I chose Miami mainly because of its great Environmental Earth Science program, which just wasn't comparable at many other universities that I looked at. My interest in the environment started in high school—I wasn't really sure what I wanted to do, but I knew I wanted to help people and I knew I liked being outside. Then I took my AP biology class and started asking questions and looking at college majors. Until that point I hadn't realized that environmental biology and earth science were areas of study, but when I saw that it was a major at Miami, I knew it was what I want to do!
"Although I wasn't sure about everything that environmental Earth science entailed, once I started taking classes here at Miami, I fell in love. It was a little overwhelming at first, but Miami's Living Learning Communities (LLC) made it easy. I lived in the Environmental Awareness LLC in Peabody Hall, which was a great way to meet other people who had similar interests.
"Another reason why I chose Miami is because of its great reputation in study abroad. I didn't know where I wanted go to but, once I began my international studies courses my eyes were really opened to the possibilities. Also, because I've been riding horses my whole life, Miami's Equestrian Team was attractive to me.
"Overall, it just came down to the fact that Miami basically had everything that I was looking for."
Best Miami Experiences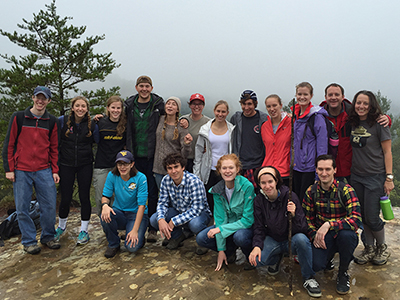 Emily Gillispie (standing, 5th from left) and fellow Miami University Geology Society students on a field trip to Red River Gorge, Kentucky
"There are so many opportunities at Miami to support all of my different interests. For example, I'm part of Eco Reps, which is an organization that supports sustainability in all of the dorms. There's also the Miami University Geology Society (MUGS), which has been great because we've gone on a lot of really fun field trips.
"As part of Miami's Equestrian Team, I was able to go to nationals for two years, which was really amazing. That experience has helped me make a great group of friends from all over Miami. We all have different majors and interests, but our main common denominator is the equestrian team and our love of horses!
"I got involved in Eco Reps as a dorm rep my freshman year and became a co-leader a year later. It's really fun and challenging to involve Miami students in sustainability. We had a booth at Oxford's Earth Fest last spring, and we hold a table in Armstrong [Student Center] in order to meet all types of students. Our main goal is to educate students who live in the dorms and others in the community on various 'eco facts' and challenge them with recycling competitions. We also do something called 'trash auditing', where we select dorms at random and go through their trash—wearing gloves, of course!—to see what could have been recycled. We also created a giant tree whose leaves were made out of recycled paper, and people could write what they could do to make their dorms more environmentally friendly.
"Probably my best Miami experience, however, related to academics has been doing research on groundwater contractions here in Oxford and the Miami Valley. I got started as a sophomore, and the project has expanded and gotten more and more fascinating!"
Measuring Nature's Contributions to Oxford's Drinking Water Supply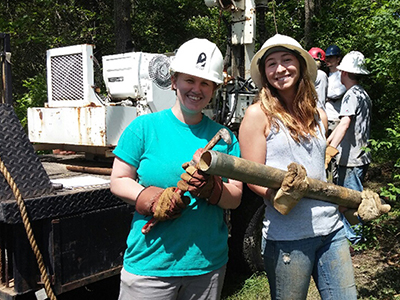 Emily Gillispie (right) and a friend drilling a well during the Methods in Hydrology Field Course
"Groundwater has been fascinating to me ever since I took a hydrogeology course as part of my Environmental Earth Science major. I got involved in a research project that examines the groundwater contribution in a nearby stream, and through that we have been monitoring how much surface water is actually being pulled in versus how much groundwater is being used up.
"Four Mile Creek, which runs through Preble and Butler County, has three pumping wells. I'm working with a geology graduate student, Ismael Casado, and our research is funded by a Doctoral Undergraduate Opportunity (DUOS) Scholarship. Ismael and I go around the general region to check the water levels once a month and compare it to the levels in the stream in order to see which way the water is generally flowing—either the groundwater is contributing to the stream, or the stream is contributing to the groundwater.
"It's actually a really hard process to measure groundwater, and there are a lot of different techniques, but this fieldwork has been an amazing experience. It never really goes exactly as planned, but that's often the nature of research. It's all about problem solving, and although we tend to get some really crazy results, it's been a lot of fun."
Miami and Liberal Arts Education
"There's a real interdisciplinary aspect to liberal arts education. Being trained in only one particular field, such as geology, isn't enough. There are a lot of important and different components, such as writing lab reports, which are improved by taking various kinds of classes outside the sciences. For example, I have taken many humanities courses in international studies and language. Although they're not directly related to my major and I may never use them specifically, I know they will be helpful in my life.
"What I love about the environmental Earth science major is that it itself is really interdisciplinary too. It's in the geology department, but I have professors in my major who talk about many different types of sciences, including ecology and biology. These are going to help me with my career working with sustainable resource allocation. I want to help people and the Earth. I haven't yet figured out exactly what I want to do, but I know I'll be prepared."
Advice to Students
"Just pick something and go for it. The more I took various classes here at Miami, the more I realized what it was that I liked and wanted to do. Diving in is important. Whether it goes great or not, at least you can say you had that experience and then move on if you like.
"If you're interested in being a part of a research project, you should get involved early on. It's really an ongoing process, and the earlier you get started with it the more rewarding it will be as the project continues to develop. There are many, many types of research to explore at Miami, and you will be able to find something for yourself."
[September 2015]