Virginia (Ginny) Hogue (Class of 2016)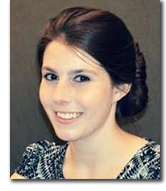 senior Political Science major
minor in International Business
from Cleveland, OH
studied abroad in London, Paris, and Luxembourg during two separate trips
pursuing a career in business analysis/sales and business strategy with an international focus
"A liberal arts program at Miami makes you view the world differently by influencing the way in which you approach particular problems and circumstances. This is such an important aspect of education, as compared to simply choosing a major and acquiring a degree."
Why Miami?
"I used to row in high school and came down to southwest Ohio one summer for a regatta. On the way, my family and I decided to tour almost every college from Cleveland to Oxford, a lot of which I really liked and struck me as very impressive. However, when I arrived at Miami it was incomparably gorgeous. We ended up meeting with some of the advisors who walked us around campus and detailed some of Miami's amazing programs. Additionally, due to my love of travel I loved Miami's strong emphasis upon study abroad; just knowing that the university offered over 200 programs was a huge catch for me.
"I had taken courses through post-secondary enrollment options in high school, so by the time I came to Miami I had already completed 68 credit hours. As a freshman here I took some junior level courses which turned out to be fairly difficult, so I struggled quite a bit. However, there was never a time that I didn't love Miami or doubt that it was the right place for me. It's always been a very positive experience.
"I started off as an International Studies major and was exposed to courses that dealt with political science. Politics have always been a huge aspect of my life, and it's never stopped being something that I'm extremely passionate about. By the fall semester of my junior year, that passion still hadn't faded and I decided that I wanted to focus more upon politics, bureaucracy, governmental structure, and so on, so I switched my major to Political Science and have loved it ever since.
"The Department of Political Science has some professors who are absolutely amazing. As a matter of fact, one thing Miami is really good at in particular is growing their faculty and ensuring that students have wonderful guides and resources."
Best Miami Experiences
"When it comes to what I like most about Miami, it's the simple fact that I feel as if I know everybody. It never ceases to make me laugh when I find myself saying hello to someone I know every five minutes, whether they be friends from study abroad, class, or a student organization. That's the irony about Miami—it's a fairly big school with a small town feel, and I absolutely love it. Somehow college has managed to make itself everyone's home and people are always so friendly, even if they don't happen to know you. The network of students and faculty here is like a family.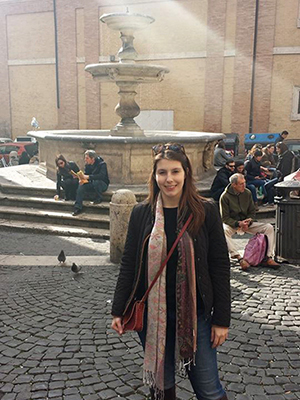 Ginny Hogue stands in front of a fountain in Italy.
"There's a long list of people who have encouraged me here at Miami, whether it be within the context of a class, study group, or simply friendship. They include Dr. Terri Barr, a marketing professor and the MUDEC Committee Chair. She helped me determine my future career path and is one of those professors that will always pull through to help students if they extend themselves to her. There's also Catherine Lefever, who since my freshman year has advised me on my academics and is one of many professors that I still keep in touch with. Overall, everyone is willing to reach out to you and help in any way within their capability.
"I've been fortunate to complete two study abroad trips through Miami. The first program, Americans Abroad, allowed me to spend 4-5 weeks exploring London and Paris the summer after my freshman year. Then, last semester I also studied in Luxembourg through the MUDEC program and had an absolutely amazing time.
"I've also gotten involved with so many different organizations over the course of my college career, which is something that I strongly recommend. It's a really positive experience being in multiple groups because it gives you a chance to experiment and see where you fit. For instance, one thing that I devoted my time to was the service fraternity Alpha Phi Omega, which turned out to be a great way for me to occasionally get off campus. I fulfilled philanthropic projects in the Cincinnati area and met other volunteers."
Studying Foreign Affairs in the European Context
"In my opinion, when you are a 20-something college student, it's the perfect time to live and study abroad. You learn so much and in such a different way than you otherwise would within a classroom. As you travel and experience different cultures, the life skills and critical thinking that you gain arguably trump almost every other possible experience and opportunity. There's nothing better that you could possibly do with your time!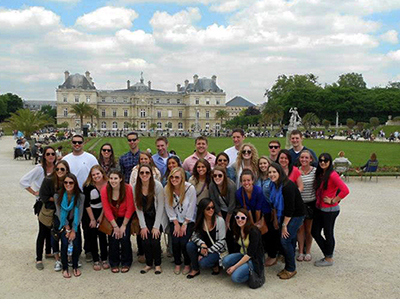 Ginny Hogue and friends pose in front of Palais du Luxembourg in Paris, France.
"Within this aspect, my Political Science major remains convenient due to the diverse ways in which you can study it. For instance, you could focus heavily upon foreign policy, but you could also choose a very domestic focus. During my experience on the Luxembourg program, I studied under a professor who served time as a Belgian ambassador working on almost every level of the European Union Foreign Council of Affairs. This circumstance presented me with a great opportunity to examine how Political Science majors can approach the study of foreign affairs, as well as how different governmental systems, such as individual European nations, must cooperate for a greater cause.
"After all, at the end of the day we live in a global market and global world. My focus on foreign affairs in Luxembourg made everything within the international context feel much clearer. We were studying the transition from one governmental system and currency to another. It's one thing to learn about something within a textbook, but study abroad makes you tangibly observe and participate within the material. I felt I was actually living that experience."
Miami and Liberal Arts Education
"In some ways, a liberal arts education can be considered both a blessing and a curse because you encounter courses that may not relate to your major and thus seem irrelevant, but they end up helping you become a much more prepared and well-rounded student.
"For example, during one of my job interviews I was actually asked what the Pythagorean theory was! Fortunately, due to a mathematics course I had taken my freshman year I was able to answer her question, but who would have thought! While I was traveling in Poland on a study abroad trip, I even managed to use some of my freshman year Russian to communicate.
"A large part of any liberal arts major is the emphasis placed upon research and analysis, and this involves developing your reading and writing skills. These were instrumental to my tasks during a summer internship at Georgetown University in Washington, DC, which stressed proficiency in writing and speaking well. In a clear and concise manner, I had to summarize dense, complicated documents on things like the Iran nuclear deal for my employers who didn't have time to read every inch of the literature themselves.
"Although my Political Science major has a strong focus upon pursuing law school and politics, the liberal arts connection allows me to be equally committed to figuring out other options. I know I can successfully pursue different pathways in business and management. I have been able to utilize my resume, interviews, and experiences both inside and outside the classroom to build myself into a better job candidate."
Advice to Students
"The best advice I can give to students pursuing a degree within the College of Arts and Science is to utilize the strengths and characteristics that set you apart. If you have a strong passion for something, pursue a major in it! There are also many minors that you can choose from to complement your area of study and add a unique edge to your career path. Your liberal arts education allows you to delve even more deeply than your major in regards to research, asking questions, thinking critically, and simply learning to be a good employee. The multifaceted education you're getting at Miami sets you up to pursue all kinds of careers and specialized degrees.
"You should also take into consideration the size of your major department, as it often allows you to get to know your professors well and take advantage of the resources they offer. Once you find an area of interest, devote yourself to it and find new ways to build off of it.
"A Political Science major, for example, does a great job of setting students up for pursuing law school and political careers, but many other opportunities exist. Not only are my professors extremely knowledgeable, but they are equally fun and enthusiastic about any opportunity they have to teach and guide those who come to them for help.
Overall, it's been truly inspiring to see how passionate everyone at Miami remains to their field and their students!"
[October 2015]