Daniel McClurkin (Class of 2017)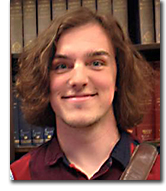 senior triple major in English/Literature, Anthropology, and Classical Humanities
from Youngstown, OH
Altman Undergraduate Fellow (2016-17)
College of Arts and Science Ambassador
anthropology research as Undergraduate Summer Scholar (2015)
volunteer for the World Wide Opportunities on Organic Farms
personnel coordinator and member of the editorial staff for Inklings magazine
"People are people, and knowing people is important. It's not about getting an edge up — it's about feeling like you belong on this planet. And that's all a result of doing things, meaningful things."
Why Miami?
"One of the reasons I chose Miami was just the feeling of being on campus. I'm from Youngstown, which is very much an industrial/post-industrial city. Miami's natural green spaces and gorgeous architecture really struck me, like — and I'm embarrassed to admit this — the ideal British university: the Cambridges and the Oxfords. Of course, I was still in high school, but I still remember my first time seeing Miami's expansive quads, which hosted tightrope walkers and a spattering of napping students. As idealistic as those memories were, I can't underplay the effect they had on me.
"Originally, I tried to underplay these emotional reasonings. I didn't want people to think that I chose Miami on a whim, but as the years went by I've begun to realize that that emotional whim is a very valuable and important tool. Going to college shouldn't be a business deal that you're making — it's all about perceptions. Feeling comfortable on a campus for me was as much a prerequisite as the university being a top-rated institution. Luckily, I found both at Miami.
"More specifically, I chose Miami because of the English department, especially professors Patrick Murphy and Madelyn Detloff. When I visited Bachelor Hall, the entire department was very welcoming, and although I doubt they remember meeting me at the time, I definitely remember them. The way they received me helped me feel comfortable walking through those halls later on as a full-time student."
Best Miami Experiences
The cast and crew of Stage Left's production of Hair: The American Tribal Love-Rock Musical
"One of my best Miami experiences was directing the classic hippie production Hair: The American Love Rock Musical for Stage Left last fall. The production takes place in the late 1960s, and it was a great learning experience for the cast and me. I wanted to bring historical aspects of the show to life, so I brought in guest lecturers such as Miami alumnus and Vietnam veteran Lee Fisher, who talked about his experience in the Vietnam War to remind the cast that what they're singing about are real feelings and emotions. This wasn't some sentimental melodrama based off of bourgeois flights of fancy — this was a dramatic retelling of a part of American history. I also had the cast read poems and listen to albums from the era. It was great working with them as they confronted and interpreted these various situations.
"During my first year at Miami, I was also a nude model for an art class taught by Daniel Bonham. I'd always loved the idea of my visage being interpreted and recreated, and when I actually got a chance to model, the experience made me reinterpret everything I'd known. I'd gone to a Catholic school, where your body is constantly policed and is very morally based — from how long your hair is to how short your skirt is. It was all considered a moral affront to God, making it a very interesting experience modeling for this drawing class, along with three others. Don't get me wrong — my high school was top-notch, and I was privileged to be able to go there, but modeling was my first step in a sort of true 'corporeal' education.
"During my modeling days, I learned the difference between 'naked' and 'nude', which are different perceptions of displaying one's body. For example, Adam and Eve were naked when they were ashamed, but they were nude when they were created; it's all dependent upon the situation. I learned from the art students' questions, many of which I'd never thought of before. They had to capture shapes, and they were really concerned about objectifying our bodies. Some felt really uncomfortable that they were essentially breaking us down and putting us back together.
"This discomfort was revealing to me. Working through it, I learned how different people approach the human body, including the various ways they would draw the same kinds of poses. For me, all of those ideas and connotations led to a very positive, healthy, partially non-verbal discussion. It was really important to my own personal development.
"Finally, another key Miami experience was one that grew from a program I joined independently. During the summer of 2014, I volunteered to work at a farm in Ireland through an international program called World Wide Opportunities on Organic Farms (WWOOF). This led me to apply for and receive an Undergraduate Summer Scholarship (USS) in 2015 to conduct ethnographic fieldwork with the Baha'i community of Northern Ireland.
"Most every professor I've had has helped me in important ways, but due to time and space constraints I'll focus on three — one from each of my major departments: Katherine Gillespie in English, Zara Torlone in Classics, and James Bielo in Anthropology.
"Dr. Gillespie's Milton course literally changed the course of my education. As the chair of my senior thesis, she taught me not only how to do research but also how to take texts from the 17th century and make them applicable today. She's been extremely involved in my education and is someone who I would sincerely call a mentor.
"I had Dr. Torlone for Latin 201 and 202, and then later for the Havighurst Colloquium. Her classes were incredibly difficult but invaluably rich, and I admire her as a teacher and as a scholar. She is the first person to show me how interdisciplinary research can and should be done. She's offered countless hours of counsel throughout my time at Miami and has kept me solidly moving forward through academia.
"Finally, Dr. Bielo oversaw all my research in Northern Ireland. He not only taught me how to do ethnographic fieldwork, but he also helped me realize the real power of talking to people on an intimate, personable level. His mentorship has undoubtedly made me a better scholar and, as cliche as it sounds, a better person.
"I feel the need to note that only naming three of Miami's faculty here is a disservice to the amazing professors who have enriched my life. Therefore, I would also like to mention Cynthia Klestinec, Andrew Hebard, Jeb Card, and Leighton Peterson as all being true boons to my university days!"
Miami and the Liberal Arts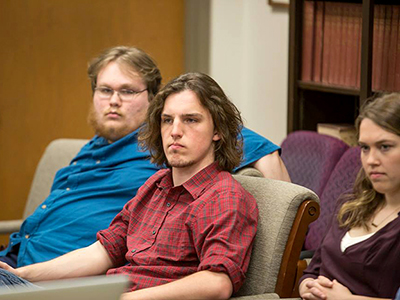 Andrew Hofmann, Daniel T. McClurkin, and Heather Burich at the first meeting of the 2016-2017 Altman faculty, graduate, and undergraduate fellows.
"The liberal arts work off of the primary assumption that there is no such thing as non-interdisciplinary approaches to problems; there is no job that does not deal with multiple fields. For example, when I worked in an Oxford retirement community, it was not just about applying what I knew from gerontology lectures, but it was also about understanding and practicing communicative skills in order to sincerely engage with the residents in such a way that they didn't feel they were being talked down to or disrespected.
"A big part of the liberal arts approach is knowing how to engage with different situations and how to ask good questions. It's not enough to be a 'people person'. It's all about being able to take what you know and apply it to whatever situation you find yourself in; it's how to ask the right question and then how to listen for the right answers. In many ways, this is the practical manifestation of critical thinking.
"I believe that generally, as humans, our default response is to generalize and stereotype — not caring about what others have to say, but caring about what you expect them to say to justify your own beliefs. If you try to force something to map into what you want it to be, then you haven't listened — you've made it about you. That's why it's so important that the liberal arts teach us how to see and understand people through the lens of our complex, multicultural society."
Ethnographic Fieldwork in Northern Ireland's Baha'i Immigrant Community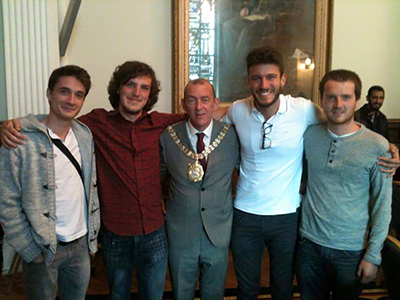 Daniel McClurkin and then Lord Mayor of Belfast Arder Carson (2nd and 3rd from left) pose with 3 other volunteers.
"My Undergraduate Summer Scholarship (USS), under Dr. Bielo, came about after I joined the WWOOF program to volunteer on a farm in Northern Ireland. I ended up making friends with many of the farmers there during summer 2014, and my USS award allowed me to return to Northern Ireland during the summer of 2015 to do research.
"My family is originally from Northern Ireland, and I grew up in a decidedly Irish Catholic household. I learned about a Baha'i religious community living in the Belfast area. Some of them were immigrants, and others were native-born, and I became interested in how they performed 'Irishness' without being practicing Catholics or Protestants.
"Baha'i is a faith that accepts all teachings, all manifestations of God, and its practitioners have faced persecution in Iran, where their religion originated. I wanted to learn how their traditional faith informed their understanding and relationship to 'The Troubles', a period of sectarian violence in Northern Ireland during the late 20th century.
"Understanding the background of 'The Troubles' was important to engaging with the Baha'i community and listening to their stories. I sat in on firesides and devotionals and feasts for all sorts of Baha'i' celebrations. I lived with them, worked with them, interviewed them, went to their community centers, and sat in on their lectures and sermons.
"At night I would look over my interviews and write up all of my notes for my USS research paper, sometimes working by nothing more than a small lamp in my cozy little guest room. It was truly a humbling and life-changing experience, and the Baha'i community of the greater Belfast area will always hold a place very close to my heart."
Advice to Students
"As a humanities student, it's important to surround yourself with people who remind you that what you're doing is important. That is one of the most onerous burdens felt by anyone who falls outside of some of the 'economically preferred' majors in business or the sciences. For English, anthropology, and classics majors like me, it's something that constantly weighs on you. You have to constantly justify yourself, so it's so important to find friends and peers who support you.
"As a CAS [College of Arts and Science] Ambassador, I've had people ask me in front of an entire group of incoming students, 'So do you expect to flip burgers for the rest of your life?' There'll always be people who think that they know what's best for you, and they're going to follow you everywhere until you prove yourself. You just have to surround yourself with people who know what you're doing is worthwhile.
"The other side of this advice is that you should surround yourself with people who can be cruelly honest, since sometimes what you're doing is not worthwhile. These people will help you ask better questions about your objectives; they're not going to just sit there and pat you on the back. Everyone needs constructive critics in their life!
"I also highly recommend getting a double major or a minor. Don't let anyone tell you that it's better to just focus on one thing. Even if you major in things with similar topics, you're going to come at whatever you're studying in a completely different way.
"Finally, the best advice that I could give is to just do things. That may sound really unhelpful, but it's important to do more than relax, lounge around, and go to parties. In healthy doses, those are all phenomenal activities, but I always try to remind myself of the great privileges of being a Miami student, and how many resources I have available to me. I try to take the time to go hiking, cook dinner for friends, write a short story when the mood strikes me. Simply 'doing things' helps me feel more in touch with the world around me. You have to remember that people are people, and knowing people is important. It's not about getting an edge up — it's about feeling like you belong on this planet. And that's all a result of doing things, meaningful things.
"None of us are fully formed human beings, nor will we ever be, but doing different things can help keep you mentally sane, reconnect you with the community, and make you feel like a real part of something."
[February 2017]