Olivia Vandervoort (Class of 2017)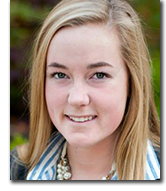 senior Political Science major
minor in English Literature
from Pickerington, OH
Ohio Public Leaders Fellow (2016); Seasongood Good Government Foundation Fellow (2016)
College of Arts and Science Ambassador
University Academic Scholars Program (Law and Public Policy Scholar)
Chief of Staff of the Executive Cabinet for Associated Student Government
witnessed "Je Suis Charlie" movement while studying in Paris (2015)
"I can't stress enough how important it is to form relationships with the faculty and administrators in your department. Everyone is excited to help, so try to form those relationships early on. Departments offer so many opportunities if you're willing to go out of your way to get to know people. You just have to put yourself out there."
Why Miami?
"My parents are Miami mergers, so I grew up familiar with the university. I always knew that Miami was a special place for my parents, who still speak warmly about their experiences. Coming here as a student myself was always in the back of my mind, but I always thought I'd go out of state. But when I actually started the college search process, I realized that Miami had everything I was looking for. I loved the idea of the 'big school experience' in a smaller school. I found the emphasis on undergraduate education to be exciting, including how everybody on campus seemed to actively participate.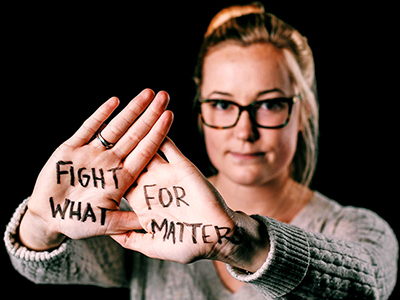 Olivia Vandervoort participating in 'Dear World', an interactive, award-winning event that unites people through pictures (December 2016)
University Academic Law and Public Policy Scholar, a program which allowed me the opportunity to join a small group of students interested in law, government, and public policy like I am, and ultimately decided to be a political science major. During my first semester, we had a class with Dr. Patrick Haney, the chair of the department. Each week we discussed various topics in the news, and it was an extremely interesting way to get acclimated to life as a political science student. It created a close peer community, and many students from that program are still some of my closest friends today.
"I had originally intended to go the pre-dental route at Miami, so I took some introductory biology courses and other related courses. Because I was also considering law school as an option, I took several political science courses as well. I realized I was enjoying those classes more, and I fell in love with the whole Political Science department."
Best Miami Experiences
"At Miami there is a variety of opportunities to get involved beyond academics, and I've made a lot of different groups of friends in various areas around campus. I love that I see familiar faces everywhere I go here.
"I've taken part in a number of student groups. During my freshman year I became a senator for Associated Student Government (ASG), which led to a greater leadership role as President Pro-Tempore. This year I'm a member of ASG's Executive Cabinet as Chief of Staff, where I've been helping out our current president, Maggie Reilly. It's the most senior leadership position I've had at Miami, and it has allowed me to work occasionally with Dr. Gregory Crawford, the new university president!
"Since sophomore year, I have been a member of the University Lecture Series Committee, which has given me the chance to help choose the annual speakers and plan their visits. I've even been fortunate to introduce some of the speakers, including Project Runway's Tim Gunn and the producers of Making a Murderer. Helping to plan these high profile events has definitely been an impactful part of my time at Miami.
"Along with Dr. Haney, Dr. Mark Morris and Dr. Phil Russo in the Department of Political Science have had a major impact on me as well. I work with them as an intern in the Center for Public Management and Regional Affairs (CPMRA), where I learned about the Ohio Public Leaders fellowship. In January 2016, I worked in the Champaign County Court of Common Pleas in Springfield, Ohio with Judge Nick Selvaggio, and this was a fantastic learning experience. Drs. Morris and Russo also nominated me for the Seasongood Good Government Foundation Fellowship, which allowed me to live and work in Cincinnati for the Office of Performance and Data Analytics last summer.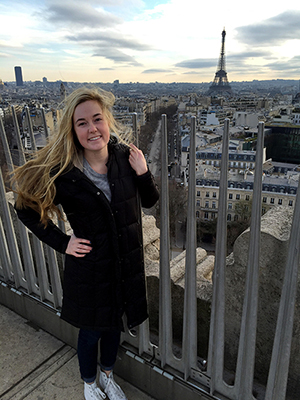 Olivia Vandervoort during a study-abroad trip to Paris (January 2015)
"Another formative part of my time as a Miami student was studying abroad. For J-Term 2015, I participated in the 3-week Paris: Cultural Capital trip, which was interesting because it was arts-based and gave us the opportunity to go to a lot of amazing museums and other cultural sites.
During our first week in Paris, the Charlie Hebdo terrorist attack happened. This event was extremely tragic and frightening, sending shockwaves through the city and the rest of the world. It led our group to a lot of discussion as well as opportunities to see and participate in the historic marches that took place soon after. In that way it became very relevant to my political science major, even though that wasn't the original focus of the trip. We were in the city, saw the city react, and witnessed people come together with the 'Je Suis Charlie' movement."
Miami and the Liberal Arts
"When people hear that I'm a political science major, many think that I must be a super-argumentative person who wants to debate them on every little topic. It's certainly true that political science has given me a sense that I can go into any room, any sort of experience or environment, and be more comfortable. However, it's also taught me to think from multiple perspectives and to avoid being one-sided. I've really enjoyed taking dialogue-based classes, in which we study current events in real-time and discuss their historical context. I've learned how to look at the world and try to analyze more of what's going on.
"This leads me to the liberal arts, which as a whole have taught me how to think broadly and analyze a variety of issues and concepts. While political science itself has helped me stay informed, I feel that having a liberal arts degree exposes me to different things and makes me able to talk to all kinds of people. I learn and adapt, and I know that I can add value to different situations.
"For example, last summer for my Seasongood Good Government Foundation Fellowship, I had a position in data analytics. I've never considered myself to be a 'numbers person', so I went in very nervous about having little prior experience in an analytics-focused office. To my surprise and delight, I found that I was able to be valuable in other ways, and I soaked everything in and became a good listener and learner.
My background in political science also helped me during my Ohio Public Leaders fellowship, where I worked in a city government role. I had already learned how city government is supposed to work, but I saw firsthand the little nuances that I'd only heard about in class. Seeing actual issues come up in front of me put all my classroom learning into context."
Working in Student and City Government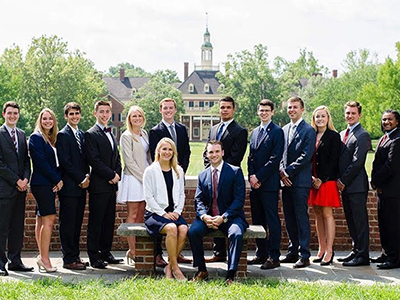 Associated Student Government Cabinet (Olivia Vandervoort in red skirt)
"My first semester at Miami, I walked into MegaFair and was overwhelmed. In high school I'd been involved in many clubs and sports, so I knew I wanted to continue that in college, but I hadn't done student council or anything like that. MegaFair was an eye-opening experience for me where, all of a sudden, someone asked me, 'Do you want to run for student government?'
"I asked myself, 'What do I have to lose?' I was living in Havighurst Hall on the Western Campus, so I had to get elected to that district. This involved getting at least 50 signatures on a ballot, which I mostly got by hanging out in my dorm lobby and asking people to sign for me. After the petition was submitted, I had to get students to vote for me in an online election, so I made signs to be hung around the hall, knocked on doors, and talked to lots of people.
"One of the main things about being a senator is that you are a liaison for the students in your district, so it was a neat experience to say, 'If I'm elected then I'm going to be able to be somebody that you can go to, to make your voice heard.' It was an honor to make sure that if students had concerns, I brought them to the larger senate body.
"My experience in governance has extended to the local level as well. First I had my Ohio Public Leaders fellowship, and the following summer I had my fellowship from the Seasongood Good Government Foundation, which places qualified individuals into the Cincinnati city government.
"To get that fellowship, I had to go through several rounds of interviews, where we talked about my interests and what I'm looking into doing. There are numerous Cincinnati offices with different roles, such as the city manager's office and the mayor's office as well as roles like PR, planning, and performance and data analytics. Despite my lack of experience in that area, I ended up being placed there, but it was a great fit for me.
"I joined 3 other student interns in the Office of Performance and Data Analytics. There was a lot of 'learn as you go', which included a short training period where I tried to absorb all that I could. Throughout it all, everyone was very understanding and fantastic to work with!"
Advice to Students
"I can't stress enough how important it is to form relationships with the faculty and administrators in your department. Everyone is excited to help, so try to form those relationships early on. Departments offer so many opportunities if you're willing to go out of your way to get to know people. You just have to put yourself out there.
"Of course, not everything can be your priority, but I think that people are often hesitant to get too busy. The things that keep you busy, however, are the things that make your experience at Miami meaningful! Knowing professors and getting involved in organizations is a great way to make those connections, but they aren't just going to come to you.
"My final piece of advice is about study abroad. A lot of people are uncomfortable with the prospect of leaving home for a period of time, but it's really worth talking to those who have done it. When I sat down in the study abroad office, I was really concerned about finding a trip that would fulfill my requirements. They were quick to point out that I was going to fulfill those credits just by going. It's good to get in the habit of asking — people are there to help.
"Overall, there are days where everything is stressful, but it's important to realize how lucky we are to be here at Miami. Seeing so many friends of mine graduate last year really gave me a lot of perspective to enjoy the time that I have left!"
[March 2017]