Kaylie Schunk (Class of 2018)
junior History major (combined BA/MA) in the Pre-Law Program
minor in Business Legal Studies
from Toledo, OH
College of Arts and Science Ambassador
research on the Miami Tribe and early American Republic as Undergraduate Summer Scholar (2016)
Vice President of Ritual of the Sigma Alpha Iota music fraternity
"It's always good to push yourself. Maybe you don't always think you can do it, but it makes you a better student, a better individual, researcher, and citizen. Getting to know your faculty and asking them about research projects doesn't hurt."
Why Miami?
"I think Miami is everything college should be and more. As soon as I saw the red bricks and got to know the faculty and students, I felt welcomed, like I am at home. I also have had so many opportunities and support along the way. Being from Toledo, Miami was a great compromise between being on my own and being able to go home.
"My first year was sometimes tumultuous. There are days where every student questions themselves and their path, and I was still trying to figure out what I wanted to do academically. At first I wanted to major in chemistry, so I worked in a lab — but my roommate, who happens to be my best friend, said to me, 'Chemistry is not you.' I've always loved reading historical fiction, and my passion is history.
"I was at a meeting with history professor Charlotte Goldy, who has been my mentor throughout my time at Miami, and the speech she gave about her study of history really resonated with me. Ever since then, I felt that majoring in history was the best choice for me, especially because I want to go to law school. Dr. Goldy has always encouraged me and helped me along the way, including my decision to join Miami's Pre-law Program.
"These early experiences made me feel like I've not only been supported and accepted for who I am, but also pushed to grow. This has led me to developing an independent research project and receiving the Undergraduate Summer Scholars (USS) fellowship my junior year. I don't think I would have realized my potential in the law field if it wasn't for professors like Dr. Goldy, as well as some of the pre-law classes I've taken."
Best Miami Experiences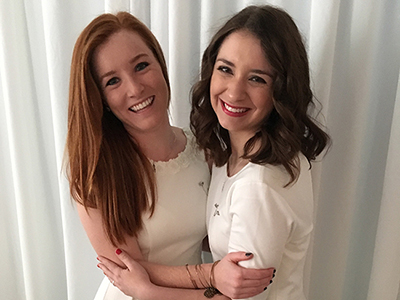 Kaylie Schunk (right) and a friend singing at Alpha Delta Pi's Preference Round of Recruitment
"I'm a member of both Alpha Delta Pi sorority and the music fraternity Sigma Alpha Iota, where I'm also the Vice President of Ritual. Both of these organizations have allowed me to develop socially and gain confidence here at Miami. Sigma Alpha Iota is a very small group of girls who I consider to be my closest friends. I'd never thought I'd get an executive position, but they saw the potential in me, and we've really grown and fostered our love of music and music education together. I'm a vocalist, and our fraternity does both individual performances and group concerts.
"Dr. Andrew Offenburger is an assistant professor of history who I took for History of the American West and served as my advisor for the USS program. Without him I'd probably be lost! He's really encouraged me as an individual researcher and a practicing historian, pushing me beyond my own expectations. He also pushed me to pursue the combined BA/MA program in History, which was not my original plan, but he showed me that it is a great opportunity — one that will help me get into law school or pursue a Ph.D. in history in the future.
"My project for the USS program was a case study on the Miami Tribe, analyzing how the tribe and the United States have come to form their identities through their mutual conflict. With the support of Dr. Offenburger, I am expanding upon this research for my master's thesis and potentially publishing a book. The goal of this academic endeavor is to draw attention to the Myaamia tribe, who are often forgotten in the historical narrative of the Old Northwest Territory."
Miami and the Liberal Arts
"Developing critical thinking and analysis skills is truly what employers want, and they make you a more dynamic individual. I think that the liberal arts encourage us to learn broadly as we expand these skills. They incorporate not only sciences like chemistry and microbiology, which focus on what happens in nature and the universe, but also subjects like history and political science, where we learn about people and the many different factions we are divided into. Besides making me a more well-rounded person, the liberal arts provide a broader context to enable you to think more critically.
"My history major provides a lot of critical thinking. I love everything about it, and even though history has this stigma of dusty books in the library, I'm learning how to make a genuine connection with people in the present day.
"One personal example for me is the American Revolution, whose appeal to me primarily has to do with individual rights. It was a movement focused on the Enlightenment and the idea of seeking your own destiny, an opportunity that everyone has or should have. During that time many people were hesitant or unable to do this sort of thing, to try to exceed their own expectations and be a part of something bigger. However, the few that pushed the boundaries of colonization and English dominance provided the path for individual freedom today.
"In terms of broadening my own interests as a history major, I really liked Dr. Goldy's Survey of Medieval History class [HST 246]. It applies strongly to law as well as my strong Catholic education background, so the class merged them together and made me realize the potential to expand my understanding of history, law, and many other things I'd like to do later on."
Through Opposition There Is Unification
"I've been doing a lot of reading and writing for my Undergraduate Summer Scholarship, which is focused on the Miami Tribe. The title of my thesis is 'Through Opposition There Is Unification'. I argue that through the opposition of two different forces, the Miami Tribe and the United States, they were both able to form their own identities as nations or united groups.
"I got involved in the USS after going on the Miami University Humanities Center's website and noticing there were research programs available. I discussed my interests with Dr. Goldy, who introduced me to Dr. Andrew Offenburger, whose research is focused on history of the American West. He and I discussed potential topics, and he became my advisor, suggesting some books for me to read and offering other guidance as I began this research endeavor.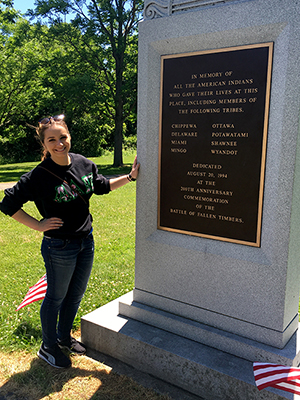 Kaylie Schunk stands next to the Battle of Fallen Timbers monument near Toledo, Ohio. The battle was a pivotal moment in Native American resistance.
"My hometown, Toledo, is actually rich in Miami history, so I started there to do some preliminary research. My primary goal of going home first was to do a living history analysis on actual locations. I visited different monuments and historical sites to learn not so much about what happened, but how it was presented and analyzed for the public, as well as what it demonstrates for public history.
"After that, I spent about a month here in Oxford, primarily in the university's Walter Havighurst Special Collections in King Library. The staff there is wonderful, and working with them has been a dream come true to me. They gave me access to books from the 19th century that recorded accounts of settlers and their experiences with the Miami Tribe. They gave interesting perspectives, including a lot of little stories that you don't normally hear.
"I also discovered that there's a great resource of Miami Tribe-related books that you can find online through Miami. I read and summarized a lot of those, and then for the final phase, I went back to Toledo in order to piece it all together and finish it up. This was still the research-gathering process — only then was I able to write my paper!
"As time has passed, I've decided that I'd like to develop my project into my master's thesis and a publication in the future. I'm also really interested in researching the nature and progression of presidential policy towards Native American groups. I have collaborated with faculty in the Department of History about making this a potential independent study.
"In addition, Dr. Offenburger and I have talked about going to the Miami Tribe reservation, and I have done some collaborative work with the Myaamia Center. Last spring I went to a conference with them, and we've talked about me taking some Myaamia language and culture classes so I can get a better sense of the Miami Tribe's cultural identity.
"Like Native American tribes all over the country, the Miami Tribe has been affected by American dominance. Over time they've lost much of their language due to the reservation system. In one of my linguistics classes, I've learned that they're reacquiring their language and working backwards from written accounts. It's all been really fascinating to learn the work that they've done, and I'm excited to continue this project further with the help of Dr. Offenburger and the Myaamia Center."
Advice to Students
"Do what you love. If you're passionate about it, it's going to work out. Every day I have certain doubts due to people telling me what they think is right for me, but I've been blessed with many opportunities to pursue what I love.
"It's always good to push yourself. Maybe you don't always think you can do it, but it makes you a better student, a better individual, researcher, and citizen. Getting to know your faculty and asking them about research projects doesn't hurt.
"Ultimately, never put yourself in a box or think that you need to live your life a certain way. Just do what you love and push yourself to keep moving forward — that's what's important."
[March 2017]