Henry Pre-Law Center advisors provide guidance to students about the law school admissions process. This includes tailored advice about the different law school options available to each student, how to prepare for the Law School Admission Test (LSAT), and ways to improve personal statements. Students interested in pre-law should review Miami's Pre-Law Advising Guide, which includes detailed information for pre-law students on thinking about law school, preparing for law school, and applying for law school.
Meet with an Advisor
Make an appointment with a Henry Pre-Law Center advisor if you have questions about:
Exploring legal careers/majors
Planning for law school
The LSAT
Researching law schools
Questions about law school admissions
Personal Statement/Resume Reviews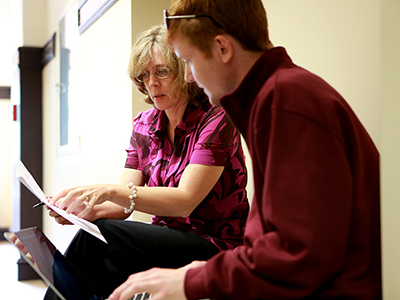 Scheduling an Appointment
Schedule an appointment with a pre-law advisor.
The Henry Pre-Law Center uses SSC-Navigate to schedule advising appointments.
Appointments may be in-person or virtual. Virtual appointments will receive a Zoom link in the Google calendar invite.

 

During peak times (October-November) when seniors are preparing their applications, please understand that our advisors may get booked up quickly. If you are a first- or second-year student, please consider registering for PLW 101 in the spring semester and/or waiting to schedule an appointment until the spring semester.
If you are a senior who is coming in for a personal statement or resume review, please be sure to join the Pre-Law Center Application Portal to upload document(s) to be reviewed at least 2-3 business days prior to your appointment.
To schedule an appointment, visit MiamiOH.edu/Navigate:
Choose "Get Assistance," located beneath the Miami University logo.
Under Choose the type of appointment you would like, select "Oxford - Student Success and Academic Support"
Under Service, select "In-Person Oxford or Online."
Under Pick a Date, select the date that works best in your schedule. Then choose "Find Available Time."
Select your appointment:

Select a specific advisor and see their available times to choose from.
OR
Choose a specific time slot and the system will select an advisor who is available at that time.

On the Review Detail page in the Would you like to share anything else? box, please include the reason for your appointment (it helps your advisor prepare).
Choose "Schedule" to finalize the appointment. 
After scheduling the appointment, you will receive an email confirmation that will include additional information and instructions. All In-Person appointments will be at the Pre-Law Center 159 Upham Hall. All online appointments will use the link provided in your Google Calendar Invite.
Log in to MiamiOH.edu/Navigate.
On the right-hand side of the home screen select the Pre-Law Advising meeting in Upcoming Appointments.
When the dialogue box appears, select Cancel My Attendance in the bottom left-hand corner.
Select a reason from the drop-down menu and add a comment. Then, select Mark as Canceled.
You will see Appointment Canceled along with your comment. Choose Close to exit the dialogue box OR select your name on the left-side menu to reverse your cancellation.
You and your advisor will receive an email notification with the cancellation.