Connections to Architecture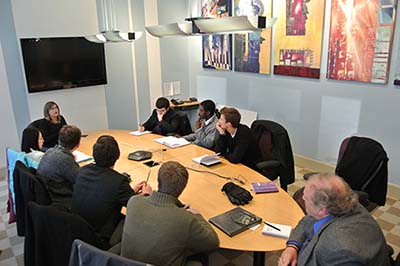 Program Dates: Winter 2017
Eligibility: Architecture Majors only
Miami architecture students will conduct a series of interviews with young architects at 8-10 local area firms as well as nationwide. Through candid presentations and discussions, these young architects will be asked to describe what successful path(s) and pitfalls have shaped their working experiences to date and their future aspirations. Based on these responses, students will be better prepared to develop their own professional strategies in completing their individual path to professional licensure. Students will also be developing professional network and honing their interview skills for future employment opportunities. Various types and sizes of firms with various specialties, will be included in the office tours.
Locations: Course will be held in Alumni Hall with personal interviews during day trips once a week to Cincinnati and Dayton. Other days will feature Skype sessions of young architects across the nation and strategy sessions with mock interviews with Human Resources directors and other seasoned professionals.
Credits: 3
Courses: ARC499R + ARC 599R
Prerequisites: There are no course prerequisites.
Application Deadline: TBD
Contact
Craig Hinrichs, 513-529-7036