About the Department of Music
Open to all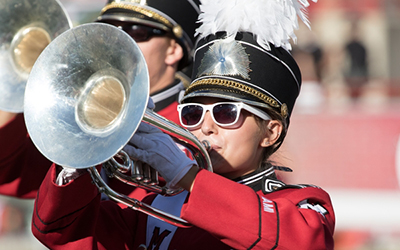 A large number of non-music majors participate in music classes and activities. All of the Department's many music ensembles are open by audition to every student at Miami University.
The Department of Music provides professional training in music within the context of a liberal education at a major university. Our focus is undergraduate teaching, and the vast majority of music courses are taught by members of the faculty.
The Department of Music enrolls about 200 undergraduate majors and about 25 graduate students. A summer-only master's program in Music Education attracts many other students to campus each year.
Mission
The Department of Music exemplifies the transformative power of the arts and occupies a central place within both the academic and cultural spheres of Miami University. Grounded in tradition, yet responsive to the demands of an increasingly globalized society, our students strengthen, enliven, and ultimately advance our discipline. We enrich the community through vibrant engagement with diverse constituencies across campus and beyond. In the classroom, on the concert stage, and through scholarly publications and presentations, we celebrate the creative spirit inherent in the human experience, inspiring others to do the same.
Goals
To offer the highest level of education in music for students in our undergraduate and graduate degree programs in music education, performance, and liberal arts in music.
To provide numerous performance and learning opportunities, enabling Miami students from every division to experience the musical arts in a meaningful way.
To pioneer the development of innovative technologies, integrating them firmly into our curricula and programming.
To sustain a supportive and stimulating environment in which faculty can develop professionally to their highest potential.
To continually renew our dedication to an open and inclusive culture in which we celebrate differences.
Accreditation
The Department of Music is a fully accredited member of the National Association of Schools of Music (NASM). All of Miami's programs in music education have been accredited by the National Council for Accreditation of Teacher Education (NCATE).