Music@Miami Day
Music@Miami Day: September 21, 2016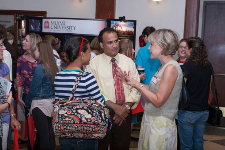 Music@Miami Day provides high school students the opportunity to experience life as a music major at Miami University. Students can meet Miami faculty and students, hear performances, attend rehearsals and classes, and tour the facilities. In many cases students can receive a mini-lesson from faculty.
To register for the Fall 2016 Music@Miami Day, complete the online form, available below. There is no cost to attend, and lunch is provided. High school juniors are especially encouraged to attend, and parents may attend as well.
This form must be submitted no later than Friday, September 16th, but registration will close as soon as all spaces are filled. Register early to insure your participation, and please register only once. Call the Music Office 513.529.3014 if you have questions.
Save