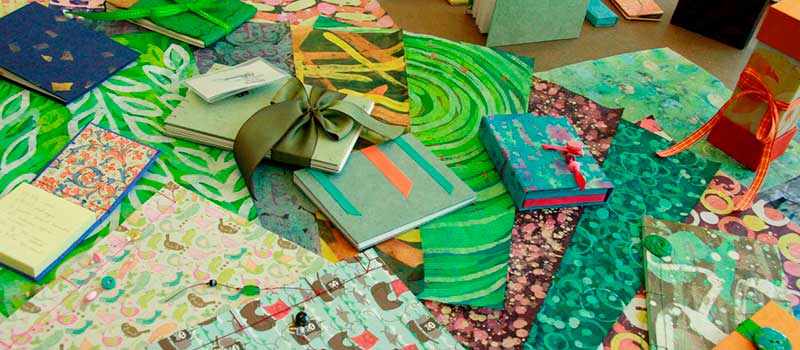 Who may attend?
Anyone eighteen years old or older
You need high school diploma or its equivalent
What about skill levels?
Most courses are for "all levels", meaning the class is suited for students at beginning, intermediate or advanced ability levels.
Some classes declare a particular level — beginning, intermediate or advanced.
It is important for students to register for the class that meets their experience level in a given medium.
What time do classes meet?
Weeklong classes: Monday through Thursday 8:30 a.m.-5:00  p.m., Friday 8:30 a.m.-2:00 p.m. unless otherwise noted.
Weekend classes: Friday 6:00–9:00 p.m., Saturday 8:30 a.m.–5:00 p.m. and Sunday 8:30 a.m.–3:30 p.m. unless otherwise noted.
---
Credit and non-credit options
All CraftSummer workshops can be taken for either credit (graduate or undergraduate) or non-credit. You decide which category best meets your needs. In either case you can expect the same level of student involvement and instructor attention as always offered in our workshops.
Non-credit Opportunities
This option eliminates out-of-state fees and lowers the cost of workshops being taken for professional development. No University credit is given when choosing this option; however, you may still receive CEU or IPDP credit.
IPDP points and CEUs
The non-credit option does provide CEUs (Continuing Education Units) and IPDP (Individual Professional Development Plan) points. Each weeklong workshop provides 3.5 CEUs or 35 IPDP points. Weekend workshops provide 1.6 CEUs and 17 IPDP points. Please check with your school district or company to see the specific requirements for IPDP and CEUs acceptance.
Credit Opportunities
Please note: Miami University Fee Waivers for Miami University faculty, staff, or dependents can only be used when taking workshops for credit.
Under the credit option, all CraftSummer participants who successfully complete a workshop will receive the following college credit: 1.5 semester hours for a weeklong class or 1 semester hour for a weekend class. You may choose between undergraduate or graduate credit.
One day classes have an additional online requirement to receive 1 semester hour credit.
Credit with the No Grade Option
The intent of the No Grade Option is for those who DO wish to accumulate credit hours, but is not concerned about grades (since these classes are not figured in your GPA). Checking the No Grade Option box on the registration form signals the registrar to employ a grading variance.
If you take an undergraduate course using the No Grade option, you receive credit for a grade of C or better; if your grade is C- or less, no credit is awarded. At the graduate level, a grade of B or higher is required to receive credit.
Please remember the No Grade Option has no bearing on fees. All workshops require full participation. Audit status is not permitted.
Do not check the No Grade Option on the registration form if credit is to be applied toward a degree or if credit is to be transferred to another institution. The No Grade Option cannot be changed after the first half-day of a workshop.
No grades are awarded for non-credit workshops.
---
Undergraduate Credit: ART499
The minimum requirement for workshop registration at the undergraduate level is a high school diploma or equivalent experience. Workshop credit earned at this level can be applied toward Associate or Baccalaureate degrees.
Miami majors in the Department of Art's BFA and BS degree programs may not substitute CraftSummer workshops for required studios in their declared concentrations or for specific studio experiences required for teacher certification. However, workshop credit may be used for any of the studio or art elective areas designated in these degree programs.
Graduate Credit: ART599
If not already admitted to the university, this admission for graduate credit is only for workshops offered through the Global Initiatives Office (the parent program for CraftSummer workshops). A bachelor's degree is required to receive graduate credit for this workshop. No more than eight of the most recent graduate hours earned on Workshop or Continuing Graduate non-degree Standing (CGS) can be applied toward a graduate degree, and then only with the approval of the department.
If you wish to apply to a Miami University graduate degree program or Continuing Graduate non-degree Standing (CGS), you must apply online with the Graduate School. If you have questions about this process please contact the Graduate School at 102 Roudebush Hall, Miami University, Oxford, OH 45056, 513/529-4125 or visit the Graduate School website.
---
Requests for Grades & Transcripts for Credit Workshops online
Grades for CraftSummer or CraftWinter will be available online approximately 10 days after the workshop ends. How to view grades and access your unofficial transcript.
Account information, as well as fees, grades, and other essential details regarding your registration at Miami University can be accessed online. To access many Miami University online Services, you will need two pieces of information:
1. UniqueID. [Look up your UniqueID.]
2. MUnet password: default password is derived by combining your two (2) digit birth month, two (2) digit birth day, followed by the last four (4) digits of your social security number. For example, if your birthday is 1/23/1945 and your Social Security Number is 123-45-6789, then your default password would be 01236789.
CraftSummer
103 Phillips Hall
Oxford, OH 45056