Graduate Student Teaching Enhancement Program (GSTEP)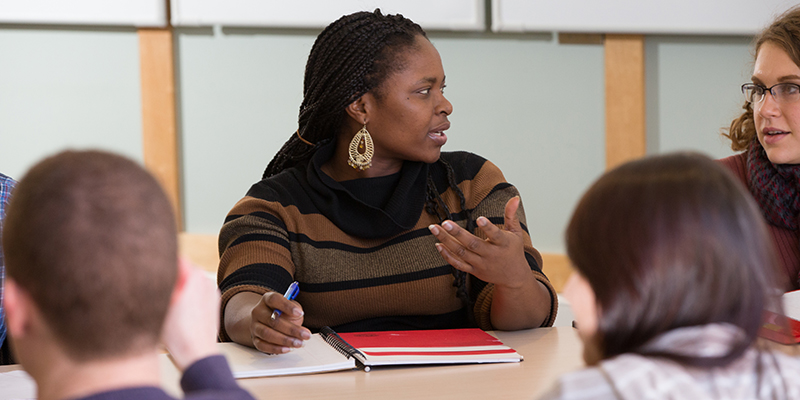 As a graduate student, the idea of teaching a class is now a reality. Sure, you know your stuff, but are you confident that you can teach it? Gain skills and confidence as a teacher through Miami University's Graduate Student Programs.
While developing the necessary skills to engage your students, you will also develop relationships with other graduate students and faculty that could last the length of your career. Share innovative teaching strategies, attend seminars and workshops, and develop your own teaching philosophy.
Purpose
Promote the effectiveness of graduate students as teachers at Miami University, thus enhancing their overall productivity and satisfaction.
Provide foundational skills for graduate students who may seek an academic career.
Create interdisciplinary connections and community among graduate students at MU.
Support the undergraduate teaching mission of Miami by enhancing the effectiveness of the instruction they receive from graduate students.
The Graduate Student Teaching Enhancement Program (GSTEP) is a community of practice.
Membership is open to all Miami graduate students.
The facilitator for Fall 2023 will be Claire McLeod. 
Meeting Dates and Times
GSC 601 Section A
Online synchronous meeting options are Mondays from 6:30 pm - 7:30 p.m. on the following dates:
Meeting 1: Monday, August 28 (Web) 
Meeting 2: Monday, September 11 (Web) 
Meeting 3: Monday, September 25 (Web) 
Meeting 4: Monday, October 23 (Web) 
Meeting 5: Monday, November 6 (Web) 
Meeting 6: Monday, November 20 (Web) 
GSC 601 Section B
Face-to-face in Laws 320 meeting options are Thursdays from 11:40 a.m.-12:40 p.m. (lunch included) on the following dates:
Meeting 1: Thursday, August 31 (in-person)
Meeting 2: Thursday, September 14 (in-person)
Meeting 3: Thursday, September 28 (in-person)
Meeting 4: Thursday, October 26 (in-person)
Meeting 5: Thursday, November 9 (in-person)
Meeting 6: Thursday, November 30 (in-person)
*Please enroll in the course section that works best for your schedule. If at any time during the semester, you need to switch times for a meeting, please email cte@miamioh.edu with the change.
The intention is to stick with the dates listed above, but in the event of an emergency cancellation, we may need to reschedule to a different Monday (6:30 PM - 7:30 PM) or Thursday (11:40 AM - 12:40 PM). Please do your best to protect as many Mondays or Thursdays during these times as possible during the semester. 
Requirements
Attend 8 events during one semester
Events include GSTEP sessions, CTE, and other seminars. These seminars can be conducted by a number of departments/offices/programs, as long as the focus is on enhancing your teaching skills.
Keep a reflective journal
Keep a reflective journal and write a one-page reaction paper about the sessions you attend.
Complete a teaching project
For example, teaching philosophy and an outline of a teaching portfolio.
Certificate, course credit (GSC601), and professional development funds
Upon completion of the program, receive a certificate of recognition, 1 hour of course credit (GSC 601), and a menu of options toward which $200 in professional development funds can be applied (to be used by June 1st). Enhance your teaching skills by attending virtual professional conferences, enrolling in professional memberships, or purchasing books for office and classroom use.