Important Message For Family Science Majors
Greetings Family Science majors. As of 05/08/2020 we are no longer accepting students in the Family Science major. Our new major combines the Social Work and Family Science curriculum into a single major. You can find more about this the Social Work home page.
For current Family Science majors, we are committed to providing you with the necessary courses to complete your Family Science degree. Know this, some courses may be ending, but we have a plan for such courses that allow you to stay on track. Please continue to follow your DAR, as it contains your progress to degree completion based on your catalog year. For more information about specific courses, please reach out to your academic advisor.
The Family Science Program offers high-quality academic training for students interested in both studying and helping families from life span and strengths-based perspectives. This training involves successfully preparing students for employment in family life education and related fields as well as for graduate-level academic work. In order to provide students with training that is balanced in both research and practice, the Program includes faculty with a variety of academic and practice experiences, which focus on familial and interpersonal relationships. The Program has established partnerships with a variety of relevant entities in order to enhance students' experiences and skill development.
Courses focus on dating, marital, parental, and other family relationships. singlehood, divorce, remarriage, gender roles, widowhood, marital communication, decision making, marital satisfaction, intergenerational relationships, and family life education are some of the topics addressed in this major. Courses combine theory and research by examining how individuals and families relate to each other and to their environments. Analyzing change and searching for practical solutions to problems are central to this area of study.
In addition to the major, minors are available in family relationships and child studies. There are also three thematic sequences.
Child Life Specialist
Miami is one of only 2 universities in Ohio to offer the Child Life program at the undergraduate level.
Certified Child Life Specialists often work in pediatric hospitals but may also work in other spaces (e.g., courtrooms, funeral homes or bereavement services) where children may experience illness-related trauma. The field of Child Life is evidence-based, providing interventions (e.g., therapeutic play, education, self-care, stress reduction, distraction, etc) with children and families that are developmentally appropriate. As important members of a child's care team, Child Life Specialists serve an important role in improving the illness-related experiences of both patients and their families.
As of 5/8/2020 undergraduate students who are interested in pursuing certification as a Child Life Specialist should choose any major and for the Undergraduate Child Life Specialist Certificate concentration. The Child Life Specialist Certificate includes the required coursework for eligibility to take the Child Life Professional Certification Exam.
Family Life Education Certification
As of 5/8/2020, students may pursue certification as a Family Life Educator by completing a major in Social Work, which includes all the required coursework for this certification.
Upon completion of the degree and specified coursework and experiences, graduates are eligible to apply for provisional certification as a Family Life Educator from National Council on Family Relations.
The certification emphasizes academic preparation and experience to enable the individual to know how to design and implement curricula, workshops and other family life education programs. Family life education substance areas include families in society, internal family dynamics, lifespan human growth and development, human sexuality, interpersonal relationships, family resource management, parent education and guidance, family law and public policy, ethics, family life education methodology, and an internship.
All family science majors and minors are required to complete a field experience (FSW 494). This involves students identifying for themselves a volunteer/internship placement in which they complete 120 hours serving children and/or families. Students typically find placements at non-profit or governmental agencies, summer camps, etc., and complete their experience during their junior or senior year.
What can you do with a Family Science degree?
Our graduates pursue careers in social service, non-profit, and for-profit organizations as administrators, consultants, human service professionals, and child life specialists. Many pursue graduate degrees in family science or related fields, such as social work, marriage and family therapy, or counseling. Students also find that combining a family science major with pre-medical or pre-law programs to be an attractive option. Employment possibilities include: working in family life education (e.g., parenting education, marriage enrichment, communications training), childcare director or consultant, human resources or personnel manager, stress management specialist, family wellness program coordinator, human service professional (e.g., community organizations, retirement homes, youth organizations, crisis centers, halfway houses, social service agencies), and MORE!
Graduate degrees are required to become a licensed counselor or therapist or go into social service agency management and policymaking.
Student Learning Outcomes
• Students will be able to apply family science theoretical perspectives to explain human development, interpersonal relationships, and family-related phenomena (e.g., why some individuals/relationships/families thrive while others struggle).
• Students will be able to recognize how contextual factors (e.g., the economy; neighborhood resources; local, state, and federal social/family policies; implicit and systemic racism and sexism) have an influence on individuals and families.
• Students will be able to develop and analyze public and private, micro- and macro-level strategies for strengthening families.
Bria Howard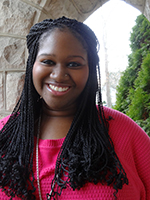 Family Science major
"I chose the family science major because it was applicable to real life situations. All of the classes that you have to take within the major relate to some sort of everyday life. It's not material that you remember just to pass the test..."
"It's engaging and makes you think! This major has also challenged me to think of families on a broader spectrum,and learn how to help and guide families to resources that they need to function. Also the professors and faculty are awesome! They want you to succeed and will work with you to make sure it happens!"