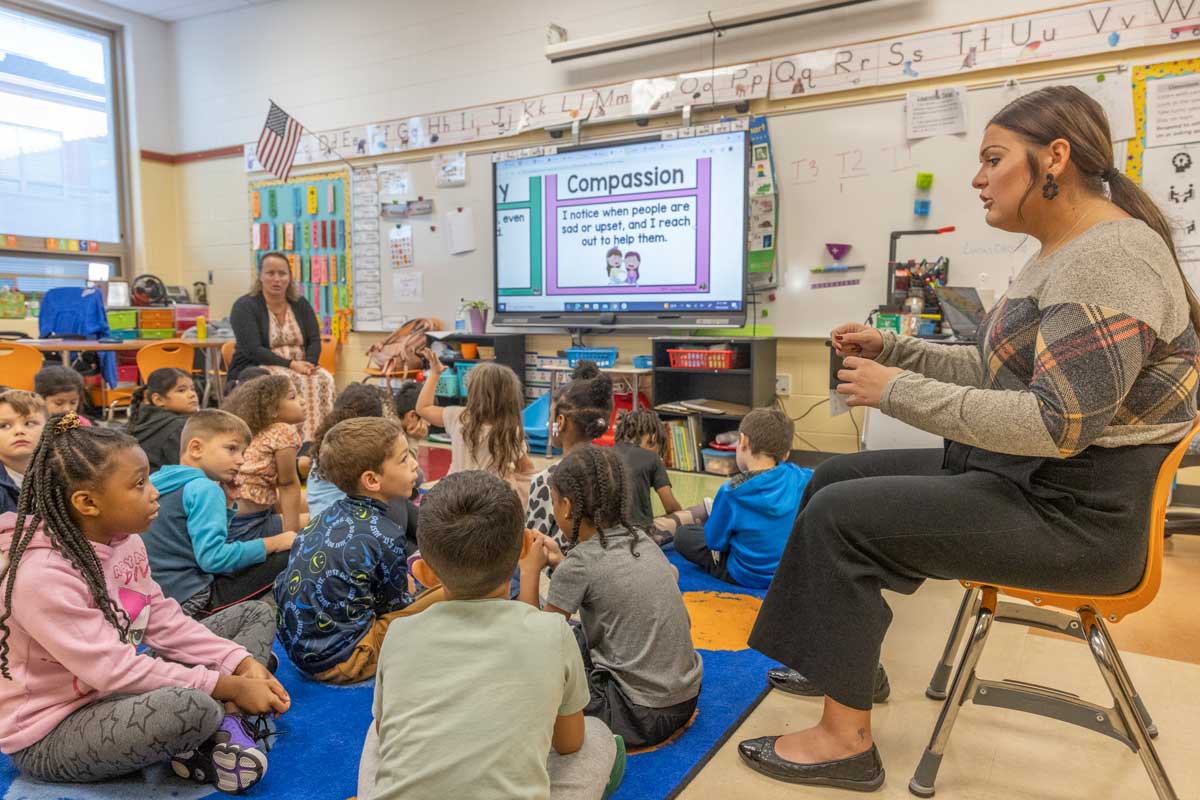 Primary Education Major
Research has proven that high-quality early education programs produce the greatest success in children's life-long academic and social success. Miami University's Primary Education PK-5 program endeavors to produce passionate teachers who can deliver high-quality developmentally appropriate instruction to help children to meet these goals.
Our teacher preparation program gives you more classroom experiences than most programs at other universities. We utilize a cohort-based approach to teaching methods and pedagogy, with courses on teaching reading, language arts, science, mathematics, and social studies as well as courses that help you learn to teach students with special needs.
Advantages of Miami's Primary Education Program
The program is designed for you to complete in 4 years. You will have your teaching license at the end of your program and will be prepared to immediately enter the field of education.
Miami is known for providing personal attention to each student. Small classes provide opportunities to get to know our dedicated and excellent

 

faculty members

 

both inside and outside the classroom.
Our program offers an intense practice-based curriculum where students engage in over 700 hours of field experience, starting as early as your sophomore year.
Our program prepares you to teach all types of learners in your classroom. Additional opportunities are available to get an even more in-depth understanding--including a TESOL (Teaching English to Speakers of Other Languages) endorsement.
Technology integration not only enhances our students' learning experiences on campus, but also provides opportunities to implement strategies in the field classrooms. TeachLive, etutoring, and Project Backpack are some of the innovative technology tools our students use.
We offer a special program for students interested in teaching young children in urban school settings. The award-winning Urban Cohort

 

provides an alternative experience for interested students.
Inclusive PK-5 Pathway. This curriculum allows you to get two teaching licenses in both general and special education in four years.
Our program is not only focused on education in the United States, but also provides numerous international opportunities that inspire global engagement.
Program Admission and Licensure Information
Students declare a pre-major in a Teaching, Curriculum, and Educational Inquiry program at the time of university admission or as soon as possible. After meeting the criteria of acceptance, students apply for a primary education cohort—a group of students selected to experience methods courses and field experiences together.
Students who are Primary PK-5 majors must meet a set of requirements to continue in the major and register for their cohort—a group of students selected to experience methods courses and field experiences together. Criteria for registering for a Primary PK-5 cohort include:
Complete TCE 191 and EDP 201 with a grade of B or higher in each course
Complete 30 graded credit hours or more
Earn a cumulative GPA of 2.75 or higher

Complete EDT 242P Phonics and Literacy Instruction for Teachers

Attend a mandatory PK5 orientation session
Miami's Department of Teaching, Curriculum, and Educational Inquiry is fully accredited by the Ohio Department of Education and the Council for the Accreditation of Educator Preparation. While Miami participates in licensure of teachers through an interstate agreement, if you are planning to teach in another state, you should contact that state's certification office so you can apply for certification or licensure in that state.
Student Learning Outcomes
At the end of this program students will be able to:
Describe and utilize theories and principles of justice, equity, and democratic life relevant to the problems of P-5 classrooms, schools, families, and community.
Develop and articulate to others an intellectual/scholarly identity toward various ways of knowing, learning, reflecting and acting as pedagogues. 
Use conceptions of cultural identity and cultural diversity to work in solidarity with diverse individuals, families, and communities in their school and community.
Critically examine theories of critical literacies toward applied analysis of problems of practice.
Demonstrate an understanding of technological literacies for school and community leadership.
Select, develop and implement formative and summative assessments to evaluate student understandings to inform instruction.
Apply critical lens to see power & privilege and the consequences within and beyond educational contexts
Choosing Primary Education
Kean Mack
Primary Education

"The reason I chose to major in primary education is because I enjoy working with young kids and showing them how to like learning. It is such a satisfactory feeling when working with kids who want to learn and enjoy trying new things… Working with kids who may struggle in areas is rewarding too because you soon connect with them and can find things they enjoy which helps them learn."