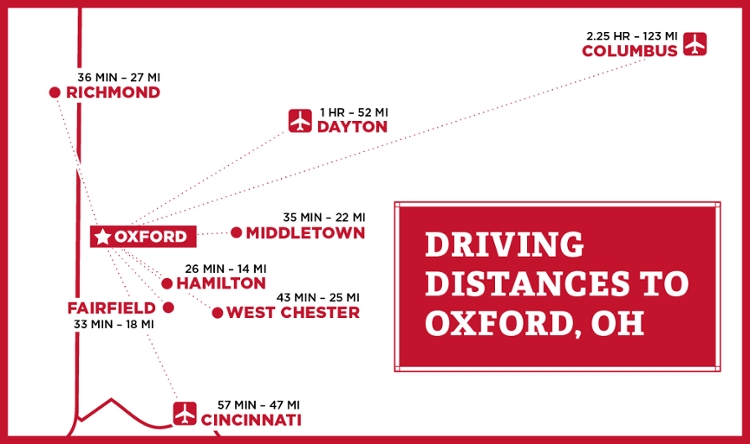 All Roads Lead to Oxford
Common distances and drive times to get to the Oxford campus:
Cincinnati -57 min, 47 mi
Columbus - 2.25 hr, 123 mi
Dayton - 1 hr, 52 mi
Fairfield - 33 min, 18 mi
Hamilton - 26 min, 14 mi
Middletown - 35 min, 22 mi
Richmond, IN - 36 min, 27 mi
West Chester - 43 min, 25 mi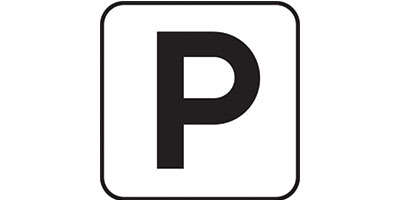 Family Weekend parking is free, Friday, Noon through Monday, 2 a.m., at most on-campus surface lots, garages, and meters.
Millett parking is reserved for Saturday's football game starting Friday afteroon. If you do not already have a parking pass for the game, you will be directed to park at Bonham Road for $15. Otherwise, feel free to park elsewhere on campus and use the free shuttles or walk. 
Please note: ALL meters on Campus Avenue are managed by the City of Oxford and will be enforced according to signage on the meters. Please visit the City of Oxford's parking areas map for more information about off-campus parking. We suggest parking in one of the two remote student lots (Chestnut Fields and Ditmer) not being used for football.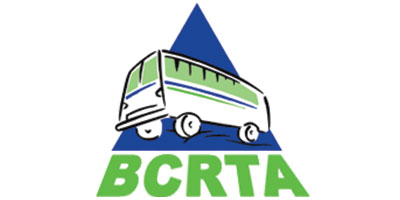 BCRTA shuttles in Oxford are FREE during Family Weekend. View a map of BCRTA routes.
Bus Route Changes
There are a few changes to the typical routes to accommodate families during Family Weekend.
The Park and Ride Route will run on Saturday, October 22 from 1-7 p.m. and will include an added stop at the stadium. 
On Saturday, the U4 line will detour its usual route to avoid Millett Hall. It will not stop at Millett.
On Saturday, there will be a dedicated loop circling Yager and Millett for the game. 
Download the app TRANSIT to follow all Miami University buses live: Apple App Store. Google Play Store (Android).
For accommodations related to a disability, please contact Student Disability Services at sds@MiamiOH.edu or 513-529-1541< (v/t). All campus shuttles running during Family Weekend are accessible.