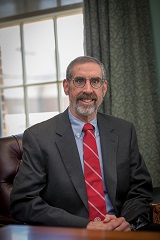 Our Professional MBA program was designed to deliver a best-in-class educational experience in an evening format that is feasible for working professionals. We selected the West Chester location to make it convenient for Cincinnati and Dayton-area professionals. It combines flexibility with rigor, and requires commitment, dedication and hard work, both by our students and our faculty.
MBA classes are taught by our senior faculty members and business practitioners to ensure the perfect blend of expertise and experience. As the landscape of business changes, so does our curriculum. We understand that as a leading business school we aren't expected to react to business environments, but rather proactively shape the landscape of business education and research. In addition, our commitment to ethical leadership, with the understanding that responsible management begins in our curriculum, produces many of the most respected thought leaders in the world of business today.
Our graduates leave with more than just a degree; the program's cohort structure builds friendships and networks that last a lifetime and our faculty remain accessible and engaged.
If you have been thinking about taking your career to the next level, but are concerned about how to juggle your career and personal life, I encourage you to explore the Miami University MBA where part-time classes yield lifetime rewards.
Please feel free to contact us with your comments and questions at deanofbusiness@miamioh.edu.
Welcome to the Farmer School of Business.

Marc Rubin '75
Dean and Mitchell P. Rales Chair in Business Leadership