Writing in Latin American, Latino/a, and Caribbean Studies
This resource provides a brief introduction to writing in the field of Latin American, Latino/a, and Caribbean Studies through the lens of threshold concepts. It includes:
an overview of what writing characteristics are valued in LAS
examples of the varied writing genres and practices common in LAS
a brief discussion of how writing in LAS develops critical consciousness
What Are Core Values in Latin American, Latino/a and Caribbean Studies?
The Latin American, Latino/a and Caribbean Studies Program (sometimes abbreviated LAS) at Miami University brings together faculty and research interests from across academic disciplines to study the histories, politics, cultures, and societies of Latin America, the Caribbean, and Latinx communities in the United States. Our program embraces research, linguistic knowledge, fieldwork, and direct engagement as essential to critical consciousness and empowerment. By engaging with diverse writing genres and practices, our students learn about the changing political, social, economic and cultural realities of the hemisphere, including:
imperialism, nationalism, and regionalism
transnationalisms, migrations, and displacements
collective action, social movement, and social change
intersectionality, identities, and inequalities
culture-, power-, knowledge-production
engaged citizenship and community empowerment
Through a scaffolded, problem-solving approach to writing, students acquire and strengthen skills in any of the following areas: business, commerce, community advocacy, public policy, health care, education, journalism, media, and higher education.
How Do the Variety of Genres Offered throughout the Curriculum Develop These Values?
LAS students are introduced to a variety of writing genders at different levels across courses (Figure 1). The writing genres of our gateway courses, LAS 208, LAS 254, and LAS 260, introduce historical perspective, contemporary awareness, and an array of core concepts necessary to study the region and its diaspora. Depending on the course, students get familiarized with writing interviews, cultural reviews, personal reflections, audiovisual presentations, and website content to gain a critical perspective of the region and its diaspora.
Students continue to build on the core concepts on LAS 217 and 243, courses developed around broad themes, such as nationalism, imperialism, and slavery. In general, the writing assignments for these courses take the form of primary source analysis, response papers, and brief essays that do not involve independent research. Through them students gain the ability to offer an informed interpretation of primary evidence, identify different methodological perspectives, and appreciate how knowledge is produced.
The specialized courses at the 300 level are country specific or organized around a narrow theme. Students of LAS 315, 319, 332, 360, 385, and 390 build a foundation and literacy in research methods. Writing assignments in these courses foster students' ability to identify a scholarly conversation, to formulate their own arguments, and to locate both arguments in the context of the field. In these courses, students may write an annotated bibliography to define the shape of scholarship on a subject and develop advanced library skills, a podcast script or debate presentation to translate a scholarly argument in an oral form to a non-academic audience, a community-based project to integrate academic goals and experiential learning, or an interpretive toolkit essay to examine the various methods and narratives scholars have used to approach the topic.
In the capstone course students design, implement, and write an original research project based on primary sources or fieldwork. Capstone students learn to become particularly attuned to the different writing genres—and audiences—that different disciplines and professions employ to address an issue or problem, and to begin to imagine alternative futures. Students demonstrate awareness of the ways that different genres reach different audiences and learn to master conveying an idea across a range of registers. Examples of genres include a policy recommendation, a community action project, public scholarship in the form of a blog post or pamphlet, visual scholarship in the form of film or a poster, or a research paper.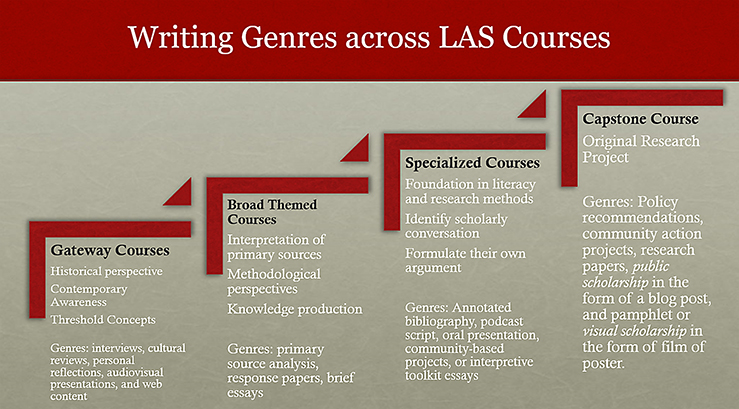 Figure 1
Writing Genres Across Latin American, Latino/a and Caribbean Courses
1. Gateway Courses
Gateway courses in LAS introduce historical perspective, contemporary awareness, threshold concepts, and an array of core concepts necessary to study the region and its diaspora through genres like:
interviews
cultural reviews
personal reflections
audiovisual presentations
web content
2. Broad Themed Courses
Broad themed courses in LAS introduce interpretation of primary sources, methodological perspectives, and knowledge production thorugh genres like: 
primary source analysis
response papers
brief essays
3. Specialized Courses
In specialized courses in LAS students will learn to build a foundation in literacy and research methods, identify scholarly conversation, and formulate their own argument through genres like:
annotated bibliographies
podcasts
scripts
oral presentations
community-based projects
interpretive toolkit essays
4. Capstone Course
In the LAS capstone course, students will conduct an original research project through genres like:
policy recommendations
community action projects
research papers
public scholarship in the form of a blog post
pamphlet or visual scholarship in the form or film or poster
How Does Writing in LAS Develop Critical Consciousness and Engaged Citizenship?
Through writing in LAS, students critically engage various sources, including:
scholarly texts
art
songs
historical documents
public presentations
personal narratives
material culture (objects)
study abroad experiences
Engaging with these types of sources helps students to understand them within their respective historical, cultural, linguistic, and political contexts. In free writing exercises, formal academic expositions, policy briefs, and blog posts, students grasp the "big picture," positioning empires, hierarchies of power, and the politics of scale at the core of everyday life for Latin American and Caribbean peoples across the world.
This practice of writing not only allows students to understand the systemic injustices faced by Latin American and Caribbean people, but also fosters a critical consciousness of our own positionalities within these structures of power. We hope that by recognizing that their own narratives are emerging within the context of the United States, students are able to develop a sense of social responsibility and compassion for others, leading them to direct action and engagement with advocacy, policy, or activist efforts across a range of civil, human, and environmental rights issues.
This writing guide was developed by the LAS Junta Democrática with the generous support of the Howe Center for Writing Excellence.