Annotated Sample of Writing from Project Dragonfly
The following is a sample student paper from Miami's Project Dragonfly program. Miami faculty from Project Dragonfly have inserted comments to indicate and explain disciplinary writing conventions in their program.
This sample contains 19 comments. These comments appear within the text of the paper and are noted with bold text, brackets [ ], and the word "comment." Some sections of the original paper have been removed for space, and this information is also noted with bold text and brackets. You can also view these annotations and the original paper in another format linked below:
---
Ecological Footprints: Sources and Transportation of Cafeteria Foods and Consumables
Margaurita Cueva, English as a Second Language Teacher, Lakota Local Schools
Amazon EE Inquiry Action Project, Miami University, Oxford, Ohio, 2017
[Comment 1: Throughout this document you will see a number of these comments. These are used to point out unique and positive elements of this paper. We hope that reviewing these will help inspire and improve your writing. -The Dragonfly Team]
Abstract (2 comments)
Seventh and eighth grade English Language Learners of Ridge Jr. School in West Chester, Ohio, co-investigated a comparative study of whether more food and consumables were locally or globally sourced. The study is important for both several student-development factors and environmental consciousness factors. Through the course of the investigation students were challenged to make decisions, work collaboratively, collect, compile, and analyze data in order to answer a specific comparative question, and author ideas for action within the community based on the work of the inquiry. [Comment 2: The integration of students as collaborators and researchers is fantastic! Connects well with Dragonfly tenets of participation and voice for all.] The focus regarding sources of cafeteria consumables is important due to an unawareness about the places of origin of many of these products. The production, transport, and post-consumer state of consumables all contribute to the global ecological footprint. Specifically, this inquiry focuses on the transportation of these goods as it impacts students' world and local community. Students engaged as problem-solvers as they identified impacts of food production and transportation on several natural cycles and discussed options for the betterment of their own community and the world at-large. The initial aim of the project was to increase student ownership through investigation in order to create support for use of local sources, enabling the reduction of the school's environmental footprint. The study found that more consumables originate outside the Midwest of the United States and the students determined that the school district has a greater ecological footprint than if the majority of the consumables came from local sources. Though the initial aim focused on pursuing support for local business, the complexity of the district's purchasing triad shifted the aim of community action. Based on the results of the study, the students initiated, designed, and scheduled presentations and activities that are designed to provide information on reducing human footprints to elementary students in the Lakota school district. [Comment 3: This is a clear Action that has emerged from this research. The author acknowledges that the focus shifted some, which shows flexibility and openness not always seen in research settings.]
Keywords: English Language Learners, inquiry, PBL, product origin, ecological footprint
Introduction (7 comments)
I. Environmental Impacts of Transportation
Due to the frequent shipment of foods and beverages in developed countries, often over long distances, transportation is the largest and most significant contributor to global warming (Wakeland & Venkat, 2012). [Comment 4: Good addition of a citation for this definitive statement.] Specifically, due to cost and abundance for developed countries, 50% of the emissions for fruits and vegetables comes from transportation alone, trucking accounts for 75% of the transport for packaged products, and 9% of all fuel for transport of goods is used by air transport. 60% of the emissions from transportation come from the gasoline required for vehicles (U.S. Energy Information Administration, 2017). [Comment 5: The author uses multiple different citations (rather than relying on just one) in this paragraph and throughout the paper. This demonstrates that the author has done a good job SYNTHESIZING information from several different sources. Extensively relying on one source can lead to readers wondering if they should just read that paper instead...] Although not stated, fuel-reliant transport, continuously consumes our fossil fuels. Transport emissions release carbon dioxide (which cannot all be absorbed and sequestered by our plantlife), adding to the greenhouse effect and contributing to global warming. The food trade industry is ultimately responsible for a great deal of carbon emissions and associated ecological impacts can be directly studied in relation to the origin of food. It does not matter whether food is grown and used domestically or internationally, any distance of transport/export has express implications on water, carbon, and nitrogen cycles (Dalin & Rodriguez-Iturbe, 2016). Even with knowledge of environmental changes, there is often a personal disconnect in terms of severity and reality. Clayton and Myers (2009) claim that people all over the world are aware of existing environmental problems due to increasing media attention on environmental issues; however, the majority of people believe these problems and looming threats (global warming, increasing frequency of natural disasters, etc.) will impact other/foreign countries instead of being recognized as problems or risks to the local environment.
II. Opportunity for Student Intervention
[Comment 6: Not all Introduction sections will have subsections as are present in this paper. The can be useful in some cases where a project addresses several different issues. In this section the author pivots the writing to focus on a secondary goal of the project which is to empower students to address environmental problems. Not everyone in this program is a teacher but there may be community groups you can work with to extend your research.]
If school is to be a place of empowerment and a true source of applicable skills (socially, academically, and linguistically), students from other countries who have had differing experiences with environmental concerns, should have an opportunity to research a topic they can relate to, provide input on, actively investigate and analyze, and produce a self-designed project on. Paulo Freire was a strong proponent of a classroom dynamic where both the student and the teacher learn; he was also a proponent of inquiry, communication, and action by community members themselves, especially students, and believed that students should be held responsible for learning and generating ideas and solutions (Freire, 1970). His work encourages shifts towards inquiry and activism that enable students to become an active part of their world, rather than hearing about it in a fashion that disconnects them from reality. It is ultimately interest and ownership that can create acceptance of new challenges and commitment (Freire, 1970) to the problem-based investigation and/or task at hand. In problem-posed education the student should come to see the world as changeable; the form of their actions demonstrates how they see themselves in the world and helps them define their own purpose. Kudryavstev (2012) maintains that it is the feeling of attachment that people feel towards the environment that increases the protection of it, the feeling of responsibility for it, and initiates pro-environmental actions. If students engage in environmental research and protection they may exhibit increased pro-environmental attitudes and/or behaviors through life. Developing critical thinking and problem-solving skills in tandem with encouraging pro-environmental attitudes in adolescents may build sustainable behaviors that mitigate and reduce the current and potential negative ecological footprints.
III. Cognition and Adolescent Student Development
Adolescent English Language Learners are at a crucial cognitive threshold for critical thinking and problem-solving skills to develop (Caskey & Anfara, 2014); they also have a wealth of differing environmental knowledge, and have a need to be included in the community with an appreciated voice. Former ESL students believe that a curriculum focused on interpersonal skills, expression, and challenges with increased engagement on the design, content, and actions/products in class is most effective (Kanno, 1995). This is mirrored by Caskey & Anfara's (2014) claim that adolescents begin exhibiting independent thought, increased skills in reasoning, and prefer active and collaborative learning. The study highlights an eagerness to investigate and find meaning in topics that seem useful in daily life and an ability to endure challenges of concepts with increased complexity. Brighton (2007) and Stevenson (2002) (as cited in Caskey & Anfara 2014) outline new abilities to both reflect on experiences and to use evidence and references to support arguments/positions. However, implementing lessons designed around these developmentally sound skills alone are not enough for success with language learners.
IV. English Language Learners and Environmental Education
George Jacobs, one of the founders and philosophers of second-language acquisition through environmental education, holds that in order to effectively implement second-language education that is environmentally-focused, the inclusion of "scientific skills, technological skills, and language skills" must all be included in the process, which should be employed as 'global education' (1995; Jacobs & Cates, 1999). An investigative inquiry study was developed to utilize all seven factors contributing to environmentally focused and age-appropriate English as a Second Language curriculum drawn from the sections above: empowerment, activism, authentic content within environmental education, increased collaboration and workshop design, cognitively challenging and developmentally-appropriate skill building, with the incorporation of technology and language skills. Seventh and eighth grade English Language Learners at Ridge Jr. School in West Chester, Ohio co-investigated a comparative study of whether packaged cafeteria consumables are more locally or globally sourced. The focus of the inquiry- the sources of cafeteria consumables, is a globally-related issue because the production and transport of these items contribute to our global ecological footprint. The aim of the project was to increase student ownership of the information gathering, focusing on food and supply origin, to potentially create some support for local sources to reduce the school's environmental footprint. [Comment 7: Clear purpose statement for the goal of the project. The location is established above for clarity as well.] This inquiry, investigation, and lesson combined environmental education, student-assisted design of content, and a focus on language as a means to exchange ideas, collaborate, and participate in a hands-on, workshop structured class.
Teaching adolescent English Language Learners about the interconnectedness of global environmental issues is difficult when curriculum and resources in environmental education are lacking. The aim of English as a Second Language classes is to teach structure, form, and function of language, within topics that lend themselves to empowerment of students through purpose. Investigating product sources and associated environmental impacts leads to discussion on choices, causation, and effects. In terms of inquiry and lesson design, Freeman et al. (2013) shares how science, engineering, and math classes benefit from discussion, group problem-solving, tutorials, crafting personal responses, peer instruction, and hands-on workshop design to increase grades, participation, and overall accomplishment. This inquiry project marries the topic of environmental impacts with strong group collaboration and hands-on investigation.
Group collaboration, while beneficial, can be especially challenging for language learners. While these students are cognitively maturing at a typical rate, it is their mastery of the language that can inhibit them from fully engaging. Regardless of the location in the world, the student's language, or the language of the classroom, it is essential that an educator capitalize on the developmental thresholds of the students. As curriculum, this investigative study was also an attempt to remedy a lack of resources while providing authentic, applicable learning that capitalizes on naturally developing thresholds of cognitive ability and maturity with project design, investigation and data collection, collaborative analysis, and an application to real life.
Methods (4 comments)
[Comment 8: Methods are clear and understandable. They lay out what happened through the project and are reproducible.]
The inquiry was completed in four trials with 23 English Language Learners (ELLs) during English as a Second Language (ESL) classes. The four classes are separated by grade level and language proficiency: 7th grade newcomers and beginners, 7th grade intermediate and advanced proficiency, 8th grade newcomers and beginners, and 8th grade intermediate and advanced proficiency. Each class worked through the same steps of the process, though with differentiated assistance and methods for data collection based on the size of the classes and English proficiency. This repeated process allowed for four attempts to collect and verify accurate data.
To begin this inquiry, students were introduced to the concept of "co-creation of knowledge." Students were informed they would be undertaking a model inquiry project based on a pre-determined question, that they would be able to enhance, design, plan, work through, and create an action project for, based on their own interest and input. The inquiry question was the only portion created in advance, to acquire advanced permission from staff for investigation eliminating any boundaries in accessing information. This project and process serves as the model process students will follow in the subsequent term based entirely on their own questions. While Roger Hart (1997) promotes as much student-initiation and direction as possible, Freire (1970) promoted that students should be responsible for the generation of ideas and solutions. Although students were not involved in the generation of this comparative question, their participation in designing, planning, and investigating served to increase their input and ownership of the project.
Articles on student-lead and designed studies from Myers et. al. (n.d.) and Hart (1997) from the Amazon Course Reader were shared with students as models. The comparative question was projected for students to read and analyze: "Are the foods and packaged consumables at Ridge Jr. School sourced more locally, within the Midwest of the United States, or globally?" Once students defined the parameters of the question and could state what data would be needed to answer this specific question- the source of the product (intermediate)/where the product came from (beginner), we began brainstorming the entire process.
First, the students determined when to begin (within a timeframe) and where to find their information/data. It was determined that to look at each package they needed to access the cafeteria/kitchen to personally investigate each item. These ideas were written on post-it notes and added to a large sheet of paper where the ideas were pooled. Next, students added specific items they were interested in collecting data on in addition to product source. Lastly, ideas were generated and posted of what the data collection tool would look like and how data would be marked (see Appendix A and B for two examples of class-created data collection tools). An excel sheet was projected and each class' tool was created in real-time to match the visual brainstorms of the data collection tools. Once data collection commenced, each student had a personalized printed data collection worksheet to use in the cafeteria. The sites of cafeteria inquiry included the kitchen, store room, and fridge and freezer rooms. In the beginner classes the teacher worked with a group of students who could not work independently, but rotated between students and groups at each location during intermediate classes. Please see Table 1 on the data collection process.
[Comment 9: A data table such as this can help the reader understand what data was actually collected. It provides a 'birds-eye view' of the project and data.]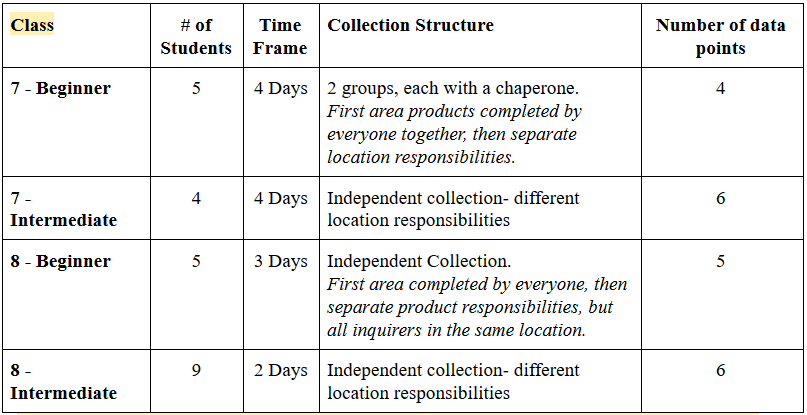 Table 1. Data collection process for inquiry on consumable product sources at Ridge Jr, School.
[Comment 10: The author has provided a legend description for the Table which is very important. Additional information that could be added here would be more geographic information (state, country), and more information on the time frame (when the data was collected).]
After data collection, for two days the students and I simultaneously used a shared Google Sheet matching original data collection tools to compile data. On the following day, I rotated to work with groups of 3-5 students to help analyze the data using a worksheet created based on the specific items they originally wanted to collect information on: whether more food and supplies originate in the Midwest or beyond, which products are supporting local business and which do not, what items are the most caloric, what ingredients were surprising and/or unknown, whether items were GMO, if the foods were within expiry dates, and an open response section for additional analysis/findings students noted. Once the data was analyzed each class was able to identify the answer to the focal inquiry question and create visual representations of the results.
This inquiry allowed students and I to work collaboratively, both inside and outside of class, on a question that had several layers of work from brainstorming to analysis and the visual representation of data. [Comment 11: Use of first person is fine and can clarify who is doing the action described. In this case, switching to first person also gives the readers a sense that the author is reflecting in a meaningful way about the work. While people are often taught that science writing should be impersonal, in Project Dragonfly we strive to include personal reflection and openness in writing style.] Meta-analysis of 225 inquiries comparing active learning-design class sessions to traditional learning classrooms discovered students in traditional lecture-styles classes were found to have 1 ½ times higher probability for failure than in classes utilizing some learning interventions including: group problem-solving, tutorials, personal response, peer instruction, and hands-on workshop design (Freeman et al., 2013). The study claims that active learning increased grades, participation, and overall accomplishment due to the higher-level cognitive skills that are both developed during, and required for, problem-based collaborative learning and hands-on application, which leads to a higher probability of concept mastery while misconceptions are more quickly diagnosed and tended to.
Results (2 comments)
All four classes found that more food and supply consumables are sourced globally, outside the Midwest, but within the Continental United States and/or abroad, than from local sources, within the eight Midwest states: Ohio, Missouri, Iowa, Minnesota, Illinois, Wisconsin, Indiana, and Michigan. However, all four classes ultimately had different counts for each of the three source categories: globally sourced, locally sourced, or unknown source. See Table 2 and Figures A-C for counts per class.

Table 2: Product source counts per class.
A Chi-Square Goodness-of-Fit test was used to establish whether sourcing items locally or globally is more common. The null hypothesis was that the proportion of sourced items would be equal for within the Midwest, and outside of the Midwest. The alternative hypothesis was that the proportion of sourced items would not be equal for within the Midwest and outside of the Midwest. Accepting the alternative hypothesis suggests that there is in fact a significant difference between local and global sources. Results of the test for each class are as follows: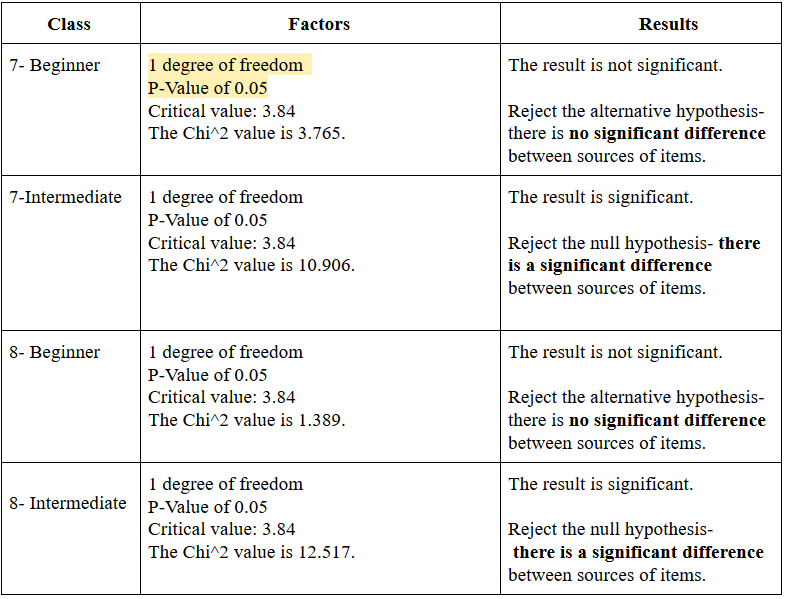 [Comment 12: This table includes inferential statistics that indicate if results were significant. While not everyone has a strong background in statistics, it is great to use your course projects as an opportunity to try to learn some statistical approaches. Your instructors and peers are available to help you as you work on this.]
Based on the results of the Chi-Squared test, though there were more global sources, the data of both beginner classes showed no statistically significant difference among consumable sources. However, both intermediate classes found the greater number of global sources as compared to Midwestern sources is a statistically significant difference.
Students did not complete the statistical tests and were instead given a lesson on using tables, charts, and graphs to make visual representations of data. This lesson also highlighted needs for a finished product such as a title that explains what the visual is telling, a key, labels, and correctly spaced numbers on the x and y-axis, or percentages in a pie chart. The students had 1 ½ class bells to create a paper or computer-based visual representation of answers and the teacher worked with the lowest level groups in each bell to produce a chart or graph.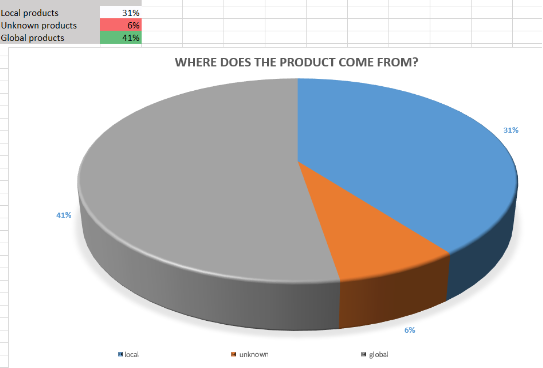 Figure A. 8th grade beginner group's pie chart on product sources. The key at the bottom shows blue: local, orange: unknown, and grey: global
[Comment 13: Figures can be useful in visually showing the main results from your study. Excel and google sheets have options for Figure creation. If you are struggling, you can search "Creating figures in excel (or google sheets)" in Youtube or other tutorial sites. Your instructors and peers also are available to help.]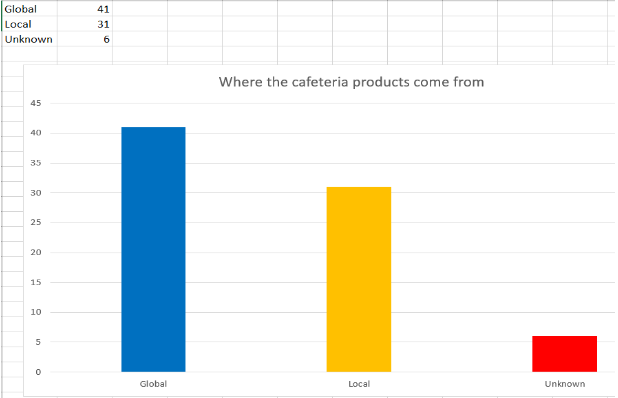 Figure B. 8th grade Newcomers created this bar graph on product sources- labels needed.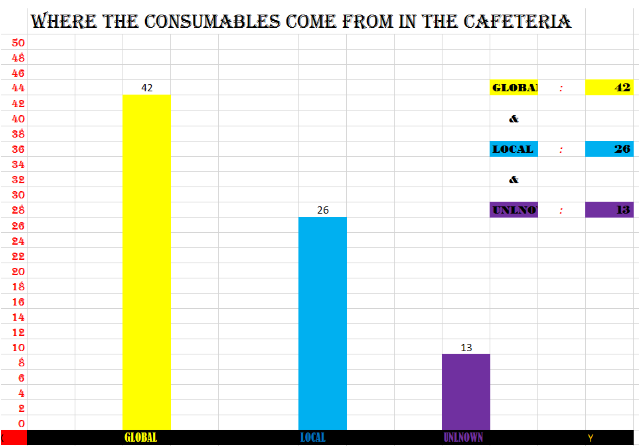 Figure C. 7th grade beginner group's pie chart on product sources - labels needed.
Although the graphs and charts only show that more sources of products are global (outside of the Midwest), the shared Google Sheet was key in allowing us to see the actual locations collectively. When the students and I analyzed the Sheet in small groups we found that the majority of the school's canned goods are produced overseas, but are shipped to U.S. states for distribution. Each distribution site was also outside of the Midwest. In addition, it was a group of three 8th grade intermediate students who found that while 12 products came from Pennsylvania to the northeast, no product came from either West Virginia or Kentucky, the closest eastern and southern states- this is assuming none of the "unknown sources" are either of these states. The majority of our globally sourced products originated from China, Indonesia, Mexico, Florida, Pennsylvania, Texas, Alabama and Arkansas.
Discussion (3 comments)
[Comment 14: The Discussion section usually is the last section written and often is short or not fully thought-out. In this case, it is clear the author has thought about the project results in detail. Definitely work ahead to make sure you have as strong a Discussion as possible.]
Although numerical data differed by class, this project provided a reliable answer to our inquiry question that fueled discussion and opened the door for lessons and work on ecological footprints and the "cost" of transportation. Though the answer showed that more foods and cafeteria supply consumables are sourced from outside the Midwest of the United States, several factors highlight questionable validity of the results. The Chi-Squared test revealed several weaknesses in the study design. While the intermediate classes found a statistically significant difference between local and global sources, the beginner classes found a difference that was not significant. The primary factor is that less total items were investigated by the beginner classes due to the need for one-on-one and small group assistance which slowed the pace of investigation. Writing, decoding, and spelling ability also slowed the pace and accuracy as students were reading an unfamiliar format with many unfamiliar words- these include words never seen or read in print before. Though students received lessons on reading labels and the process was both modeled in class and on the first items once in the cafeteria, some students are non-readers in both English and their first language and/or students with interrupted formal education who were not accustomed to the writing, reading, or responsibility of the tasks. The challenge faced by some students is important in acknowledging that student investigators had different abilities to correctly capture data.
Intermediate classes moved more quickly with greater independence and challenged themselves to investigate every box and package. Second, in each class there were products whose sources could be verified because another class (or classes) had recorded the same source data; however, each class had a differing number of unknown sources. In one class, the number of unknown sources could "tip the scale" to more locally sourced products, and in two others, toward an answer of equally sourced products, from both local and global sources. There was a great deal of reduced teacher control at every data point collected in this inquiry due to the increased responsibility and trust placed in student investigators that were not in need of direct assistance.
To mitigate these differences in data collection, the process could have benefitted from a pre-made list of items that were divided among investigator groups. This would have not only ensured that each class collected data on the exact same products, but also increased the ability to verify data collected by checking each class' data against another. It was the class-created data collection sheets that hindered efficacy while also increasing student ownership and responsibility. As each class obtained the same ultimate answer to the inquiry question, I argue that in this particular case, the student ownership outweighs the differing data sets and potential miscalculations.
Other weaknesses are the exclusion of sessions to formally interview cafeteria or kitchen staff, that investigators may have focused more energy and time in accurately capturing personally chosen data (calories, arrival dates, expiration dates, ingredients, etc.) than on source of origin, and differing student responsibilities. Student investigators were given different responsibilities/methods for collecting data (individual collection, pair collection, or working directly with myself) which could have led to inaccurate data and/or missing data. Beyond informal "on-the-spot" moments with staff, each "unknown" illustrates a time when either no one was available to ask about an item, or when the staff member interviewed responded that they did not know the source of a product.
The weaknesses of the study indicate the need for adaptations to the methods, and the potential that products are sourced equally from local and global sources; however, even equal sourcing of consumables does not negate the ecological impacts of transportation of items from outside of the Midwest. A higher number of globally sourced items equates to a larger ecological (namely carbon) footprint from the transportation of these goods. The gasoline required for transportation emits 157 lbs of carbon per million British thermal units (CO2/MMBtu) and over a 12 month record, these gasoline emissions represent 60% of total transportation emissions (U.S. Energy Information Administration, 2017). While analyzing data, the potential reasons were discussed as to why acquire these items from global locations rather than nearby states, especially when the U.S. Department of Agriculture notes that central states, including the "Corn Belt" (the Midwestern states minus Michigan, Minnesota, and Wisconsin) have major land area designated for cropland (Nickerson & Borchers, 2012). The consensus among classes was that it is either because the Midwest does not have particular foods or products, so they need to be outsourced, or because it is cheaper to purchase from other locations, even counting fuel and transportation costs.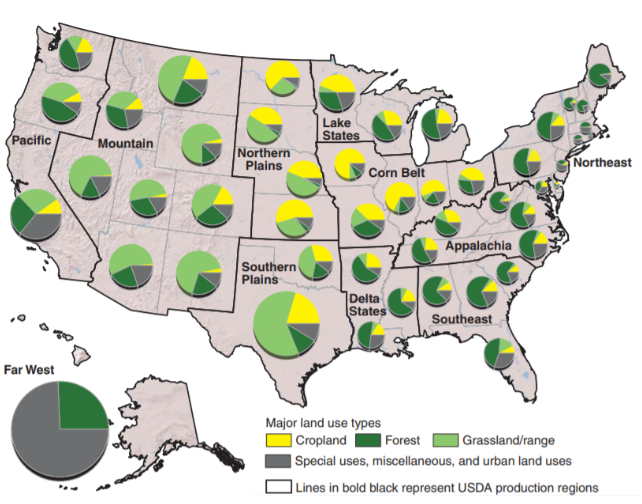 Figure D. Major land-use designations of states (Nickerson & Borchers, 2012).
[Comment 15: Although not always needed, it is fine to include other figures (from different papers) as long as you use a proper citation.]
The initial goal was to use the collected data and results to fuel changes in purchasing behavior in favor of supporting local business. Before considering this as community outreach, is the consideration of the district's structure for decisions on cafeteria purchasing. In regards to child nutrition, the Director of the Lakota Local School District shares that the self-supporting Child Nutrition Department receives no funds from the school district, is responsible for all purchases, and both its breakfast and lunch programs operate "under the direction of the United States Department of Agriculture, Ohio Department of Education as well as the Butler County Health Department" (Hatfield, 2017). [Comment 16: Citations are needed in the Discussion section too! It is easy to just write reflectively and to avoid integrating citations but this is very important and a hallmark of solid science writing.] Due to the complexity of this arrangement, and the small focus group of the study (1 building of 22), the pursuit of purchasing persuasion is not an optimal action for these students. Language proficiency and progress hinge on application and feedback; therefore, a shift towards community education will provide students the ability to use their language skills with more immediacy. Looking forward, a multiple building study with the support of staff and administration may enhance the ability to pursue purchasing changes with more efficacy.
Action (1 comment)
The teams of co-inquirers/students felt that it is beneficial to purchase from far locations in order to save money. This was an unexpected response that prompted two actions. One was a lesson on ecological impacts directly associated to results. The second was a student-created action project based on any component of the investigation and/or lesson they found important or beneficial.
The teacher led lesson hinged on Dalin & Rodriguez-Iturbe's (2016) study on the ecological impacts associated with food production and transport, including the negative alterations of natural cycles and biodiversity. During the lesson students used three online footprint calculators: The Carbon Footprint Calculator developed by the Nature Conservancy, The Water Footprint Calculator, and Native Energy's Transportation Calculator. In a study of 83 online calculators that include carbon footprint calculation, Kim & Neff (2009) placed The Nature Conservancy's calculator in the top three for personal, household, and transportation calculation. The Native Energy calculator was not included in the study as it not a comprehensive calculator, yet it provides precise calculation of carbon emissions by specific transport factors (type of vehicle, one-way vs. round-trip, size of vehicle, etc.). This allowed analysis of a direct comparison of emissions from the 10 primary local product distribution sites with the 10 primary global product distribution sites. One round trip for each of the top ten global sources produced approximately 50 tons of CO2 compared to 4.4 tons of CO2 for round trips from the top 10 local sources.
Following the discussion, lesson and calculations the students are charged with the creation of a class project. Upon completion of this project, students will write a narrative journal, following a particular structure that recounts the investigation, lesson, and project- focusing on areas of interest and growth. Differing proficiencies will write variances of the project with different levels of complexity, but the written linguistic component is a crucial portion of the project. Throughout the project, students focused on purpose-driven language to convey messages and findings; this will continue and finalize the project in its entirety as a summarization/revision.
Students were aware that an action project would follow the investigation from the outset. Due to this knowledge classes have already chosen and begun work on their class actions. These include the creation of lessons and associated activities and/or games for a fourth grade elementary science class and a field trip to the local elementary to present over the morning of December 13th, 2017. Some of their related topics and designs include:
Powerpoints presentations on ecological footprints
Kahoot- an online interactive question and answer game
A giant-sized team board game on ecological footprints with questions related to examples of positive and negative footprints
A timed group drawing activity on habitats with various footprints occurring
The presentation of a real "bio-bottle" and instructions for students to use in making one at home.
The current state of water and effects of food production and transportation on water.
Ideas for reducing our carbon and water footprints.
[Comment 17: The Action section of this IAP includes very real, tangible results which is great.]
Providing an opportunity for students to create an action plan revolving around natural cycles and ecological impacts of transportation, increases critical thinking and encourages them to revisit the content and process of the entire project in a way that is personal and meaningful. Hudson (2001) holds that student accomplishments in environmental education should be championed as a way to enrich the learning environment and encourage students to be problem-solvers who have a desire to protect the environment. This positive championing of education and mitigation of human impacts is a focal point in Swaisgood & Sheppard's (2010) article, as they argue that conservation biology has a need to understand human-caused negative impacts while also emphasizing hope and the idea that progress in ecosystem management can be made. Rather than negativity, emphasis on hope and positivity associated with ways to help through pro-environmental actions is especially important since the audience will be aged 9-11. These student presenters may be future scientists; allowing them to engage in real data-collection, lessons in impacts (causes and effects), and the opportunity to present, teach others, communicate, and suggest action(s) allows them to engage in purposeful environmental education in a real way that is ultimately hope and problem-solving oriented.
Conclusion (0 comments)
Though differences occurred in all four trial investigations (classes) in the counts for all three possible sources of products: local (within the Midwest), global, or unknown, data for each investigation still favored global sources. These results indicate that the Lakota local school district contributes to a larger ecological carbon footprint from the transportation of goods than if more products were sourced locally. The fact that the investigation revealed a high degree of movement of goods while transportation is directly related to increased carbon emissions, pollution, and climate change prompted a lesson on ecological footprints. Students engaged in learning new terminology, in calculating personal footprints and the carbon footprint of cafeteria foods and products, and in analyzing data from the investigations, lesson, and calculations in order to determine an area of interest for a personal communication on knowledge gained. In the future this study could be revisited using a pre-made list of items to ensure accuracy and data verification. In making students co-inquirers and investigators studies could extend to the sources of classroom consumables. It would be interesting to extend this activity to high school science teachers to pursue an investigation of local businesses supplying food, cafeteria consumables, classroom and schoolwide consumables, and comparing available products in a cost-analysis to determine if it is both environmentally and economically beneficial to support local business. A large scale study, extended to each, or a majority of, the schools in the district could prompt changes in purchasing behaviors.
This inquiry supports investigation of the environmental impacts associated with the sources and transportation of goods. It also focuses on the enrichment of ESL classes with environmental education, student-assisted design of content, and a focus on language as a means to exchange ideas, collaborate, and participate in a hands-on, workshop structured class. These concepts focus on the total development of a 21st century adolescent and acknowledge the increased ease with technology, desire for interpersonal communication, and developmental threshold of using critical-thinking skills for problem-based learning. Successful impacts of this inquiry project may not be visible at any point. Although long-term goals of pro-environmental behavior, careful consumerism (conservative and sustainable purchases), support of local business, increased confidence and voice, and improved critical-thinking and collaborative skills are the types of behavior and character traits that develop in a person over time- with each new event adding to the skill and ability. The student action plans and second quarter projects will indicate growth in some of these areas. Sometimes the provision of knowledge and opportunity for inquiry is the ultimate impact, especially with youth. In an educational world driven by standardized tests and students-as-data, there are decreasing spaces for self-expression, freedom and choice. Working alongside these student co-inquirers and investigators I witnessed a wealth of input, questioning, design, and healthy, purpose-driven communication among adolescents that may contribute to future success, and potentially, to thoughtful communication and sustainable choices as they transition into teenagers and primary economic consumers.
References and Appendixes (2 comments)
[Comment 18: Reference or Literature Cited section needs to include full reference information for all articles cited in the paper.]
Caskey, M., & Anfara, V. (2014). Developmental characteristics of young adolescents: research summary. Association for Middle Level education. Retrieved from http://www.amle.org/BrowsebyTopic/WhatsNew/WNDet.aspx?ArtMID=888&ArticleID=455
Clayton, S. & Myers, G. (2009). Attitudes, values, and perceptions. In Conservation psychology: Understanding and promoting human care for nature (pp. 15-33). Hoboken, NJ: Wiley-Blackwell.
Dalin, C. & Rodriguez-Iturbe, I. (2016). Environmental impacts of food trade via resource use and greenhouse gas emissions. IOP Science, 11(3). Retrieved from http://iopscience.iop.org/article/10.1088/1748-9326/11/3/035012
Freemana, S., Eddya, S., McDonougha, M., Smith, M., Okoroafora, N., Jordta. H., & Wenderotha, M. (2013). Active learning increases student performance in science, engineering, and mathematics. PNAS, 111(23). 8410-8415. doi: 10.1073/pnas.1319030111
Freire, P. (1970). Chapter 2: In Pedagogy of the oppressed (pp.52-67). New York City, NY: Continuum.
Hart, R. (1997). Selections. In Children's participation. London, UK: Earthscan
Hatfield, C. (2017). A message from the director. Lakota Local Schools. Retrieved from https://lakotaonline.com/cms/One.aspx?portalId=216799&pageId=269310
Hudson, S. (2001). Challenges for environmental education: Issues and ideas for the 21st century: Environmental education, a vital component of efforts to solve environmental problems, must stay relevant to the needs and interests of the community and yet constantly adapt to the rapidly changing social and technological landscape. BioScience, 51 (4): 283-288 doi:10.1641/0006-3568(2001)051[0283:CFEEIA]2.0.CO;2
Jacobs, G. M. (1995). Developing materials with an environmental focus. In A. C. Hidalgo, D. Hall, & G. M. Jacobs (Eds.), Getting started: Materials writers on materials writing (pp. 269-279). Singapore: SEAMEO Regional Language Centre.
Jacobs, G. M., & Cates, K. (1999). Global education in second language teaching. KATA, 1(1), 44-56.
Kanno, Y., & Applebaum, S. (1995). ESL students speak up: Their stories of how we are doing. TESL Canada Journal, 12(2), 32-49. doi:http://dx.doi.org/10.18806/tesl.v12i2.651
Kim, B., Neff, R. (2009). Measurement and communication of greenhouse gas emissions from U.S. food consumption via carbon calculators. Ecological Economics. doi:10.1016/j.ecolecon.2009.08.017
Kudryavstev, A., Stedman, R.C., & Krasny, M.E. (2012). Sense of place in environmental education. Environmental Education Research, 18 (2), 229-250.
Myers, C., Smart, T., Haynes, C., Bercaw, J., Cummins, H., Myers, L. B., & Wolfe, C. (n.d.) Dragonfly QUEST leader's guide. Dragonfly.
Nickerson, C. & Borchers, A. (2012). How is land in the United States used? a focus on agricultural land. United States Department of Agriculture. Retrieved from https://www.ers.usda.gov/amber-waves/2012/march/data-feature-how-is-land-used/
Swaisgood, R.R. & Sheppard, J.K. (2010). The culture of conservation biologists: Show me the hope! BioScience, 60(8), 626-630.
U.S. Energy Information Administration. (2017). Power sector carbon dioxide emissions fall below transportation sector emissions. Retrieved from https://www.eia.gov/todayinenergy/detail.php?id=29612
Wakeland W., Cholette S., Venkat K. (2012) Food transportation issues and reducing carbon footprint. In: Boye J., Arcand Y. (eds) Green Technologies in Food Production and Processing. Food Engineering Series. Springer, Boston, MA
[appendixes have been removed]
[Comment 19: Appendices are useful for including data that you want a record of (and that are useful to readers) but are not critical to the main text.]