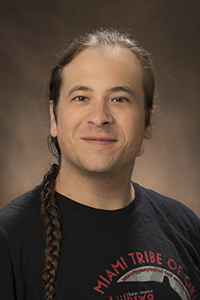 Christopher Bowyer
Chris Bowyer is a first year Aanchtaakia Graduate Fellow pursuing an MFA (Master of Fine Arts) in the English Creative Writing: Non-fiction program here at Miami University. Chris's research here at the Myaamia Center focuses on work with aacimoona and aalhsoohkana, our historical narratives and winter stories. His interests lie primarily in the integration of historical storytelling into educational programs and the poetic forms and themes that identify winter stories.

Chris's interest in storytelling began very young -- he thanks his parents for reading to him and spinning their own yarns to entertain him, as this tradition is what cascaded into his participation in one of his favorite events: his participation in the Miami Tribe of Oklahoma's Winter Gathering event as a storyteller is the highlight of his year. He also worked as a Special Research Intern for the Cultural Resources Office and assisted at the Myaamia Heritage Museum and Archive in Oklahoma after receiving his MA in Philosophy in 2016. His prior academic work focused on storytelling and folklore as both examples of and vehicles for myaamia philosophy.

Storytelling traditions in the myaamia community are growing constantly, and Chris regards his work as an opportunity to foster that growth whenever possible: encouraging new storytellers for Winter Gathering, creating collaborative storytelling games, and finding and sharing connections to storytelling in everyday life. Having worked with folklore as an epistemology or a way of knowing the world, Chris is focused not only on the knowledge of our history and lore but the sharing of that knowledge to the community.