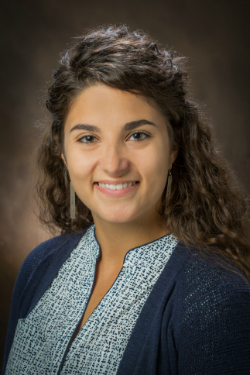 Kara Strass
Kara Strass (mahkoonsihkwa), a citizen of the Miami Tribe of Oklahoma, is originally from Huntington, Indiana. It was there, within the traditional homelands of the Myaamia people, that her Myaamia identity was fostered by her family, especially her grandmother. Today, she resides in both Oxford, Ohio, and Bloomington, Indiana with her husband Kristoph.

Kara received an M.S. in Student Affairs in Higher Education from Miami University in 2016. Kara's graduate studies focused on Student Development Theory, and specifically how these theories can be applied to make Myaamia students successful in their college endeavors.

Kara joined the Myaamia Center in 2016 and became the Director of Miami Tribe Relations in 2020. As the liaison between the Miami Tribe of Oklahoma and Miami University, Kara strives to strengthen this relationship, which is now 50-years old. Additionally, Kara serves as an advisor and mentor to the Myaamia students who attend Miami University as part of the Myaamia Heritage Program.