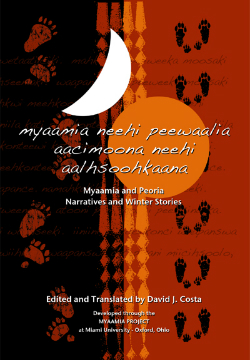 myaamia neehi peewaalia aacimoona neehi aalhsoohkaana ("Myaamia and Peoria Narratives and Winter Stories") contains the collected stories of the myaamiaki.
Its forty-five texts include:
Twenty-nine stories in Myaamia, Peoria, or Wea dialects with English translations
Sixteen English stories
Released in January 2011, this hardbound book was the first collection of native texts from the Myaamia and Peoria ever published.
These texts were collected from several different people from the mid-1890's through 1916, and include origin and culture hero stories, trickster stories (including several stories of Fox and Wolf), animal stories, biographical, auto-biographical and historical narratives, how-to stories, and Christian prayers.
Upon completing this project, we mailed a copy of the storybook to each tribal household.
Dr. David Costa: Miami Language Consultant
Daryl Baldwin: Director, Myaamia Project
Julie Olds: Cover Art
Pam Dean: Layout designer