Ryan Burgess appointed newest Miami University trustee
Burgess is president and CEO of Goodwill Columbus.
Ryan Burgess appointed newest Miami University trustee
Ryan Burgess, president and chief executive officer of Goodwill Columbus, has been appointed to the Miami University Board of Trustees by Ohio Gov. Mike DeWine.
Trustees are appointed to nine-year terms. He will serve until Feb. 28, 2030.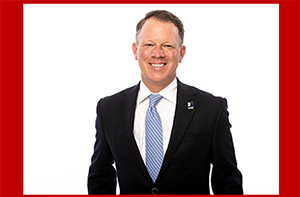 "We are energized by the addition of Ryan Burgess to our team," said David Budig, Miami University board chair. "His leadership experience and business acumen will provide invaluable insight to the Miami board, and we are inspired by his commitment to public service and building community."
Burgess became president and CEO of Goodwill Columbus last March. It is the seventh largest nonprofit health and human service agency in Franklin County, with a $50.7 million annual operating budget and more than 1,000 employees.
Prior to his role at Goodwill Columbus, Burgess served as DeWine's cabinet secretary from 2019 until March 2021. He was the main liaison between the governor's office and 28 state agencies.
Before that, he served for two years as director of the Governor's Office of Workforce Transformation. Then-Ohio Gov. John Kasich appointed him to that position. Burgess previously was assistant director of the Ohio Development Services Agency, where he oversaw day-to-day operations of the agency's $2 billion annual budget.
His government service was preceded by a 20-year career at Fifth Third Bank. During his tenure, he held numerous executive leadership positions within the Corporate Banking and Investment Advisors Divisions. During that time, he was also appointed to the Ohio Banking Commission by Kasich.
The Findlay native earned a bachelor's degree from The College of Wooster.
"I am honored to serve on Miami's board and grateful for the opportunity to work with its esteemed members," Burgess said. "Miami is a national leader in higher education, and I am committed to working with the board to further strengthen its future."
Among a host of community leadership positions, Burgess has served on the German Village Society Board of Trustees, the Columbus Literary Council Board of Directors, and the United Way Leadership Group. He also has served as a vestry member of St. Albans Episcopal Church and on the stewardship committee of Trinity Episcopal Church.
He co-chaired the Center for Child and Family Advocacy's Evening of Hope and was a mentor for City Year. The Ohio Library Council named him Citizen of the Year in 2018.
Burgess and his wife live in Bexley with their daughter.