Concerns over student depression, anxiety, and suicidal ideation/attempts rise significantly since COVID-19, according to new report
The Ohio School Wellness Initiative explores changes in K-12 school mental health needs since COVID-19, identifies key barriers to mental health services, and recommends solutions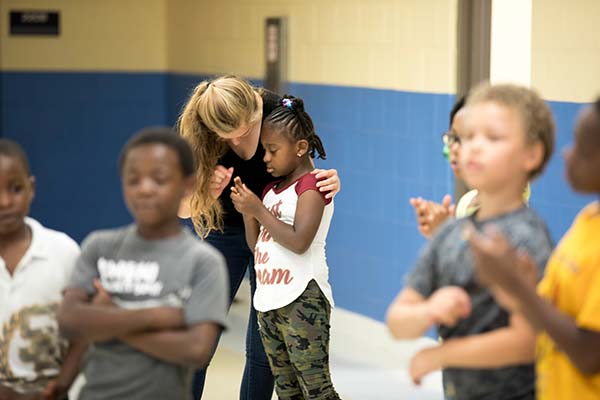 A Miami University student teacher assists a grade school student (image taken before COVID-19).
Concerns over student depression, anxiety, and suicidal ideation/attempts rise significantly since COVID-19, according to new report
A Miami University student teacher assists a grade school student (image taken before COVID-19).
A statewide Student Needs Assessment conducted by the Ohio School Wellness Initiative (OSWI) and Miami University's Discovery Center between May-July 2021 has found that K-12 schools across Ohio are reporting increased concerns around a variety of mental health issues since COVID-19. 
When asked to evaluate their perceptions of changes in student needs since the pandemic began, 75% or more of participating school officials reported increased concern for moderate/severe depression, significant anxiety, and social isolation among students. 
Furthermore, nearly 60% of participants also reported increased concern for suicidal ideation/attempts and trauma exposure/PTSD. 
"Almost across the board there are increases in anxiety and depression, and large increases with social isolation and suicide," said Kristy Brann, a Miami University assistant professor of school psychology. "We already knew levels of anxiety and depression were rising before the pandemic, so to have an increase on top of that is a huge concern. We need to support schools in promoting social-emotional health for all students, building awareness of mental health warning signs, identifying needs early, having a clear and systematic referral process in place, and offering supports to students in need." 
Brann is part of a Miami University team of researchers and statisticians overseeing OSWI, which recently received $6 million from the Ohio Department of Education to aid mental wellness for Ohio K-12 students and staff. 
Designed as part of OSWI's initial exploration phase, the Student Needs Assessment also identified key barriers that prevent students from receiving school-based mental health services.
According to the research, nearly 70% of participants reported family engagement and consent to be the primary barrier.
"Obtaining consent can be a large challenge as the referral process can be time-consuming, confusing, and complicated and there could be a misalignment in goals," Brann said. "So overall we need stronger family and student partnerships, and there needs to be trust between the school and the family. Those have to be in place before a referral is initiated and continued throughout the referral process."
For schools experiencing rises in mental health-related concerns, Brann offers the following strategies:
Create a positive and affirming school environment that focuses on prevention and early intervention. "Schools are doing their best to support students with high needs," Brann said. "But we're in a mental health crisis, so we need to promote social-emotional health for

all

students. We

also recommend universal screening to notice risk and early indicators of need before the severity intensifies."
Look for warning signs, and inform teachers and staff about actions they can take when they notice indicators of need. Warning signs can be physical, social, psychological, or academic. They can include behavior changes, reluctance to participate in activities, difficulties concentrating, declining performance, poor grades despite authentic effort, and more. 
Schools should also assess their priorities for school improvement and focus on a few goals at a time. "Try to do a couple of things really well, and develop an action plan to identify concrete next steps and follow-up," Brann said.
Since completing the Student Needs Assessment, OSWI has begun its implementation phase. OSWI is currently working with over 70 pilot schools across the state to employ and evaluate a host of new and sustainable student assistance and staff wellness programs.
A new podcast series, The Ohio School Wellness Initiative Podcast, is also currently in development. The podcast will provide school administrators, teachers, and parents with additional knowledge, tools, and resources to meet mental health and wellness needs.