Miami alumni Sean McVay and Chris Shula prepare for second Super Bowl
Former RedHawks teammates will lead Los Angeles Rams against the Cincinnati Bengals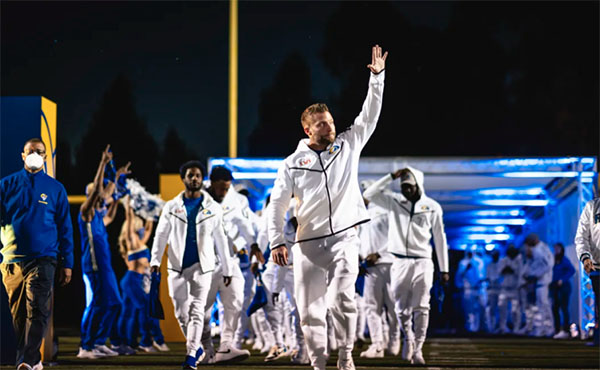 Rams head coach Sean McVay leads his team onto the field for a pep rally (photo by Brevin Townsell, Los Angeles Rams).
Miami alumni Sean McVay and Chris Shula prepare for second Super Bowl
#Rams head coach Sean McVay leads his team onto the field for a pep rally (photo by Brevin Townsell, Los Angeles Rams).()
Los Angeles Rams head coach Sean McVay and linebackers coach Chris Shula have remained close friends ever since their first day at Miami University. Now in their fifth season working together in L.A., they will lead the Rams to the Super Bowl for the second time this Sunday.
It didn't take long for McVay (Miami '08) and Shula (Miami '09) to hit it off on the Oxford campus. When the student-athletes moved into the residence halls ahead of the 2004 season, McVay, a wide receiver, and Shula, a linebacker, connected right away.
"It was the first day," Shula said. "(He's) one of those guys you meet, and you just feel like you've been friends for a long time."
 Coaching McVay and Shula at Miami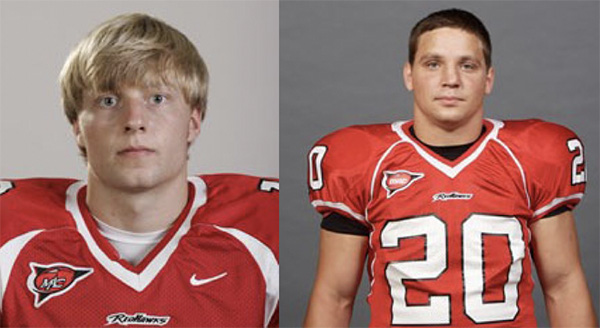 Sean McVay (left) and Chris Shula as Miami RedHawks
Brian Von Bergen (Miami '94), who was a Miami assistant football coach and recruiting coordinator from 1999 to 2009, coached McVay and Shula.
"Sean was a very, very good high school player. He played quarterback. He was a guy that we were really excited to have come on to the team, and we were going to transition him to be a wide receiver, not as the quarterback, just based on what we thought he could do at the college level," Von Bergen said. "And he took that on. He did a great job of going from the centerpiece to a role player."
After Miami, Shula worked at the college level before joining the San Diego Chargers as an assistant coach in 2015. McVay hired him two years later as a Rams assistant linebackers coach. "He's a linebackers coach now, so he's been moving up within the Rams," Von Bergen said. 
Melissa Chase, professor and chair of Miami's Department of Sport Leadership and Management, remembers having Shula in class.
"I am thrilled for Sean and Chris to accomplish so much so early in their career," she said. "I love hearing all the positive comments made about Sean and the culture he has created at the Rams."
Football: a family tradition for both men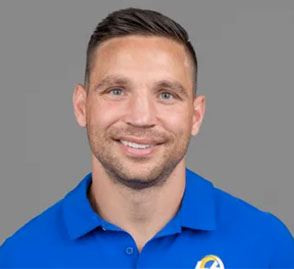 Both RedHawks-turned-Rams came from similar backgrounds, with football families that spanned several generations. McVay's grandfather, John McVay (Miami '53), played for Miami in the 1950s. He went on to coach the New York Giants before moving to the San Francisco 49ers front office, where he presided over five Super Bowl-winning seasons.
Chris Shula's grandfather, Don Shula, was an NFL Hall of Fame coach, most notably leading the Miami Dolphins to a pair of Super Bowl championships, including an undefeated 'perfect season' in 1972.
"We definitely had a connection with our family histories," said Chris Shula, pictured above. Read more about those family connections.
The Cradle of Coaches: 'a great tradition'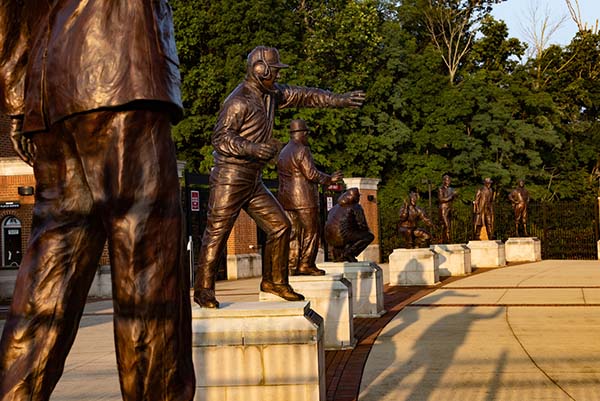 Miami's Cradle of Coaches Plaza, in front of Yager Stadium
Mention Miami Football to Sean McVay, and the 'Cradle of Coaches' and his family connections are the first things he brings up.
"It's just a great tradition," said McVay, who was born in Dayton and lived there until he was 6.
McVay is featured in Miami's 2019 video,  From Now On, which spotlights several successful alumni, including Chipotle CEO Brian Niccol '96 and NBA executive and basketball legend Wayne Embry '58. 
In a  related sit-down interview, McVay talked about the culture of champions he found on the Oxford campus.
"I still stay close to so many people that were influential in my journey," he said.
With a razor-sharp memory and dazzling career winning percentage, McVay has earned a reputation as one of the brightest minds in the game of football. He became the youngest NFL coach at 30 when the Rams hired him in 2017 and then the youngest to lead a team to the Super Bowl at 33.
Gearing up for the big game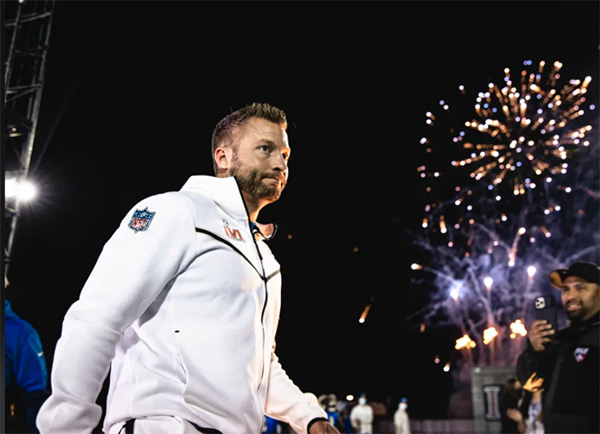 Rams head coach Sean McVay gears up for the big game with fans at a pep rally (photo by Brevin Townsell, Los Angeles Rams.)
This Sunday, McVay and Bengals head coach Zac Taylor will make history as the youngest coaching matchup in Super Bowl history when they step on the field at SoFi Field for Super Bowl LVI. McVay is now 36, two years younger than Taylor, a former McVay assistant with the Rams.
If the Rams win, McVay would be the third Miamian to win a Super Bowl as a head coach.
John Harbaugh '84, head coach of the 2013 Super Bowl XLVII champion Baltimore Ravens, and Wilbur "Weeb" Ewbank, who led the Baltimore Colts to NFL championships in 1958 and 1959 and the New York Jets to victory in Super Bowl III in 1969 are both in Miami's Cradle of Coaches.
Von Bergen believes McVay has a good shot of joining that elite group.
"His coaching peers know he's a rising star, and he's still young. There's a lot of tread on the tire for him," he said.
For Shula, who spent five years growing up in Ohio as the son of the Bengals head coach Dave Shula from 1992 to 1996, taking on Cincinnati is obviously a unique full-circle moment.
"All I have is great feelings toward that city and toward the Bengals," he said, noting that he and Taylor are good friends. "I spent a ton of my life there, whether at Miami or Cincinnati, and still have a bunch of friends from growing up or from Miami that are huge Bengals fans."
Now just days away from the Super Bowl, each team wants the victory.
"It's really hard to win a game, and this is obviously the hardest one to win," Shula said. "We're going to put everything we have into it and hopefully come out on top."
Find more Front Row Features at MiamiRedHawks.com/FrontRowFeatures.
Did you know?
 Miami University is one of five universities who count a Super Bowl-winning quarterback and a U.S. president among their alumni. They are the two Bens — 23rd President Benjamin Harrison, Class of 1852, and Ben Roethlisberger (Miami '12), whose Pittsburgh Steelers were Super Bowls XL and XLIII champions.