Daisy Hernández honored with top national literary prize: 'The Kissing Bug' claims coveted PEN award
Hernández is the first Latina to win the PEN/Jean Stein Book Award which recognizes a book for its originality, merit, and impact, and for breaking "new ground by reshaping the boundaries of its form and signaling strong potential for lasting influence"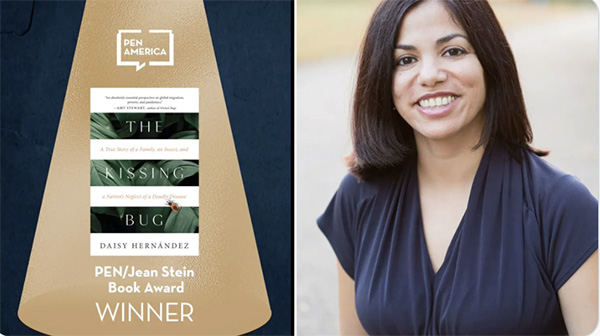 Daisy Hernández , associate professor of English, hopes "The Kissing Bug" can be a "type of medicine that helps raise awareness, not only about Chagas, but other neglected diseases. And I hope that my winning this award will help open publishers' minds that books on these topics do have an audience."
Daisy Hernández honored with top national literary prize: 'The Kissing Bug' claims coveted PEN award
Daisy Hernández , associate professor of English, hopes "The Kissing Bug" can be a "type of medicine that helps raise awareness, not only about Chagas, but other neglected diseases. And I hope that my winning this award will help open publishers' minds that books on these topics do have an audience."
Hernández speaks to the audience at the PEN Awards ceremony. "I looked into the audience and saw so many writers, all who have done such amazing work at a time when the world is so bleak, and I had this beautiful reminder of how books can make another world possible," Hernández said. "Books give us hope." 
Miami University's Daisy Hernández took home a top national literary award during the PEN America Literary Awards Ceremony this week for her book, The Kissing Bug: The True Story of a Family, an Insect, and a Nation's Neglect of a Deadly Disease. With $75,000 in prize money, the PEN/Jean Stein Book Award recognizes a book for its originality, merit, and impact, and for breaking "new ground by reshaping the boundaries of its form and signaling strong potential for lasting influence."  Hernández is the first Latina to win the award. 
The Kissing Bug, which Hernández was inspired to write in honor of her late aunt, centers on Chagas disease, a lethal illness caused by triatomine bugs ("kissing bugs") that carry the T. cruzi parasite. Seamlessly blending science with sociology, the book delves into a discussion of race, sexuality, health disparities, and generational divides. 
Though the book has racked up awards, critical acclaim, and media interest, Hernández said she was shocked to hear her name called during the Oscar-style awards ceremony. She didn't have an acceptance speech prepared or know what she was going to say, but that changed as she took the mic. 
"Once I stepped on that stage, the bigger purpose of my book was with me," Hernández said. "I could feel my auntie with me. She's been gone a dozen years, but I felt her spirit in that moment."
Hernández dedicated her award to her aunt, Dora Capunay Sosa, and to another Chagas patient, Carlos, who shared his story but didn't live to see the book completed. As she spoke at the podium, Hernández said she felt a wave of indescribable emotion. 
"I looked into the audience and saw so many writers, all who have done such amazing work at a time when the world is so bleak, and I had this beautiful reminder of how books can make another world possible," Hernández said. "Books give us hope." 
It's Hernández's hope that her book shines a light into the disparities of global healthcare systems that neglect poor communities and rural areas. In her research for the book, she spoke with doctors who shared frustrations that there were only two medicines to treat Chagas, and those treatments were created in the 1970s. 
"There's no profit to be made when a disease only affects a marginalized community, so no one does anything about it," Hernández said. "Maybe my book can be a type of medicine that helps raise awareness, not only about Chagas, but other neglected diseases. And I hope that my winning this award will help open publishers' minds that books on these topics do have an audience."
Hernández faced many rejections in the seven years she spent writing the book and trying to get it published. She is hopeful that this will open doors for the writers that come after her and inspire the aspiring writers she teaches. 
"We are so fortunate to have Professor Hernández at Miami University," said Madelyn Detloff, professor and chair of English, and professor of Global and Intercultural Studies. "She is a brilliant and compassionate writer whose work has an immediate positive impact on the world. She is also a gifted teacher who mentors dozens of promising undergraduate and graduate writers who go on to publish their own transformative works of creative nonfiction and cultural commentary. Her influence already spans generations and will no doubt continue to shape generations to come."
'As a writer, you have to keep going'
Around 1 a.m. after the award ceremony, Hernandez shared a simple message on Instagram: KEEP GOING. 
"As a writer, you work for so many years on a book, and you face so much rejection, but you have to keep going," Hernández said. "You have to stay connected to your purpose and not get distracted by the logistics of the publishing industry. You have to believe you will meet the right people. I know I did."
Hernández said she is looking forward to returning to Oxford to celebrate her award with her students and colleagues, but first she is attending an event for the National Book Foundation  and the Alfred P. Sloan Foundation. The Kissing Bug was recently selected as one of three inaugural titles for the Science + Literature program. The initiative, guided by a committee of five scientific and literary experts announced recently, will identify three books annually that deepen readers' understanding of science and technology. 
"There are so many people that supported me along the way — my family, my colleagues and students at Miami, other writers and editors," Hernández said. "I am so grateful for the community I have built through this work."