Miami partners with Aramark to innovate campus dining
The collaboration will bolster menu options, upgrade mobile and kiosk ordering systems, and more. Current Miami dining services employees will have the option to continue as Miami University employees, or they may transition to Aramark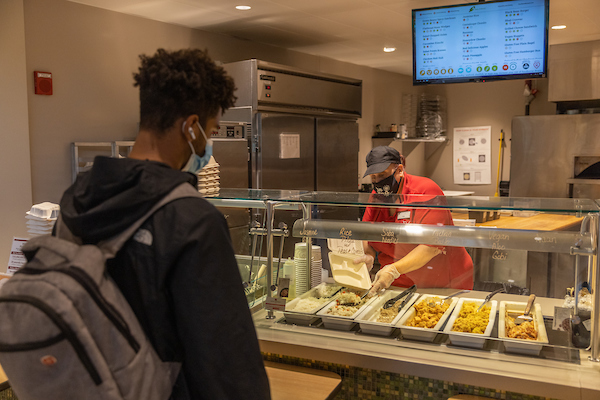 A student orders lunch at Western Dining Commons (spring 2021)
Miami partners with Aramark to innovate campus dining
A student orders lunch at Western Dining Commons (spring 2021)
A collaboration between Miami University and Aramark will innovate and improve the dining experience across campus by bolstering menu options, upgrading mobile and kiosk ordering systems, renovating King Cafe, and expanding national retail options. Consistently considered one of the World's Most Admired Companies by FORTUNE, Aramark will provide and manage Miami's dining services.  
The change will bring more distinctive menus for each dining commons, increased to-go options, additional popular national brands, and new technology, such as delivery robots and food lockers for faster meal pick-up. Aramark will also introduce its recipe testing and development program to seek input from Miami students, allowing the customization of food offerings that include campus tastes and traditions. 
"Miami has had a long and successful history of self-operating its dining program," said David Creamer, senior vice president for Finance and Business Services. "We intend to preserve the best of what Miami has offered, including making sure our dedicated staff will remain Miami employees, while taking advantage of Aramark's technology, its vast partnerships, and extensive dining knowledge to enhance what Miami's students, faculty and staff have access to on campus each day."
Current Miami dining services employees will have the option to continue as Miami University employees, without wage or benefit change, or they may transition to Aramark. Students will also be able to take advantage of Aramark's employment opportunities, including its Student Executive Leadership Program—an experiential learning platform that offers supervisory experience, professional development, internship opportunities and priority for post-graduation jobs. 
While the transition for employees will be seamless, campus will begin to notice some changes. Aramark will begin the transition process immediately and is expected to assume management of the dining program on June 1, 2022.  
New recipes and products will be rolled out as Aramark develops menus and concepts for new locations like Bell Tower Commons. At Western Dining Commons, the Taste Test Kitchen is where dining services will gather feedback, asking students to sample and taste new menu offerings throughout each semester. 
Aramark plans to launch distinct dining destinations with culinary themes that complement student preferences including "A Fresh Approach to Restaurant-Style Dining" at Maplestreet Commons, "Performance Dining" at Martin Dining Commons, "Going Plant-Forward" at Garden Dining Commons, and "Farm to Table" at Western Dining Commons. Local Restaurant Row at Maplestreet will feature a rotation of local partners in the Oxford area.
"We are delighted to have the opportunity to enhance not only Miami University's campus cuisine, but the spaces that surround the food, and the technology that supports the campus hospitality experience," said Jack Donovan, president and CEO of Aramark Higher Education.
One of the most noticeable developments will be the addition of industry-leading technology to enhance the experience for mobile ordering and delivery, and Aramark will provide the initial investment and the annual ongoing support for this enhanced program. Additionally, the platform offers future opportunities for a fully integrated robotic delivery solution. This solution will significantly improve upon the existing GET mobile and kiosk solution and offer an experience designed to grow with Miami's dining program well into the future.