Rodney Coates receives MAC Outstanding Faculty Award for Student Success
MAC Commissioner Jon Steinbrecher said Coates' "passion for working with students and assisting them in their educational pursuits is impressive. Dr. Coates is most deserving of this honor."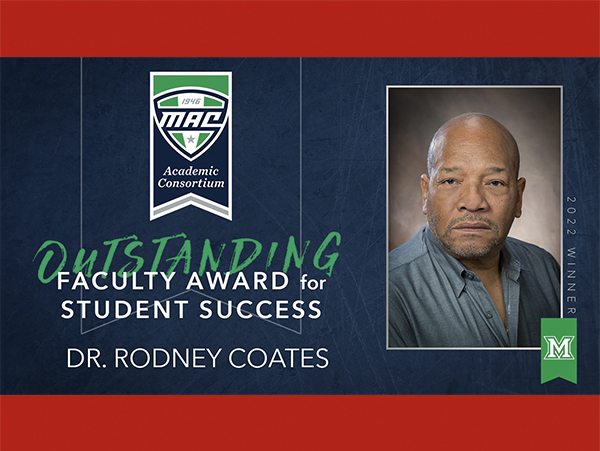 Rodney Coates receives MAC Outstanding Faculty Award for Student Success
Rodney Coates, professor of Global and Intercultural Studies, has been named the recipient of the 2022 Mid-American Conference (MAC) Outstanding Faculty Award for Student Success.
The award, started three years ago, recognizes one full-time faculty nominee from each MAC institution who has demonstrated a dedication to student success and one overall conference winner from among the 12 schools.  Coates also was the MAC's institutional winner for Miami.
MAC Commissioner Jon Steinbrecher said Coates' "passion for working with students and assisting them in their educational pursuits is impressive. Dr. Coates is most deserving of this honor."
Coates, who has been at Miami for 33 years, was moved by the recognition.
 I am humbled and honored to have received such a prestigious award," he said. "It is a testament to not only my efforts but the efforts of coaches and staff and students."
Coates is a public sociologist, which, to him, means that the work he does must have an impact in the wider communities — both within and outside the university. He has conducted bias training for school districts and municipalities, police, and universities. He works with local communities, corporations, and Miami to establish pathways to progress for underrepresented students in such fields as STEM, business, and law.
At Miami, he was the driving force for the creation of the Miami-Cincinnati Scholars program, which provides full scholarships for underrepresented students going into STEM (Science, Technology, Engineering, and Mathematics).
Miami University President Gregory Crawford said Coates "personifies Miami's mission — a commitment to student success, inclusive excellence, graduating champions, and making a global impact."
President Crawford added, "His passion, sense of purpose, and collaborative spirit have helped to transform society. This recognition is well deserved, and we are so grateful for the work he had done to move Miami forward and his dedication to building humanity."
Last year, Coates was awarded the President's Medial. He was teaching 30 student-athletes about critical race theory when the president walked into the classroom.
Coates has taught about a range of topics, including critical race theory, ethnic studies, social justice, civil rights, social movements, and human rights.
Coates was involved in the inaugural Mid-American Conference's Transformative Leadership Badge Program last year. He and two other Miami colleagues led three, two-hour sessions on diversity, equity and inclusion for 225 student-athletes.
Coates developed a summer bridge program for student-athletes in their first year. The course sets the expectations and curriculum to challenge them to perform above what they believe they can accomplish. Increasing grade point average and graduation rates have increased each year the program has been offered.
The MAC contributed to this report.