Tereza Jezkova receives NSF CAREER grant for niche diversification research
Jezkova has been awarded $822,391 for five years to research the interplay of the evolutionary, environmental, and biotic mechanisms driving niche diversification in Oedipodinae grasshoppers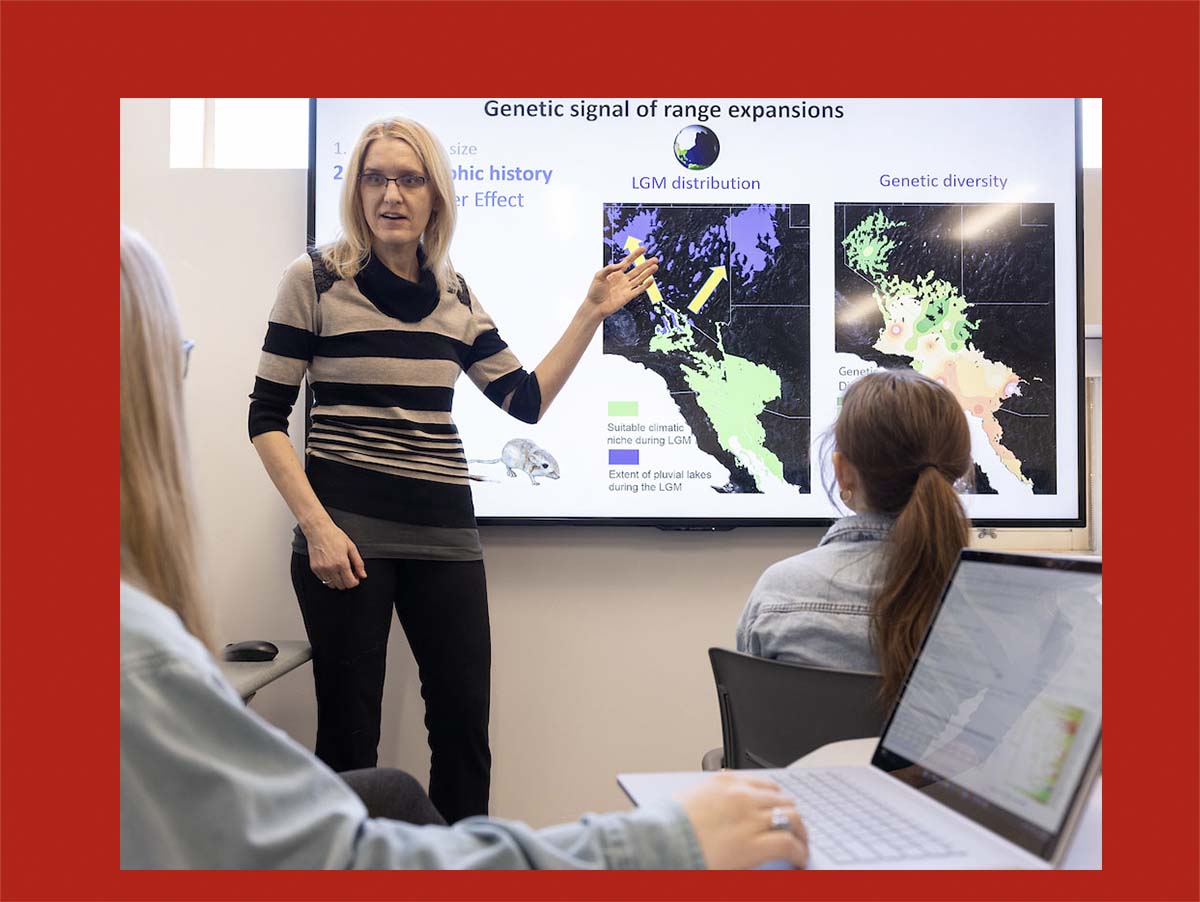 Beginning May 1 and continuing through the summer, Tereza Jezkova, a postdoctoral scholar, graduate and undergraduate students will begin exploring niche divergence among more than 150 species of grasshoppers from throughout North America. (Photo by Scott Kissell)
Tereza Jezkova receives NSF CAREER grant for niche diversification research
Beginning May 1 and continuing through the summer, Tereza Jezkova, a postdoctoral scholar, graduate and undergraduate students will begin exploring niche divergence among more than 150 species of grasshoppers from throughout North America. (Photo by Scott Kissell)
Tereza Jezkova, assistant professor of Biology, has been recognized as one of the top young faculty in her field by the National Science Foundation (NSF) with the award of a CAREER grant from the NSF Early Career Development Program.
NSF CAREER awards support early-career faculty who exemplify the teacher-scholar role and advance the mission of their departments and organizations.
Jezkova has been awarded $822,391 for five years to research the interplay of the evolutionary, environmental, and biotic mechanisms driving niche diversification in Oedipodinae grasshoppers.
 Jezkova, who runs  the Jezkova (Global Change Biology) Lab at Miami University, said that beginning May 1 and continuing through the summer, she, a postdoctoral scholar, graduate and undergraduate students will begin exploring niche divergence among more than 150 species of grasshoppers from throughout North America.
They will travel across the United States and Mexico and collect more than 2,000 grasshoppers that belong to more than 150 species.
"We will generate DNA data from all these specimens that will tell us how related different species are," she said. 
Exploring ecological niche and niche divergence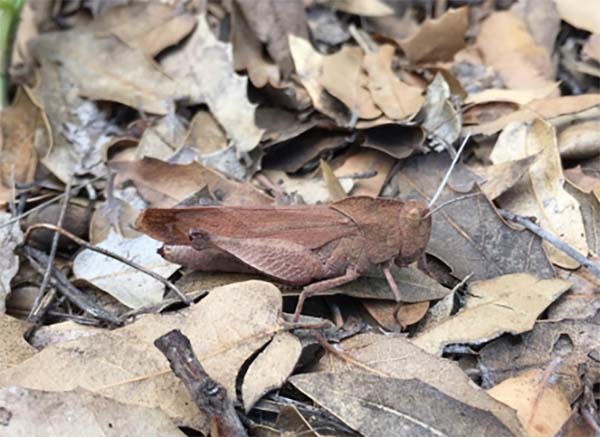 The Oak Leaf Grasshopper (Tomonotus ferruginosus) is one of the species Jezkova and her students study. "Not only does it look like a dry oak leaf, it also flies like a dry oak leaf in the wind," she said.
Ecological niche of the species represents environmental conditions (such as temperature, precipitation, or vegetation) that are suitable for the species and therefore allow it to survive and reproduce. Ecological niche of a species determines species distribution.
Sometimes, similar species have very different ecological niches. When ecological niches between two species are different, scientists say that these ecological niches have diverged from each other.
"But how much can the ecological niches between two similar species diverge? And what factors influence that? That's what I am trying to explore in this project," she said.
Jezkova said knowledge gained from this project can then be applied to a broad variety of questions related to:
species diversity (why are there so many species in the tropics?)

species conservation (how much global warming can a species endure?)

human health (can a tropical disease spread to areas with moderate climates?)

 
Jezkova and her students will assess how much niche divergence occurred between different species and why, using a new methodology that Alfredo Ascanio, a doctoral student in her lab, developed.
New postdoctoral researcher, Daniela Santos Silva, will lead the project, Jezkova noted. Santos received her doctorate in entomology from the Federal University of Viçosa, Brazil.
"We will involve a lot of undergraduate students," Jezkova said, adding that more than 10 undergraduate students have already been involved with this project.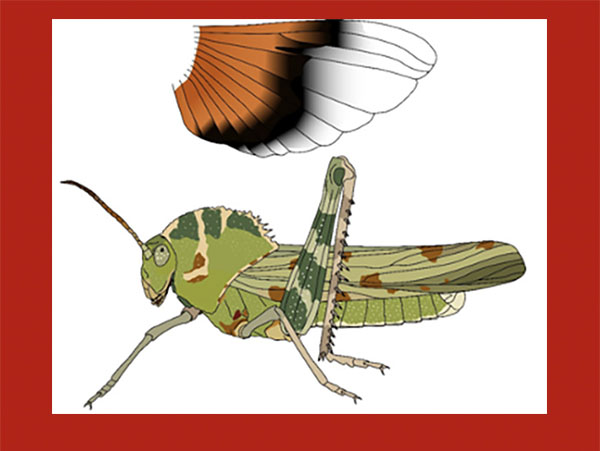 Drawing of a grasshopper by Andrew Cannizzaro, doctoral student with David Berg, University Distinguished Professor of Biology and of Biological Sciences.
An important educational component
Jezkova developed and leads a summer Bioinformatics Workshop for high school, undergraduate and early graduate students. The free workshop is taught by Jezkova and other Biology faculty members and graduate students.   
"This workshop introduces students to working with all kinds of biological data," she said. The project will train a diverse cohort of undergraduate and graduate students in state-of-the-art methods in ecology and evolution.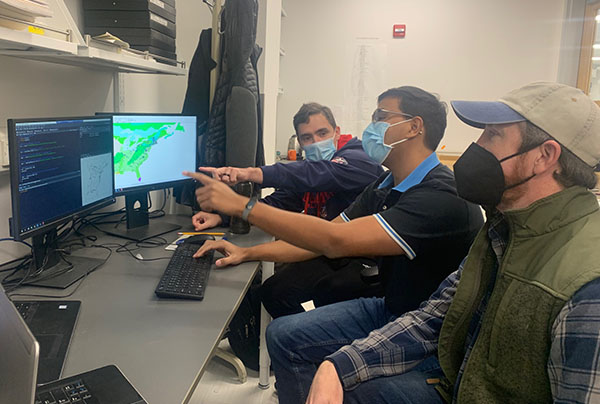 Doctoral students (left to right) Keaka Farleigh, Alfredo Ascanio, and Jason Bracken work in the Jezkova Global Change Biology lab.
Jezkova, who also will be offering a First Year Research Experience (FYRE) class, said she will teach students how to generate and analyze genetic data, prepare museum vouchers, reconstruct species ranges, and more. "Those students who are really interested in this work are welcome to apply to join my lab as undergraduate researchers," she said.
Jezkova joined Miami in 2017 after serving as a post-doctoral fellow at the University of Arizona, Tucson. She earned her doctorate from the University of Nevada, Las Vegas, in 2010.