Maj. Gen. (Dr.) Sharon Bannister talks about her path from Miami University to becoming a two-star general
The Miami alumna is director of Medical Operations of the Air Force's Office of the Surgeon General in Falls Church, Virginia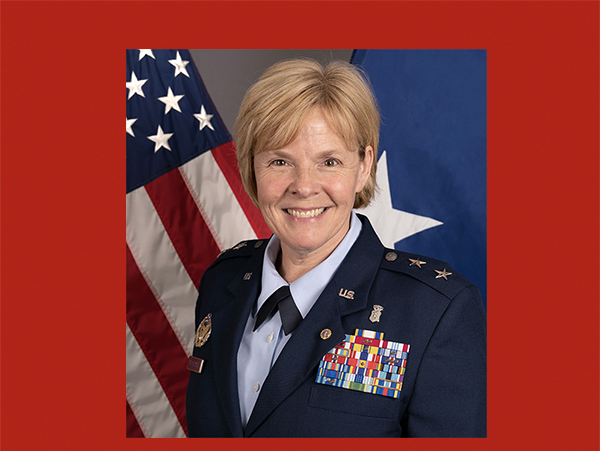 Air Force Maj. Gen. (Dr.) Sharon Bannister '88
Maj. Gen. (Dr.) Sharon Bannister talks about her path from Miami University to becoming a two-star general
Air Force Maj. Gen. (Dr.) Sharon Bannister '88
By Margo Kissell, University Communications and Marketing
When Air Force Maj. Gen. (Dr.) Sharon Bannister addresses graduates at Miami University's May 14 commencement, she'll urge them to "find their why" in life.
As she sat among hundreds of graduates in Yager Stadium in 1988, she hadn't yet found her own why — something that would inspire her to make a difference in the world.
"I didn't even know what I wanted to do," said Bannister, a chemistry major who went on to become a dentist and joined the Air Force to help cover her dental training expenses. She never expected to make a career of it.
Now a two-star general who recently celebrated 30 years of military service, Bannister is director of Medical Operations of the Air Force's Office of the Surgeon General in Falls Church, Virginia. She oversees developing and executing policy, plans, and programs for comprehensive combat and peacetime operational health care in support of 43,000 personnel and 76 medical treatment facilities, with a budget of more than $6.2 billion.
She didn't join the military to follow her father, Air Force Capt. Stephen Rusch, whose plane was shot down in Vietnam in 1972, three days before her 6th birthday. But his story is part of why she said she decided to stay in the military.
At the end of her Air Force officer training, while at a dinner with all the other new officers, she noticed that the general hosting the event kept looking at her from across the room. The general finally walked over and asked the captain her name. When she said Rusch, he spelled it back to confirm.
"I served with your dad," he said, telling her he recognized her from pictures when she was a child.
Bannister said the encounter made her realize she was part of something much larger than herself — a military community — and that she wanted to have a similar impact as that general.
"I don't know that I'll ever be exactly like he was, but I just hope I'm the kind of leader that takes care of the community that I'm serving so that maybe I'd recognize their children 20 years later."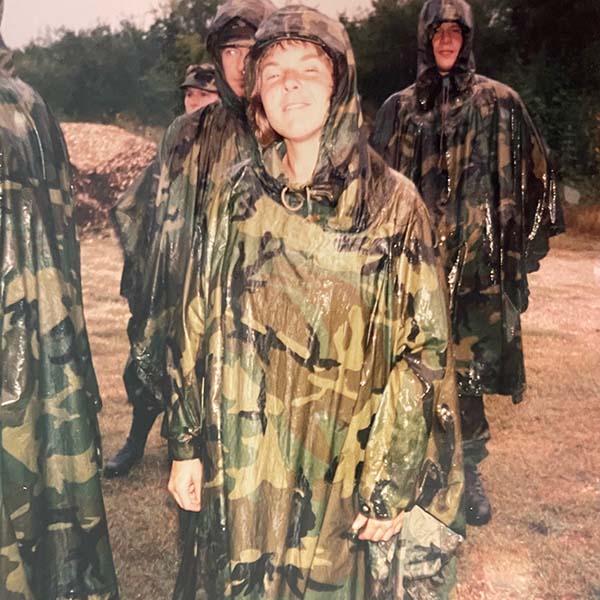 Sharon Bannister early in her Air Force career (submitted photo)
A life of service
Bannister sees similarities in Miami's virtues and core values (honesty, integrity, and the importance of moral conduct) and the Air Force's (integrity, service, and excellence). She visited Miami because of its reputation for academics but stayed because she immediately felt at home on campus and in Oxford.
She recalled playing tennis on the North Quad courts, walking Uptown with friends, and attending hockey games. However, ROTC was not part of her life, she said. "I did not grow up thinking I was going to be in the military."
Bannister earned her Doctor of Dental Surgery from Case Western Reserve in Cleveland in 1992 and the next year completed her Advanced Education in General Dentistry (AEGD) Residency at Wright-Patterson Air Force Base just east of Dayton. Thanks to those nine years in Ohio, she quipped, "I'd like to think I'm a little bit of a Midwestern girl."
She views dentistry as a profession where she can make a difference. "When able to do surgery, one of my favorite procedures is making the tissue in the front look perfect, so they have a smile they're proud of," she said. She still works a couple of days a month at the Air Force dental clinic. "I have to remind them that I can still put on the scrubs and take care of people."
Bannister said her "whole plan was to come in, do my AEGD one-year residency post dental school, pay off my two years, and get out and become a dentist in some nice town where I'd plant my roots."
But interesting Air Force assignments kept adding up. She began thinking about specialty training, became a periodontist, then started teaching, which she loved.
She thought she was going to go the education route and teach, but then she was asked to lead a squadron running a dental clinic in Tampa. After a year, military brass urged her to attend the Industrial College of the Armed Forces in Washington, D.C., where she would earn a Master of Science in National Resource Strategy.
She found it fascinating to interact with senior leaders from all services, including Navy SEALs, Green Berets, and Marines.
"I started realizing how I support the mission," she said. "It was really about my medical expertise to be able to help all these heroes — the real rock stars — do their jobs," she said. "And I got a much larger perspective about what my role was in uniform than I had before that."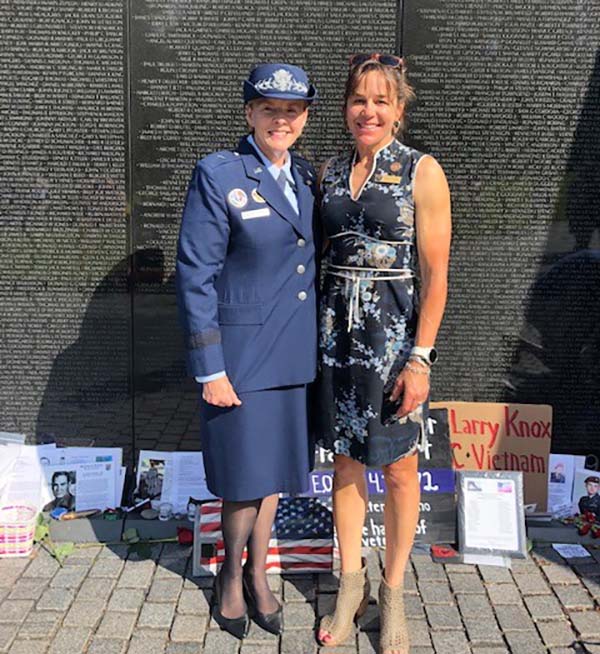 Sharon Bannister and her sister, Rebecca Rusch, (right) both volunteer at the Vietnam Veterans Memorial (submitted photo).
Bringing her father home
Capt. Rusch, her father and hero, was missing in action for seven years before the military declared him dead. They had a funeral, and everyone would tell the young teen that it was OK to cry, but she couldn't find the tears. "There wasn't anything that had any sort of closure for me," she said.
It wasn't until 2007 when the military identified her father's dental remains — an irony not lost on Bannister, who by then was a colonel. She was in Hawaii serving as the transport officer when she received her father's teeth in a small envelope.
"I remember holding them in my hand, and for the first time I was able to actually cry because I had the X-rays there, I had the teeth in my hands," she said. "There was absolutely no doubt that was my dad."
The dental remains were placed in a bag and wrapped in a blanket that was placed beneath his medal-adorned uniform. She escorted the flag-covered casket to Arlington National Cemetery, where her father was buried with full military honors.
"They treated it like he had just come home," she said.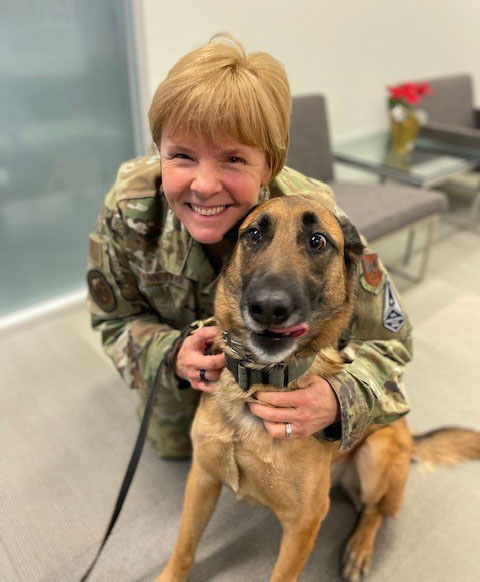 Bannister and friend, a Department of Defense dog (submitted photo)
"I knew I was there for a reason"
Most heroes who die in combat come back through Dover Air Force Base in Delaware. From 2009-2012, Bannister served as Dover's commander of the 436th Medical Group.
It was a tough time in our country's history with wars in Iraq and Afghanistan raging, she said. "We were unfortunately losing too many men and women in uniform."
Bannister said the position allowed her to support one of the nation's most sacred missions — welcoming home the fallen. She volunteered for the role whenever it was available.
"I spent hundreds of hours out on that flight line bringing home fallen heroes," she said, noting that the families were often there to witness them coming home to U.S. soil. "When I was there, I knew I was there for a reason. I knew the hurt and felt the loss with each of them."
Bannister became a brigadier general in 2018 and was promoted to major general last June. That's also when she began leading Medical Operations directorate for the Air Force's Office of the Surgeon General. Despite the pandemic's challenges, she enjoys the positive effect she has on military personnel and communities.
"Wherever it is, it's that impact of putting virtual arms around people and helping make it a better place for them," she said.
As she prepares to return to Oxford to address Miami's Class of 2022, she respects how the graduates have powered through the pandemic to earn their degrees.
She believes they are well prepared to enter the workforce because they have been through so much that has helped them grow up faster.
"I think for them — and the parents who had to have them at home when we weren't able to be in person — they all deserve a medal."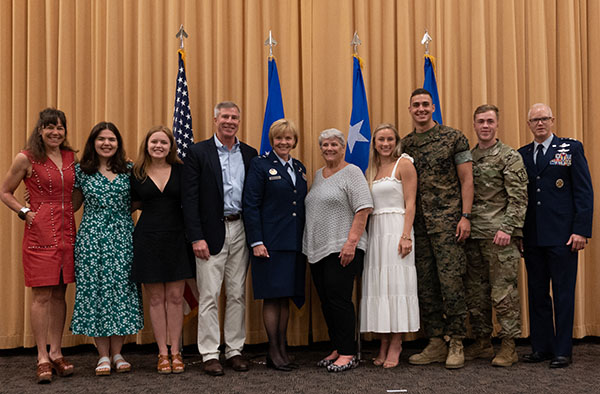 At Bannister's promotion to major general (left to right): sister Rebecca Rusch; daughters Haley and Kira Bannister; husband, retired Army Col. Jack Jensen; Bannister; mother Judy Rusch; step-children, Jackie Poulin and her husband Marine Lt. Sam Poulin, and Jeffrey Jensen (Army ROTC at Virginia Tech); and Lt. Gen. Chris Weggeman, who promoted Bannister.