ACSM Paper of the Year awarded for e-bike and active transportation research led by Miami kinesiologists
Study finds riding an e-bike can provide a good workout and encourage active transportation
ACSM Paper of the Year awarded for e-bike and active transportation research led by Miami kinesiologists
Lead study authors Kyle Timmerman (left) and Helaine Alessio commute to Philips Hall on their e-bikes.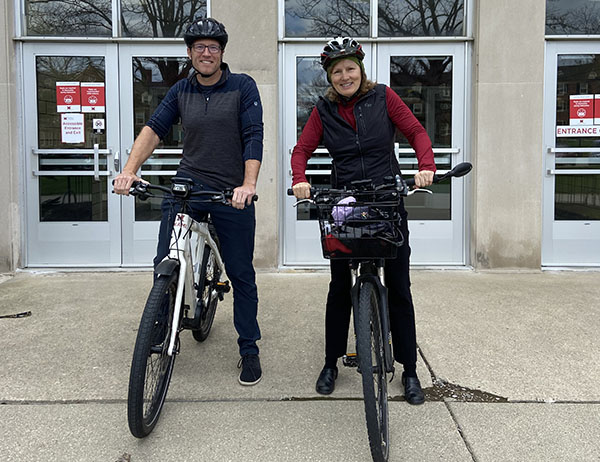 Lead study authors Kyle Timmerman (left) and Helaine Alessio commute to Phillips Hall on their e-bikes
The Translational Journal of the American College of Sports Medicine (ACSM) awarded its 2021 Paper of the Year to a study led by Helaine Alessio, chair and professor of Kinesiology, Nutrition, and Health (KNH) and Kyle Timmerman, associate professor of KNH, who will accept the award at the 2022 ACSM Annual Meeting and World Congresses.
The study, "Metabolic and Cardiovascular Responses to a Simulated Commute on an E-Bike," was published in the Translational Journal of the American College of Sports Medicine (ACSM) in Spring 2021. It was also featured in the New York Times article "E-Bikes Can Provide a Good Workout." 
Co-authors of the paper are John Bailer, chair and University Distinguished Professor of statistics, and former Miami students Brett Kemper '19, Tim Reiman '19, and Winston von Carlowitz '20. 
Their work showed that electric bicycles with battery-powered assist may overcome barriers to active transportation, benefit cardiometabolic health, and provide an environmentally friendly transportation option.
Since e-bikes use an electric motor to amplify petal strokes and provide independent momentum, which makes riding easier and requires less physical exertion, the researchers wanted to know if riding an e-bike negated any health and fitness-related benefits associated with traditional biking.
Surprisingly, the study found that riding an e-bike can still help people avoid or reduce the risk of serious health conditions by meeting recommended levels of physical activity.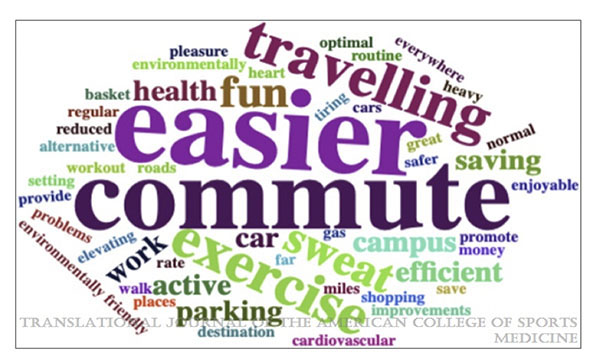 Word cloud illustration of most frequently stated e-bike benefits as described in writing by participants (image courtesy of the study authors)
"The significant finding was that riding an e-bike for three miles at either a low or moderate assist level increased heart rate and metabolism that met exercise intensity levels recommended for health and fitness by the World Health Organization and the ACSM," Timmerman said. "We were surprised that so many volunteers who had never ridden an e-bike before, rode it at an intensity level that met health-related fitness criteria, that they all enjoyed riding it and considered riding an e-bike for commuting."
Furthermore, the study participants perceived their exertion level to be lower when combined with their expressed enjoyment of riding an e-bike. The researchers noted that these factors can help encourage active transportation, which benefits both human and environmental health by reducing the reliance on gas-powered vehicles.
"E-bikes can take away barriers that many people perceive when considering riding a bike for leisure, errands, or commuting including hills, long distances, or the perception that one is not strong or fit enough to ride," Alessio said. "The addition of dedicated bike lanes and bike and walking trails can contribute to feelings of safety and motivate people to ride an e-bike, which they perceive as easier than a regular bike, while still enhancing their fitness and health." 
To complete this study, Miami faculty also received research assistance from several Miami students who helped recruit participants and collect data before co-authoring the manuscript and presenting the findings at national conferences. 
"The experience was incredibly meaningful,'' said Kemper, who is currently attending medical school at Wake Forest University. "I was able to learn the skills required to publish and understand scientific literature. Dr. Alessio took the time to explain each step of the research process and the attention to detail necessary in creating literature that is useful to the scientific community. Her guidance was a pivotal piece of forwarding my career and allowing myself to be competitive when applying to medical school."
Reiman, who is currently attending medical school at Ohio University, said, "We were all motivated to see how our research could impact participants and the surrounding community. However, I'm not sure any of us could have predicted how far this research would go. From being published, to presenting at a research conference, to being referenced in The New York Times, to winning ACSM Paper of the Year, it is incredible to see the power of our research."