Headline Highlights: Miami and Miamians in the news in March
Our editors' picks for March provide a snapshot of recent news media coverage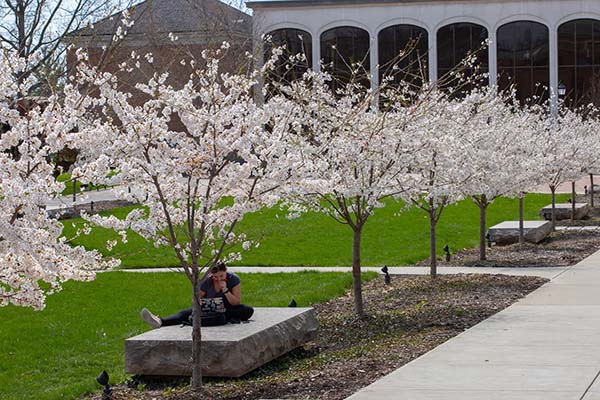 Trees in bloom on the Fine Arts Plaza
Headline Highlights: Miami and Miamians in the news in March
Trees in bloom on the Fine Arts Plaza
See all weekly Miami Media Highlights on our University News and Events website. 
Our editors' picks for March provide a snapshot of recent news media coverage:
Washington Post, March 3: The trucker 'convoys' have roiled politics in Canada — and the U.S. Why that's rare.
Editorial by Oana Godeanu-Kenworthy, associate teaching professor of Global and Intercultural Studies, outlines the history and differences of American and Canadian politics in relation to the trucker convoys and protests. 
Caring Places, March 5: How Video Games Can Help Older Adults
Glenn Platt, Armstrong Professor of Network Technology and Management in the Department of Emerging Technology in Business + Design, is quoted in this article on the benefits of gaming for older adults experiencing certain cognitive disorders.

 
MSN, March 6: In Russia, thousands defy police threats to protest the invasion of Ukraine. Can it make a difference? 
Hannah Chapman, Dawisha assistant professor of Political Science, is quoted about anti-war protests taking place in Russia condemning Vladimir Putin's invasion of Ukraine.
National Geographic, March 7: Love Wordle? Check out the benefits of playing with your kids.
Jeff Wanko, professor of Teacher Education, is quoted about how games meant to be played solo can build surprising life skills when played as a family.
Harvard Business Review, March 8: You're Overlooking a Source of Diversity: Age
Feature article by Megan Gerhardt, Management professor and William Isaac and Michael Oxley Center for Business Leadership co-director, highlights the benefits of age diversity in teams.
CBS News, March 8: Huge invasive spiders from Asia could spread to much of U.S. East Coast, scientists say
Ann Rypstra, University Distinguished Professor of Biology, is quoted about the Joro spider, a huge invasive spider species which has potential to spread along the majority of the east coast.
Forbes, March 11: Why Employers Should Seek to Learn About Graduates' 'Return on Experience' After College 
Miami University President Gregory Crawford writes about the importance of students' 'return on experience.'
PBS, March 19: Let Ohio Women Vote
Kimberly Hamlin, professor of History and Global and Intercultural Studies, and Tammy Brown, associate professor of Global and Intercultural Studies and History, are featured in this broadcast about the women's suffrage movement and voting rights.
Spectrum News, March 20: The Kissing Bug: The True Story of a Family
Daisy Hernandez, associate professor of English, discusses her book, "The Kissing Bug," which won the PEN/Jean Stein Book Award. 
Wired, March 23: 'Ghostwire: Tokyo' Brings Japanese Folklore to the Masses
Noriko Reider, professor of German, Russian, Asian, & Middle Eastern Languages and Cultures, is quoted about the video game, 'Ghostwire: Tokyo' and Japanese folklore.
Fortune, March 24: The Great Resignation's Wage Hikes May be Sending Fewer Students to College
Riley Acton, assistant professor of Economics, is quoted about The Great Resignation's wage hikes and fewer students attending college.

Subscription may required to view article

. 
Esquire, March 25: The 125 Best Books About Hollywood
'Colorization,'

written by Wil Haygood, Boadway Distinguished Scholar-in-Residence in the department of Media, Journalism and Film, is among the best 125 books about Hollywood.