Meixia Zhao receives NSF CAREER award for maize genetics research
Big data generated from the project will be used to develop courses for Miami students interested in big data science and advanced plant science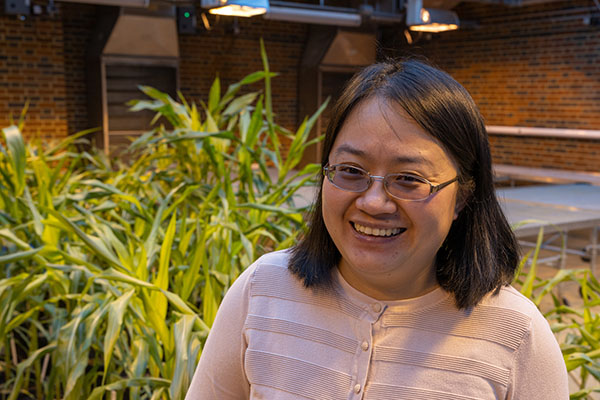 Meixia Zhao in the newly renovated Pistell Greenhouse at Pearson Hall. She can grow one or two generations of maize per year in this greenhouse versus one per year in the field
Meixia Zhao receives NSF CAREER award for maize genetics research
Meixia Zhao in the newly renovated Pistell Greenhouse at Pearson Hall. She can grow one or two generations of maize per year in this greenhouse versus one per year in the field
Meixia Zhao, assistant professor of Biology, has been recognized as one of the top young faculty in her field by the National Science Foundation (NSF) with the award of a $900,094 CAREER grant from the NSF Early Career Development Program.
Zhao received the grant to support her research on the regulation of meiotic recombination —or crossing over — between sexes in maize. Data generated from the project will be used in a programming course for life science students and to develop a new bioinformatics course for Miami students who are interested in big data science and advanced plant science. 
Zhao and Tereza Jezkova, assistant professor of Biology who was also awarded a CAREER grant this spring, are the first two Biology faculty members at Miami to receive the prestigious award.
"The NSF CAREER grant is an extraordinary achievement given to those who can weave together their long-term research and teaching goals with broader impacts in their fields," Tom Crist, chair and professor of Biology, said.
"We are thrilled that Dr. Zhao and Dr. Jezkova have been recognized for their accomplishments as early-career scientists and potential for future impact in their fields.  It is truly remarkable to have two CAREER awards in our department at the same time."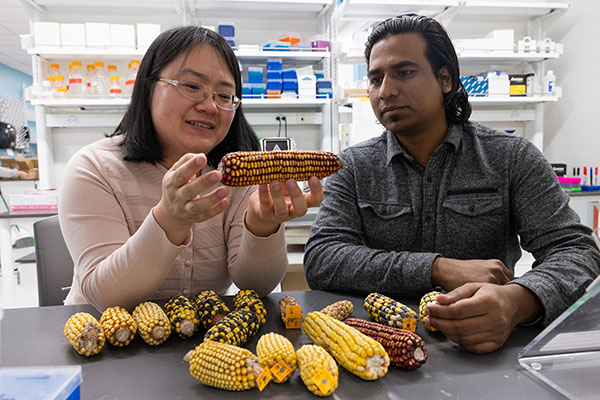 Zhao and doctoral student Mahmood Hasan examine an ear of maize
Zhao's CAREER project will provide new insights into understanding the genetic mechanisms of meiotic recombination in maize and many other plants and animals. Data generated will be an invaluable tool for maize geneticists who seek to understand the relationships between genome structure and recombination, according to Zhao.
Plant breeding relies on meiotic recombination, which reshuffles genetic information and generates new combinations of alleles, to develop crops with high yield and other improved traits. Meiotic recombination is a process during the cell division that occurs to produce gametes (sperm and egg) that directs how chromosomes pair up and generate crossovers during reproduction in order to reciprocally exchange genetic material. 
"In plants, recombination is essential for plant breeding because it makes it possible to map quantitative traits and introduce desirable traits into elite breeding lines," Zhao said.
In many organisms, meiotic recombination differs between males and females. Sex differences have important consequences for population differentiation, sex chromosome evolution, adaptation and speciation, Zhao said.  
While a great deal is known about sex differences in overall recombination rates, relatively little is known about how and why sexes differ in recombination in maize.
A little about sex in maize
Maize (corn) is monoecious — it contains both male (tassel) and female (ear) reproductive structures on the same plant.
Because its male meiocytes (cells that differentiate into sperm during meiosis) are both large and accessible, and large numbers of meiosis mutants are available, maize is a model for understanding meiosis, Zhao explained
"However, because analysis of female meiosis and embryo sac development in maize is technically challenging, little is known about what causes differences in male and female meiosis in this species," she said. "Given the degree of genetic variation in maize, it is likely that there is a great deal of unexplored variation in differences between male and female recombination."
Crossing and backcrossing
To compare meiotic recombination during male and female meiosis, Zhao and her lab group will use nested association mapping (NAM) hybrids, the parents of which represent more than 85% of the genetic diversity of the entire maize population.
They will first identify the lines that show largest differences with respect to recombination frequency between sexes.
They will examine 7,500 backcrossed plants derived from 25 NAM hybrids. Further, they will high-throughput DNA sequence 900 backcrossed plants derived from the hybrids, which show the most significant differences in recombination frequency between sexes.
This project will provide extensive educational and research experience in genetics, epigenetics, genomics, epigenomics and particularly bioinformatics for graduate, undergraduate and high school students, Zhao said.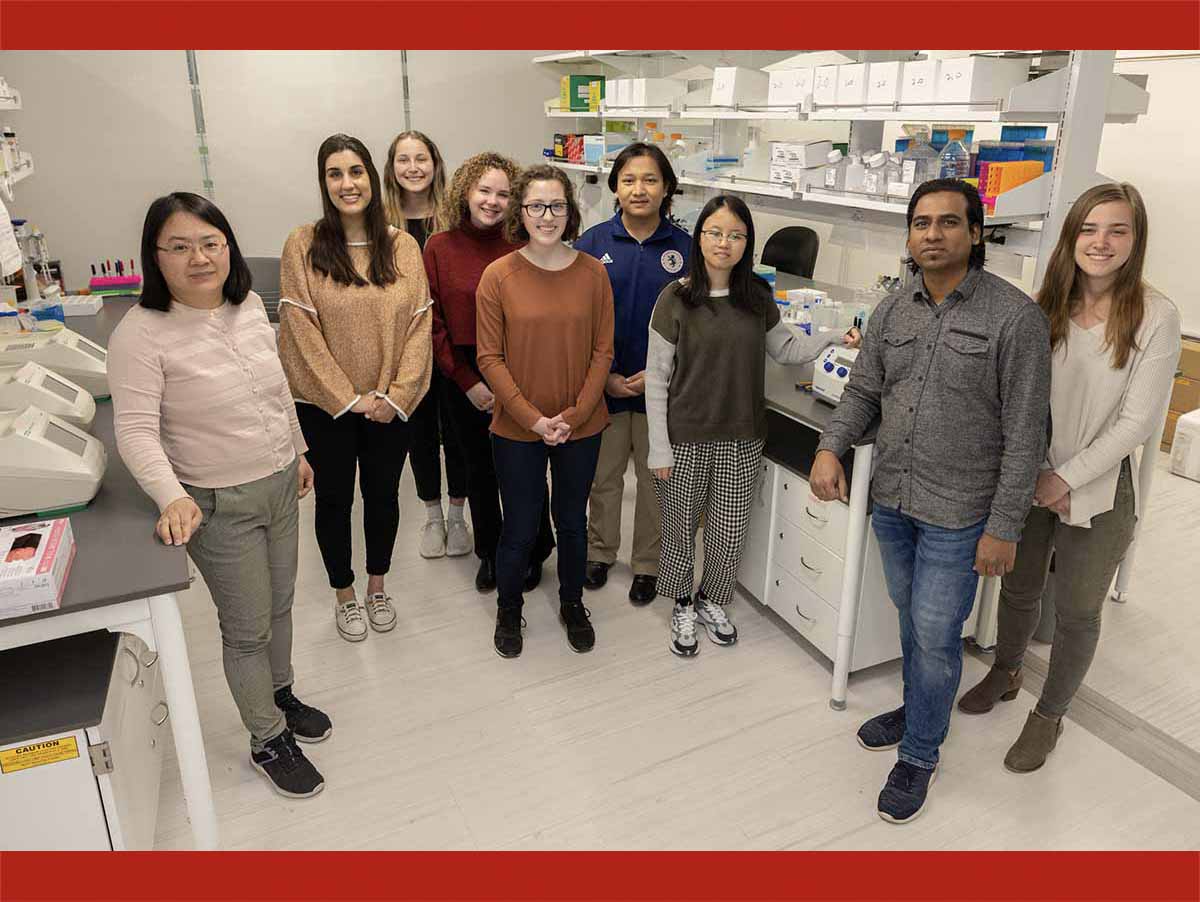 Members of Meixia Zhao's Genetics, Genomics and Bioinformatics lab, from left to right: Meixia Zhao; Alaina Singh, senior Biology major and premedical studies co-major; Charlotte DiBiase, first-year master's student; Elizabeth Kelly, senior Biology major and premedical studies co-major; Liberty Oliver, junior Biology major; Sahil Angdembe, junior Biology major and premedical studies co-major, bioinformatics and supply chain management minors; Beibei Liu, third-year doctoral student; Mahmood Hasan, first-year doctoral student; and Celine Thormann, senior Biology and Spanish double major and premedical studies co-major. The five undergraduate students were each awarded an Undergraduate Summer Scholars award or a Miami Hughes Internship (for 2021 or 2022) for their research with Zhao.
'Big data' will be integrated into courses for the new Data Analytics major
Zhao's project will generate a large collection of big data, and its analysis requires skill and technologies such as data processing, visualization, and interpretation, Zhao said. 
She will use that big data in developing a new course, Introduction to Bioinformatics.
She will also revise and enhance the curriculum for Introduction to Programming for the Life Sciences, a popular course with a wait list. 
Those courses, in addition to the Bioinformatics Computing Skills and Bioinformatics Principles courses taught by Chun Liang, professor of Biology, will be included for students in the new Data Analytics major. 
Summer workshop in computational biology 
Since 2019 Zhao has co-organized a summer workshop — Computer Science in Modern Biology — with Tereza Jezkova. The free, week-long workshop for high school, undergraduate and early graduate students aims to include underrepresented  STEM students from other universities. Zhao's and Jezkova's CAREER awards will help expand the reach of workshops.  The workshop is taught by Jezkova and other Biology faculty members and graduate students.   
Zhao joined Miami in 2018. Read more about her research here: Jumping genes: A Q-and-A with geneticist Meixia Zhao