OEEO reminds employees about voluntary surveys
Employees have the option to view and/or update their voluntary self-identification information, which includes disability status, veteran status, and ethnicity and race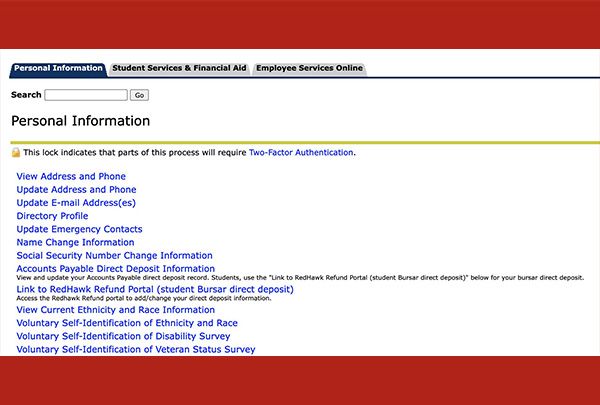 Example of the BannerWeb - Personal Information tab
OEEO reminds employees about voluntary surveys
#Example of the BannerWeb - Personal Information tab ()
The Office of Equity and Equal Opportunity (OEEO) would like to remind all employees of the option to view and/or update their voluntary self-identification information, which includes disability status, veteran status, and ethnicity and race. All of this information can be viewed and/or updated through BannerWeb at any time.
Your answers cannot and will not be used against you in any way. 
Instructions for accessing the voluntary self-identification surveys:
Step 1: Log into MyMiami (MyMiami.MiamiOH.edu) 
Step 2: Select "BannerWeb"
Step 3: Select "Personal Information" tab
Step 4: Select any of the following to view and/or update:
"View Current Ethnicity and Race Information"
"Voluntary Self-Identification of Ethnicity and Race"
"Voluntary Self-Identification of Disability Survey"
"Voluntary Self-Identification of Veteran Status Survey"  
Step 4: Read through the form(s) and make any updates to the options listed 
Step 5: Click "Submit"
Reasonable Accommodation Notice
Federal law requires employers to provide reasonable accommodation to qualified individuals with disabilities. Please tell us if you require a reasonable accommodation to apply for a job or to perform your job. Examples of reasonable accommodation include making a change to the application process or work procedures, providing documents in an alternate format, using a sign language interpreter, or using specialized equipment. 
If you feel that you will need a reasonable accommodation, please contact (513) 529-3560 or email ADAFacultyStaff@miamioh.edu. 
Please contact the OEEO at (513) 529-7157 with questions. Your participation in these surveys is greatly appreciated. Thank you!