Telling refugees' stories through a planned vocal symphony, 'Uplifting Unheard Voices'
"I will never forget these stories or the men and women who entrusted me with sharing their messages through my music," said Martin Hebel, visiting faculty of Music who interviewed displaced refugees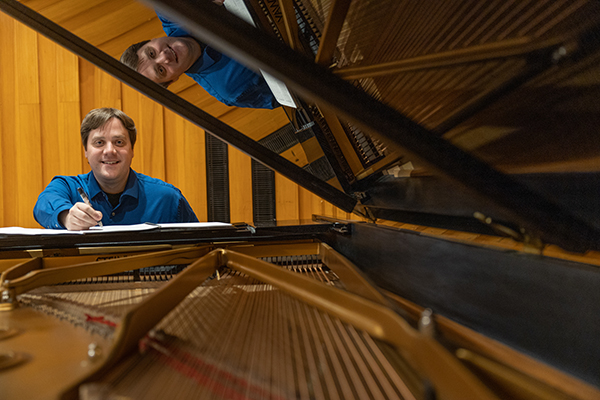 Martin Hebel, visiting faculty of Music at Miami University, sits at the grand piano in Souers Recital Hall (photo by Scott Kissell).
Telling refugees' stories through a planned vocal symphony, 'Uplifting Unheard Voices'
Martin Hebel, visiting faculty of Music at Miami University, sits at the grand piano in Souers Recital Hall (photo by Scott Kissell).
By Jeni Barton, University Communications and Marketing
Last October in Rome, Martin Hebel heard powerful, first-hand experiences of men and women who have fled war with their families.
From these interviews, the visiting faculty of Music at Miami University plans to weave their stories into a bilingual libretto and set it in a new vocal-orchestral symphony, "Uplifting Unheard Voices."
"I will never forget these stories or the men and women who entrusted me with sharing their messages through my music," Hebel said.
With the generous support of the Presser Foundation's Graduate Music Award, Hebel traveled to Rome to interview the recently displaced refugees fleeing conflicts in Africa and across the Middle East. In all, 20 individuals originating from 10 different countries chose to share their experiences in six different languages. 
They came from Afghanistan, Iraq, Syria and Yemen, as well as Gambia, Ghana, Mali, Nigeria, Somalia, and Sierra Leone.
"I met fathers, mothers, sisters, and brothers who had been engineers, business owners, interpreters, and allied combat veterans before being displaced," he said.
The refugees shared in detail the impact of war on their homes and loved ones. Some described fighting alongside coalition forces in Iraq and Afghanistan, enduring torture at the hands of ISIS, the Taliban, and human traffickers.
Others told of being sold into slavery in North Africa, surviving a U.S. airstrike on ISIS-held oil fields in Syria, and escaping from a prison on the island of Malta. Some refugees traversed deserts for months on foot and survived the treacherous crossing of the Mediterranean Sea. 
Hebel was struck by "the incredible similarities between the refugees' stories despite their incredibly diverse backgrounds and countries of origin." 
At the end of each interview, he asked the refugees if they had a message to share with the world. All responded with a variation of "please do not treat us like we are invisible."
Hebel hopes his music will raise awareness about the struggles of refugees fleeing to Europe and other countries.
Transcribing the interviews
The interview stage of the project was facilitated by two refugee aid-and-advocacy organizations, the Joel Nafuma Refugee Center (JNRC) at St. Paul's Within the Walls and the Community of Sant'Egidio's Humanitarian Corridors initiative. The Vatican's Migrants and Refugees Section also provided guidance. 
All interviews were conducted anonymously, in-person at the JNRC in Rome and audio-recorded. The next step will be transcribing 17.5 hours of audio-recorded interviews in English and redacting any identifying information of interview participants and their families. 
Hebel will then weave together these harrowing and inspiring stories into a bilingual libretto. 
He will start writing the libretto in English, using parts and pieces of each of the experiences he heard in the interviews, seeking to make the resulting libretto representative of the experiences of the wider refugee community rather than a direct depiction of an individual story. 
"As I watch the coverage of the war in Ukraine and witness the inspiring bravery of its citizens, I find the harrowing images of this war heart-wrenching and unfortunately familiar," he said. "I immediately think of the stories I heard in my recent interviews with refugees fleeing conflicts in Africa and the Middle East."
Once the English libretto is complete, Hebel will commission a poetic translation in Arabic, the first language of a majority of the refugees who were interviewed. 
The libretto will be set to music, alternating between Arabic and English, allowing the composition to act as its own translation and enable any listener who understands either language to engage with the refugees' words.
Once the composition is complete, Hebel's vision is to collaborate with international partners to curate a multi-national event celebrating the vibrant creative output of the refugee community.
Hebel received his D.M.A in composition from the University of Cincinnati College-Conservatory of Music in 2021. Listen to his music here.