With so many events to choose from on campus, we highlighted 10 worth checking out next week
All campus events can be found on the Events Calendar, linked below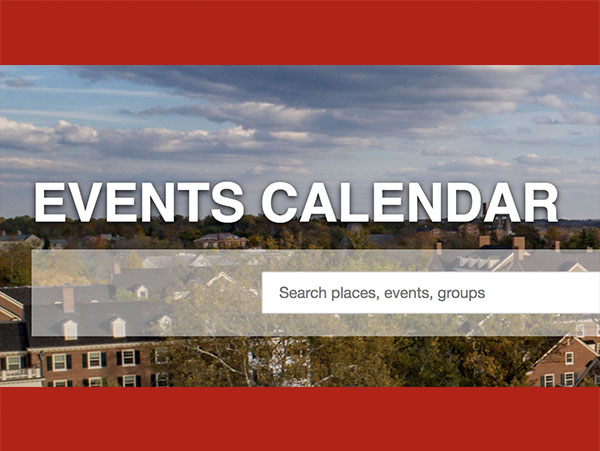 With so many events to choose from on campus, we highlighted 10 worth checking out next week
The end of spring semester brings an abundance of special events to campus.
Check out hundreds of events  — from the arts to athletics, academics to student organizations and much more — displayed on the Miami University Events Calendar at Events.MiamiOH.edu.
With so many events to choose from, we highlighted 10 events on the Oxford campus through next week:
Community-wide events
Saturday, April 23:  Oxford's Uptown Parks, 2-9 p.m.
An 'Arts & Culture Community Event Celebrating People of Color,' sponsored by the Miami University Performing Arts Series. Music, dancing, activities. Free and fun for all ages.
Monday, April 25:  Shriver Center, 2 p.m. 
Celebrate with approximately 100 new U.S. citizens for a formal naturalization ceremony at which they will take their oaths of citizenship. Sponsored by the Menard Center for Democracy.
Thursday, April 28: 212 MacMillan Hall, 7:30 p.m.
Join the Muslim Students Association for this annual event where people from all faiths, cultures, and traditions can come together to connect with Ramadan. Dinner will be served. Please RSVP by April 25 Free. 
Stop by to take part or listen: 
Friday, April 22: Arts Quad, 11 a.m.-3 p.m.
Creative Arts Festival, organized by students from the College of Creative Arts.
Thursday, April 28: The Hub, 10 a.m.-5 p.m.
In recognition of Holocaust and Genocide Awareness Week, members of the Miami community will read the names honoring victims of the Holocaust in addition to the Armenian, Rwandan, and Sikh Genocides.
Thursday-Friday, April 28-29: Shriver Center (check schedule for times)
Faculty and graduate student talks, keynote speaker, poetry reading
Music and Theater
Friday, April 22: Hall Auditorium, 7:30 p.m.  Free.
Friday-Saturday April 22-23, 7:30 p.m.; Sunday April 24, 2 p.m. @ Gates-Abegglen Theatre
Songs by The Go-Go's; original concept and book by Jeff Whitty, adapted by James Magruder, based on The Arcadia by Sir Philip Sydney.   Tickets $8-$12
Wednesday, April 27: Hall Auditorium, 7:30 p.m. Free.
Featuring performances by the winners of the 2021-2022 Geoffrey P. Hall Undergraduate Artist Competition and Liszt's Hungarian Rhapsody No. 2.  Free
Friday, April 29: Hall Auditorium, 7:30 p.m.
With the Grove City High School Men's Chorus. The Glee Club will perform the winning version of the Miami University Lingua Mater contest in Bahasa Indonesia .   Tickets $7-$10
Read about the Lingua Mater contest winner on Miami News: Bahasa Indonesia student translations sweep the Miami Lingua Mater competition
Check the Events Calendar for other events this week such as West Fest, special lectures, NationaliTea, Trumpet Ensemble, SEAL Awards, and more. 
Jeremy Hardiono, kinesiology and music vocal performance double major — with his younger siblings Samuel and Alethia — received top honors in Miami's first Lingua Mater competition for translating both Miami's Alma Mater and Miami's Fight Song into Bahasa Indonesia. The competition invites students and alumni to translate Miami's Alma Mater and/or Miami's Fight Song into a language other than English. Participants also submit a video of their translation.