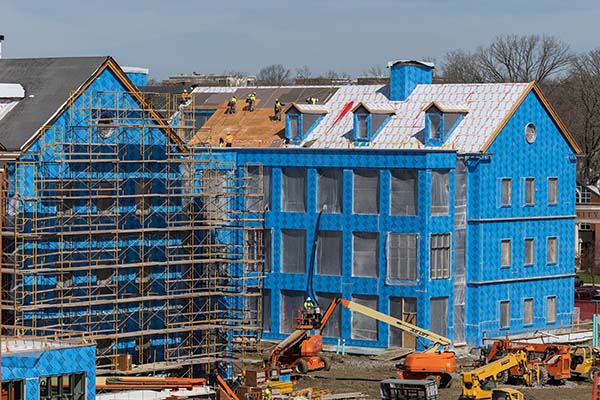 Construction workers on the roof of the north wing of the Clinical Health Sciences and Wellness facility (photo by Scott Kissell)
The Wrap-Up: April
Construction workers on the roof of the north wing of the Clinical Health Sciences and Wellness facility (photo by Scott Kissell)
The Department of Teacher Education

has changed its name to the

Department of Teaching, Curriculum, and Educational Inquiry (TCE).

The new name reflects a departmental commitment to foster agency in teachers and educators beyond the classroom, to recognize teacher candidates as emerging professionals and curriculum-makers, and to spark and sustain a life-long intellectual curiosity in all educators.
Jason Boock

, assistant professor of Chemical, Paper, and Biomedical Engineering, received a

$200,000 grant from the National Science Foundation

to continue research into controlling metabolic pathways to make biochemicals, such as biofuels and therapeutics.
Ran Zhang

, assistant professor of Electrical and Computer Engineering, received a

$192,785 grant from the National Science Foundation

for a project that will focus on drone-based communication networks: "ERI: Distributed Learning in Regulation of UAV Communication Networks with Dynamic UAV Lineup." 

Nick Kaplan

has received the National Science Foundation's Graduate Research Fellowship. Kaplan is a master's student studying Chemical and Biomedical Engineering in Miami's 4+1 Combined Bachelor's/Master's program, with faculty mentor

Andrew Jones

. Kaplan will be starting a doctoral program at the University of Washington this fall. 
Scott Kenworthy,

associate professor of Comparative Religion, received a fellowship for research at Central European University in Budapest and a two-month extension of his fellowship from the Alexander von Humboldt Foundation for this summer to return to Germany. 
Lisa M. Ellram,

University Distinguished Professor and Rees Distinguished Professor of Supply Chain Management, recently co-authored a book with Lydia Bals and Wendy Tate: 

"Circular Economy Supply Chains: From Chains to Systems"

  published by Emerald Publishing (April 2022). A circular economy perspective embraces a notion that we design everything to be reused for as long as possible, and then recaptured and repurposed when reuse is no longer possible.
Nine Miami University students were recognized for their 2021 work in journalism. Two were first-place winners in the annual regional Mark of Excellence (MOE) competition sponsored by the Society of Professional Journalists and seven were MOE finalists. First-place winners were:

Michael Vestey

, sports columns

, and

Lexi Whitehead,

cultural criticism, for a review of

"Fearless (Taylor's Version),"

a review of

"Willow (Taylor's Version)"

and a column about

gendered clothing

, all for The Miami Student.

The College of Education, Health, and Society (EHS) receives a $39,000 grant as part of

I Educate Montgomery County

, an ongoing movement to increase the number of educators identified as Black, Indigenous, and People of Color. Led by

Tammy Schwartz

, Urban Cohort director, and

Ganiva Reyes

, assistant professor of Teaching, Curriculum, and Educational Inquiry, the project will develop college students (pre-service teachers) who will mentor high school students, as well as practicing teachers who will mentor pre-service teachers of color in college.

The

Miami University Center For Community Engagement

and the

Urban Cohort

are celebrating 20th anniversaries. Both remain groundbreaking collaborations of community engagement and place-based education.

Allen Ratliff, assistant professor of Family Science and Social Work, has published a new paper, "

Reconsidering the role of place in health and welfare services: lessons from the COVID‑19 pandemic in the United States and Canada

," in the journal Socio-Ecological Practice Research.

Oxford Encyclopedia of Curriculum Studies

— which includes articles from several EHS faculty including

Tom Poetter, Ganiva Reyes, Racheal Banda Rothrock, and Brian Schultz

— has received a 2022 Society of Professors of Education Outstanding Book Award.
 Want to see your news in The Wrap-Up? Email us at newsinfo@MiamiOH.edu