Miami alumna secures top analytics fellowship to work with NFL, MLS teams
A perfect storm of effort and opportunity align for Miami SLAM and Finance major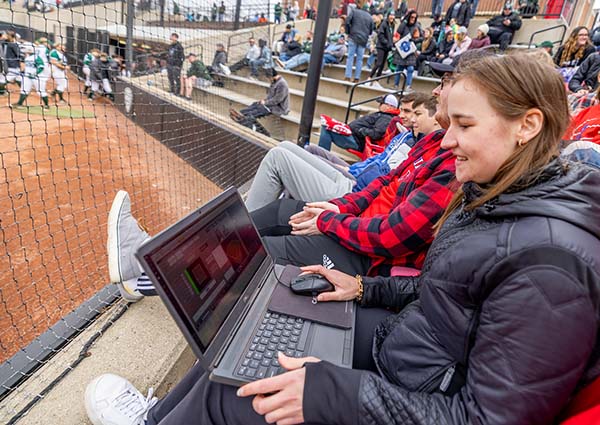 Caroline Brega takes notes during a Miami RedHawks softball game
Miami alumna secures top analytics fellowship to work with NFL, MLS teams
Caroline Brega takes notes during a Miami RedHawks softball game
It was a demanding process. "One of the most competitive things I'd ever been through," said Caroline Brega '22, a recent Miami Finance and Sport Leadership and Management (SLAM) graduate. 
After months of collecting and submitting professor recommendations, writing nearly a dozen essays, and advancing through six rounds of interviews concluding with C-suite level management, Brega finally accepted a position as a Diversity & Opportunity Fellow with the Haslam Sports Group, where she will focus on business analytics for the Cleveland Browns and the Columbus Crew.
"It was the perfect storm of exactly what I wanted to do and the personal goals I had," Brega said. "Sport and finance are the two things I've been studying at Miami and they align really well with the job, so I was very excited to accept it."
Brega will work with four other fellows from different universities around the country. Their goal will be to drive revenue and to set optimal prices based on data generated from sponsors, fans, and customers, as well as to manage a variety of DEI related efforts.  
Securing the fellowship is an accomplishment that represents a remarkable culmination of a holistic college experience that connected Brega's life-long passion for sport with her professional interests in business, finance, and analytics.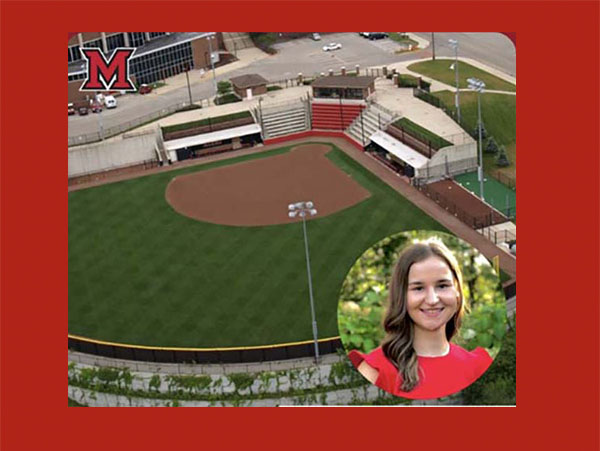 "I started playing softball right when I learned to walk," she said. "That's where I started my sports journey. I came to Miami as a finance major because the Farmer School of Business is very well recognized nationwide, and I knew a business degree would be valuable whether I decided to go into sport or not. But I wanted to be involved in more than finance, and I found that by getting heavily involved with the SLAM department."
As part of SLAM, Brega joined the inaugural Sport Analytics Summer Academy (SASA), which included courses in data visualization, coding, and technical skills. 
SASA also led her to an NCAA Softball Player Performance & Scouting Analytics Internship, where she leveraged her knowledge of data driven analytics to help Miami's softball team win a 2021 MAC championship.
"The softball team was where I first applied the things I learned from the classroom to my professional work environment," said Brega. "We're the only team in the MAC doing any kind of analytics for softball, and the team has been super successful since implementing our analytics team. Most of the credit goes to the athletes, but I like to think that our analytics had some part in their success."
Prior to her work with the softball team, she was also invited by Major League Baseball (MLB) to join its Society for American Baseball Research, which hosted a competitive application process before choosing select participants to attend an elite analytics conference.
"I was actually recommended for the MLB opportunity by Dr. [Melissa] Chase," Brega said. "I became involved with a cohort of 20-30 other students who were also looking for jobs in sport. It connected me with people in the industry. I got private interviews. I got to see and to network with speakers during the conference, and it provided a one-on-one impact with people who would remember me."
It was also Chase, Miami SLAM Professor and department chair, who helped Brega create Miami's Women in Sport Leadership Club.
"During my sophomore year, I noticed there were maybe five women in my SLAM classes. And that didn't sit well with me. I was so passionate about this, so I wondered why other women weren't potentially pursuing a career in sport?"
The club helps more women get involved in sport outside the classroom through volunteer and mentorship opportunities. Members also take professional trips to network with the Columbus Blue Jackets, and more. And it already is encouraging more women to study SLAM. "So being able to see those results has been amazing," Brega said.
As the club's co-founder, Brega also recognizes the impact it likely had on landing the Diversity & Opportunity Fellowship as well.
"Part of my role at Haslam will be to provide opportunities to women and other underrepresented communities in the sport industry," she said. "So it also very much aligned with my extracurricular activities at Miami."
For Brega, it was another key piece of completing the career puzzle, one that also seemed to echo the old saying: There may be no such thing as luck. Because, in the end, it's really just the intersection of hard work and opportunity.
"That's exactly what happened for me," Brega said. "Just keep doing the things that you're doing to help you succeed, and things will all fall into place."