Miami designated as Purple Star campus for its support of veterans, military-affiliated students
Miami University is among the first group of Ohio colleges and universities designated as Collegiate Purple Star campuses for its efforts to support students with military backgrounds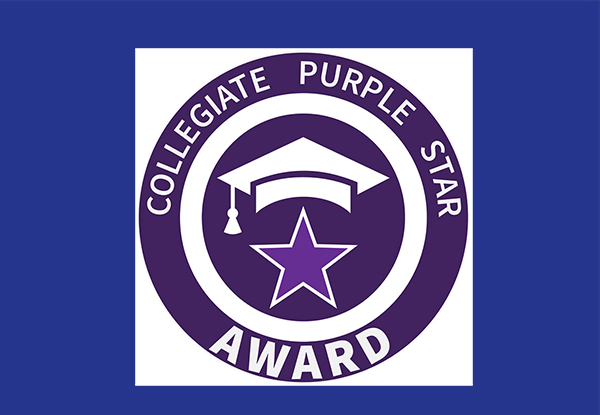 Miami designated as Purple Star campus for its support of veterans, military-affiliated students
Miami University is among the first group of Ohio colleges and universities designated as Collegiate Purple Star campuses for its efforts to support students with military backgrounds, Ohio Department of Higher Education Chancellor Randy Gardner announced today. 
The Collegiate Purple Star awards advance the work already done by Ohio's PreK-12 school system to create the Purple Star designation for military-friendly schools. Ohio is the first state in the nation to offer these designations. 
"Miami offers a wealth of services for its veterans and service members, from veteran-specific spaces and resources to a student-led peer group that supports military-connected students and families," Chancellor Randy Gardner said. "I am pleased to announce Miami as part of the first class of Collegiate Purple Star campuses."
Miami adheres to the national Principles of Excellence program, meaning it provides up-front information to veterans and military-affiliated students about the total cost of educational programming, gives an educational plan and timeline, allows for absences due to service obligations for active-duty service members and reservists, and assigns points of contact that provide ongoing academic and financial support. 
In addition to Miami Regionals Center for Veterans Services, Miami University's One Stop has dedicated staff to support Military Affiliated Students/Families by developing mentoring programs, chairing university organizations, providing graduation honor cords, and participating in monthly online training and meetings with the Veterans Benefits Administration. Miami also gives priority registration to its veterans and military-affiliated students to allow them first choice in course selection. 
"We are excited to receive the Collegiate Purple Star Award for our efforts to support military-connected students," Miami University President Gregory Crawford said. "This type of recognition helps military veterans, active-duty members and their families select colleges and universities that will serve them best while providing a welcoming and inclusive learning environment. I am honored that Miami University is considered one of those institutions."
A Student Veterans Association-Regionals (SVAR) organization, which is an Oxford chapter of the SVA, and a Military Assistance Group (MAG) serving Oxford and Regionals campuses, have been established. These groups promote various events and opportunities relevant to military-affiliated students. 
A dedicated space, Veterans Lounge on the Oxford campus, is available to Miami's military-affiliated students and their organizations. Access to the lounge is requested through and granted by the One Stop at this time. Veteran graduates are recognized in a special Green Zone recognition ceremony.
The state of Ohio has a long tradition of serving its military-connected population (veterans, service members, spouses, and their dependents) at public and independent colleges and universities. Recognizing the unique and important needs of this population, the Collegiate Purple Star aims to provide special recognition to our public and independent colleges and universities in Ohio that are particularly supportive and inclusive of military-connected students.