Miami Regionals E-Campus tapped as online learning model for international educators
International Visitor Leadership Program sends Kazakh higher education leaders to learn from the nationally recognized leader in online learning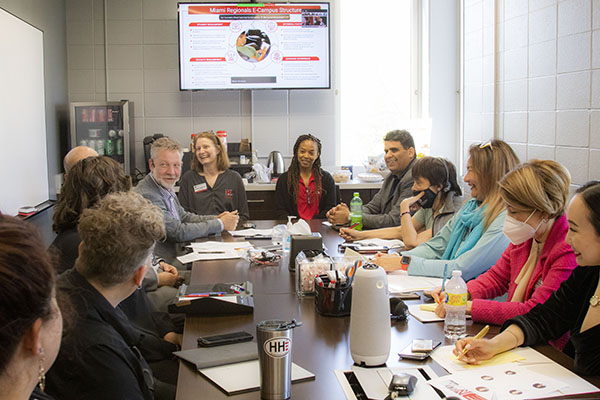 Five Kazakh educators, members of the U.S. Department of State's International Visitor Leadership Program (IVLP), meet with Regionals E-campus staff
Miami Regionals E-Campus tapped as online learning model for international educators
Five Kazakh educators, members of the U.S. Department of State's International Visitor Leadership Program (IVLP), meet with Regionals E-campus staff
Miami University Regionals E-Campus shared its expertise as a nationally recognized leader in online learning with international visitors Monday.
Five Kazakh educators — members of the U.S. Department of State's International Visitor Leadership Program (IVLP) —  requested a visit with E-Campus representatives as part of the IVLP Digital Education in the U.S. Project.
E-Campus' excellence in expanding the reach of the high-quality Miami education experience to students at all phases of their lives served as a model for the visitors seeking to improve digital education in their own institutions.
"I am honored to host our visitors from Kazakhstan and share our expertise with distance education — and to learn from them as well," Miami Regionals E-Campus Senior Director Janet Hurn said. "Not only does this kind of international exposure give our students a global perspective, but it provides opportunities for E-Campus to continue to improve the excellent Miami education experience with new ideas, possibilities and partnerships."
The visitors, hosted by the World Affairs Council of Greater Cincinnati and Northern Kentucky, included university officials and education methodology researchers who are studying U.S. digital education practices to help improve their own teaching skills, develop online and hybrid learning curricula and make online learning fun and engaging.
E-Campus staff discussed tactics and strategies to provide excellent learning experiences to its students, cultivate a vibrant and engaged faculty community, advance the course development experience and elevate partnerships to advance opportunities for online credentialing during the IVLP visit.
Two faculty members also attended the meeting, answering questions from IVLP delegates, and Kayle Everson, a sophomore student majoring in Commerce, joined the meeting from Florida via video conference — noting that she had taken her final exams from her beach vacation.