Kimberly Hamlin elected to League of Women Voters' national board
The James and Beth Lewis Professor of History at Miami University said she is honored to join the board at "this critical time in our nation's history when voting rights, women's rights, and our core democratic institutions are under attack like never before."
Kimberly Hamlin elected to League of Women Voters' national board
By Margo Rutledge Kissell, University Communications and Marketing
Kimberly Hamlin, the James and Beth Lewis Professor of History at Miami University, has been elected to the national board of directors for the League of Women Voters.
Elected during the League's 55th National Convention that was held in Denver June 23-26, the new board will serve through June 2024 under the leadership of President Deborah Turner, M.D., who was elected in 2020.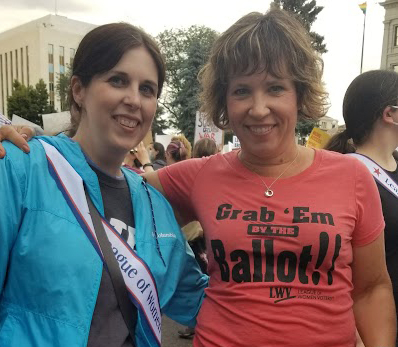 Hamlin (who is pictured on the right of this photo protesting the U.S. Supreme Court's decision overturning Roe v. Wade) said she is honored to join the board during "this critical time in our nation's history when voting rights, women's rights, and our core democratic institutions are under attack like never before."
A member of the League of Women Voters (LWV) of the Cincinnati area, Hamlin is a historian who specializes in the U.S. women's rights movement. Her most recent book, Free Thinker: Sex, Suffrage, and the Extraordinary Life of Helen Hamilton Gardener (2020), profiles the suffragist credited with securing congressional passage of the 19th Amendment, which extended to women the right to vote.
Hamlin was elected to the national board on Friday, June 24, the day the Supreme Court overturned Roe v. Wade, eliminating the constitutional right to a legal abortion.
"When I came down the escalator into the conference area that morning, the very first person I saw was Dr. Deborah Turner, president of the LWV and an ob-gyn. We hugged, we cried, and then we planned," Hamlin recalled.
"Dr. Turner gave us a rousing speech that morning reaffirming the League's long-standing commitment to women's reproductive rights as core elements of our basic citizenship," she said. "That evening, hundreds of us marched en masse to the Denver state capitol to protest the decision. I knew there was no better place for me to be that day, and in the years to come, than with the League of Women Voters."
The League of Women Voters is a nonpartisan, grassroots nonprofit dedicated to empowering everyone to fully participate in the United States' democracy.
Turner said in a release that she is confident the new board will lead the League with vision and strategy through the next two years.
Hamlin said her goals are to help communicate the League's mission, advance the Women Power Democracy plan, help recruit new members and allies, and do her part to expand voting rights and protect democracy.
"As a historian of women's rights, I know there is no better organization to do this vital work than the LWV, which has a vibrant membership base in all 50 states and which has been engaged in this work for over 100 years."
Here is a Miami News  Q-and-A Hamlin did in 2020 as the nation commemorated the 100th anniversary of the ratification of the 19th Amendment.