Miami University students played important role in contact tracing during pandemic
"Having Miami University in our backyard and their dedicated student workers was critical to our COVID-19 response," Butler County Health Commissioner Erik Balster said. "Their work saved lives!"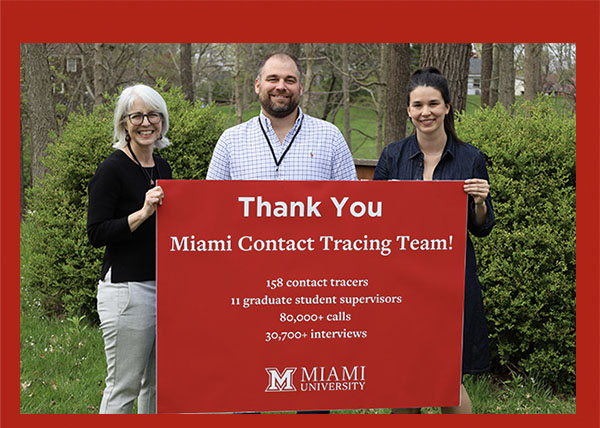 Cameron Hay-Rollins, professor and chair of Anthropology and director of Global Health Studies at Miami University, stands with Butler County Health Commissioner Erik Balster and Kendall Leser, director of Miami's Public Health program.
Miami University students played important role in contact tracing during pandemic
Cameron Hay-Rollins, professor and chair of Anthropology and director of Global Health Studies at Miami University, stands with Butler County Health Commissioner Erik Balster and Kendall Leser, director of Miami's Public Health program.
Cat Dennison '21 was among 169 Miami University students who conducted contact tracing interviews and disease investigations for the Butler County General Health District during the COVID-19 pandemic.
Students like Dennison worked directly with people impacted by the coronavirus, which has killed more than one million people in the United States and 38,628 in Ohio. There were 2.76 million cases reported throughout the state.
The students — hired through a grant-funded contract between Miami Public Health and Global Health programs and the health district — collected important data directly from people living in the county.
Butler County Health Commissioner Erik Balster said health departments needed to work with outside organizations "to tackle issues well beyond our current capacity." With a population of approximately 380,000, the county required public health interventions (contact tracing).
"Having Miami University in our backyard and their dedicated student workers was critical to our COVID-19 response," he said Wednesday. "Their work saved lives!"
Jennifer Bailer '84, the former Butler County health commissioner who retired Aug. 31, 2021, said in a video produced by Miami  that "it became apparent that we could figure out how to do this in a win-win situation where students would benefit, and the community would benefit."
A final report, issued this week by the Miami Public Health and Global Health Programs, shows 169 undergraduate and graduate students from several majors across campus were trained during the 2020-2021 and 2021-2022 academic years. Together, they: 
placed 83,550 phone calls.
conducted 30,637 disease investigations and contract tracing interviews.
The first year of the $900,000 contract, which used grant funds from the Ohio Department of Health, focused on contact tracing of any county resident, while the second year focused on children ages 3-18 and residents of the 45056 Zip code that includes Oxford, Reily, and Darrtown.
Susan McDowell, Miami's new vice president for Research and Innovation, called the partnership between Miami and the health district "an outstanding example of the integration of student collaborators into sponsored work."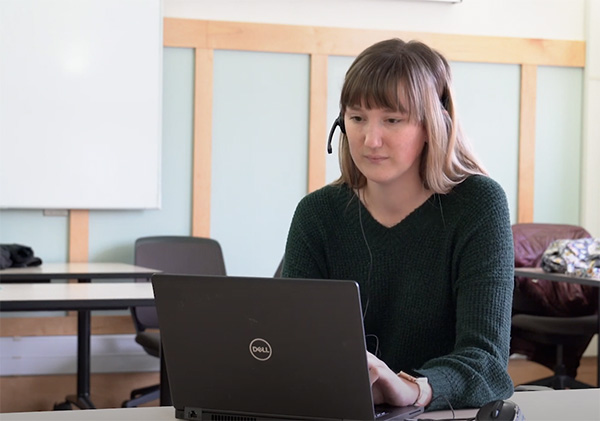 Cat Dennison and other student contact tracers worked three-hour shifts collecting important health data during the pandemic.
Collecting lots of data
Dennison — who majored in Public Health with a focus on epidemiology and human diseases and had a minor in Global Health and a Pre-Medical Studies co-major — gained valuable experience as a contact tracer.
"It helped me get a better understanding of the pandemic, why public health operates in the way it does, and I got to see what working in this field is like," she said, adding that she also was able to listen to people who needed to talk.
"The pandemic has been hard on everyone, so getting to let people ask any question they could think of while doing my best to put them at ease, helped me feel like I was being useful during this time."
Dennison is now pursuing a Master of Public Health in Epidemiology at the University of North Carolina, with a goal of working for a state health department in some capacity.
She said a typical shift was three hours long. She and other students would have assigned cases or contacts to call to conduct interviews.
"If the individual answered, I'd go through the interview process with them. This included basic demographic questions, an account of any symptoms they've experienced, and potential contacts that needed to be followed up with. I would record the information in their proper forms, submit, and move on to the next case."
Eventually, instead of making calls, she performed a different role — entering completed information into an Ohio database for all COVID-19 cases.
 "I enjoyed having the opportunity to do interviews while also getting to see the behind-the-scenes aspect of data entry, especially since epidemiology is very data-driven," she said.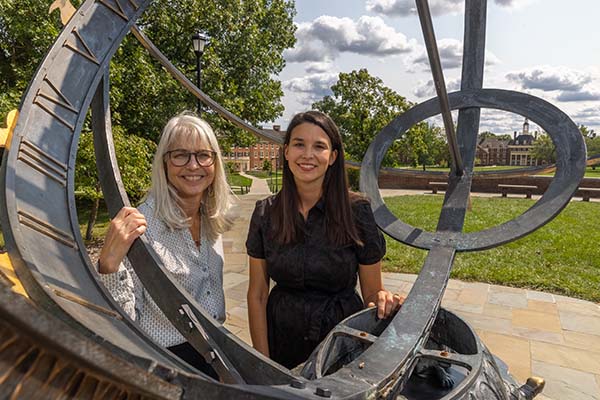 Cameron Hay-Rollins (left) and Kendall Leser on Miami's campus
Contact tracing capacity for the community more than doubled
Miami's Public Health and Global Health programs published results of its collaborative effort with the health district in the  Journal of Public Health Management & Practice, the leading practice-based public health journal in the United States.
Kendall Leser, director of Miami's Public Health Program, was the lead author, with co-authors Cameron Hay-Rollins, professor and chair of Anthropology and director of Global Health Studies, and Bailer, on the article.  
Additional co-authors include Brian Henebry '92 and John Virden '90, both senior leadership members from Miami's IT Services, as well as Butler County health district staff members Mita Patel (accreditation coordination) and Jordan Luttrell-Freeman (epidemiology).
This spring, the IT Services staff and university partners were awarded a CIO 100 Award  for their efforts to improve contact tracing methods.
The journal article concludes that the contact tracing innovation highlighted "how formalized academic–health department partnerships can increase efficiency and public health workforce capacity. As a result of this partnership, contact tracing capacity for the community more than doubled, a greater number of community residents were able to be successfully quarantined and isolated to slow the spread of SARS-CoV-2, and (169) university students obtained public health workforce competencies."
Adapting to ever-changing CDC guidelines
Leser said the undergraduate students gained valuable real-world public health experience.
"They actually did the work that disease investigators at the health department do for other diseases," she said. "I believe this experience provided our students with an excellent opportunity to strengthen their communication skills (both with community residents as well as with their co-tracers and supervisors) and deal with uncertainty in a complex world."
She is most proud of the way the undergraduate contact tracers adapted to the ever- changing public health guidelines.
"There were times that the CDC (Centers for Disease Control and Prevention) would change its guidelines, and our contact tracers had to become trained on new policy and implement that new policy in less than 24 hours to be able to answer community questions correctly, as well as calculate new quarantine and isolation periods accurately," she said.
As the nation moves beyond the pandemic, Balster sees additional benefits to Butler County Health District working with Miami in the future.
"We now have a stronger relationship with the university overall and will hopefully be mutual partners in the many public health concerns that both Butler County and Miami face," he said. "I'm hopeful that some of these students may choose a career in public health after having a hand in pandemic response through this unique opportunity."
That's just what Dennison wants to do.
Some contact tracing conversations still stick with her, including the man early on in the pandemic who had to isolate away from his wife of 30 years. When Dennison informed him that he could reunite with her the next morning after the isolation period was over, he was overcome by emotion.
There were challenging days, too, including one near Christmas, 2020.
"I had to do a case interview, and the individual was hospitalized away from their family. Those were hard cases, as I didn't want to add more stress to an already stressful situation," she recalled. "We're all human, and we can't forget to be empathetic."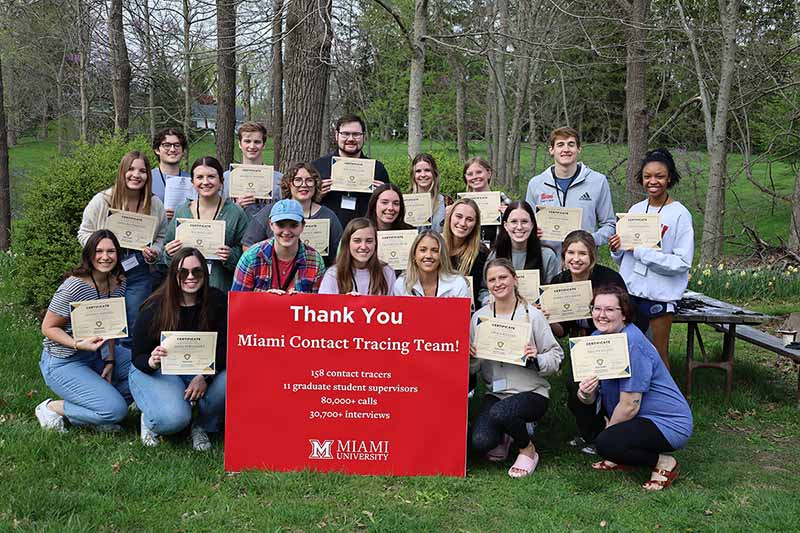 Student contact tracers, deans, IT staff and others who were involved in the COVID-19 contact tracing collaboration with the Butler County General Health District recognized their achievements at an ice cream social at the end of the school year.